Earlier this month, we set out to investigate if the extra resolution offered by 4K over 1080p is visible at normal viewing distance, as part of an Ultra HD and OLED television showcase event organised by British retailer Richer Sounds. A 55-inch 4K UHD (ultra high-definition) TV was lined up alongside a 1080p HDTV of the same size, each displaying content that's 1:1 pixel-matched to its native screen resolution. Both TVs had their identities masked by custom-built cabinets which were spray-painted black. Standing 9 feet away (enforced using crowd control posts), attendees were then asked to pick out the 4K television after sampling the displayed material.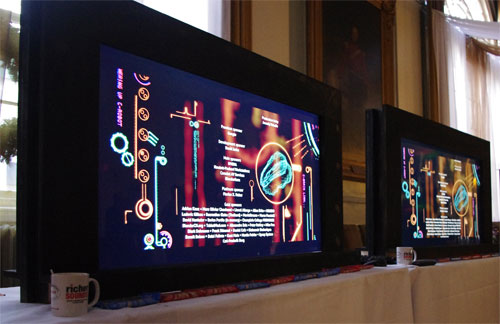 The results are now in, and an overwhelming majority of participants correctly identified the 4K TV, indicating that there exists a perceptible difference even from as far as 9 feet away on a 55in screen. Out of 49 attendees who submitted their pick to enter a prize draw, only one thought that the 1080p set was the 4K display.

Left: Samsung UE55F9000 4K TV. Right: Samsung UE55F8000 HDTV
While we'd like to claim that we've provided the definitive answer to the great 4K vs 1080p debate, there are a number of caveats. First, the 4K videos we served from a media PC were high quality, which included a demo clip from Chimei Innolux, as well as the Blender Foundation's excellent open-source movie projects Tears Of Steel and Sintel. Critics may argue that this is unrealistic, since the native 4K material that may become available in streaming format will probably be compressed to a heavier degree. However, our intention was to demonstrate the difference – if any – between the best of 4K versus the best of 1080p. After all, if you wanted to show off your HDTV to your friends, you would use the most pristine Blu-ray movies, instead of softer HD content or (gasp) Netflix, wouldn't you?
Second, we had some difficulty matching the displays such that resolution was the only difference, even with full calibration. We opted to use the Samsung UE55F9000 and UE55F8000 for the 4K vs 1080p comparison because of their excellent onboard SPVA LCD panels which we had hoped would be similar, but then we discovered that the retail units supplied by Richer Sounds featured slightly different black level and gamma response between each other, which is understandable given that one's a 4K panel and the other one isn't.
Armed with our trusty Klein K10-A meter and CalMAN 5 video calibration software, we managed to dial out most of the discrepancies, but when you're comparing two displays side-by-side specifically looking for a difference (which is the whole point of the exercise), even the slightest discrepancy gets magnified. Whether or not this made it easier for attendees to spot a difference between the TVs remains unknown, but at least the result was consistent, with more than 97% of participants correctly pinpointing the 4K television.
Third, although most attendees succeeded in identifying the 4K Ultra HD TV, we have no idea of how they arrived at their conclusion. For all we know, it could have just been a fleeting shot which looked marginally sharper that clued them in, out of 30-odd minutes of video playback time per loop. For what it's worth, to our eyes the native 4K content on the Samsung F9000 consistently presented more detail, particularly on faraway objects in a long shot. The difference was not night and day, but we could tell even from 9 feet away. Major disclaimer: we were not blinded, and knew which television was the 4K one from the outset.
Last but not least, resolution is only one of the many attributes of picture quality, and not the most important one. Amongst the swarm of 4K televisions on exhibit, it was actually a full HD 1080p set – the LG 55EA980W OLED TV – that hogged the attention of those attending the event, largely due to its ability to render true 0 cd/m2 blacks, contributing to an unrivalled contrast performance (which most video enthusiasts agree is the principal determinant of image quality). Ok, its unfathomably slim panel and subtly curved design probably turned more than a few heads too.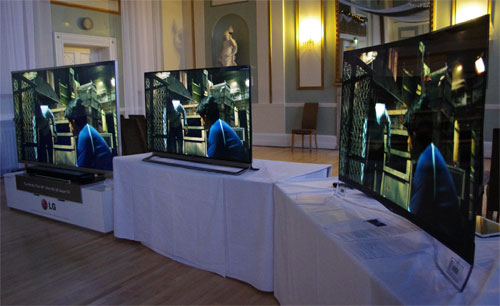 Samsung's mammoth 85-inch S9 UHD display also impressed, with its full-array local-dimming LED backlighting working effectively to deliver deeper blacks and brighter whites on the same scene without introducing significant halos. Ultra high-definition footage looked utterly gorgeous on the 85S9 which dripped with the sort of fine detail we didn't even know existed until we laid eyes on the TV – the gigantic screen size obviously helped. The Samsung S9 calibrated like a dream too, but that's a story for another day.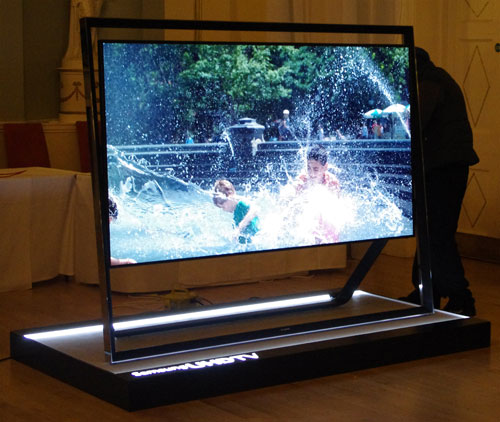 So there you have it: the superior resolution of 4K over 1080p is visible on a 55″ screen from 9 feet away, provided the content is up to par. The difference is not big unless you move closer – only you can decide if this is worth the higher prices currently commanded by Ultra HD 4K TVs.
Regardless of what anyone (and that includes us) say or think, 4K TV is coming, with or without widely available native 4K content. Eventually the price premium between a 4K set and a 1080p HDTV will become negligible, and the latter will go the way of 720p, HD-ready displays into the scrapheap of phased-out technologies. Our only plea to TV manufacturers is to not ignore other aspects of image quality in pursuit of resolution (4K OLED to the fore, please), and we hope that it won't be too long before consumers can get their hands on high-quality 4K content such as 4K Blu-ray to take full advantage of UHD televisions.