The Society of Motion Picture and Television Engineers (SMPTE)'s annual Technical Conference & Exhibition takes place in just five days, and visitors will be eagerly awaiting the highlight of the event – a series of demonstrations showcasing the latest in Ultra High Definition (UHD/4K), HEVC and 4K upscaling technologies.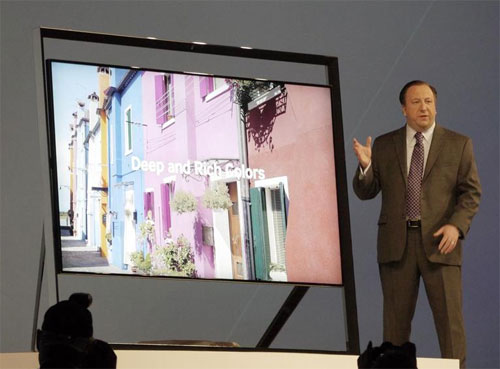 Industry consultancy firm Insight Media will be organising the demonstrations, which are set to take place in a sold-out 4K/UHD Demo room at the Loews Hollywood Hotel in Los Angeles, California, where leading brands like Samsung, Sony, Canon, Cisco, Rovi, Altera and others will showcase their state-of-the-art 4K hardware.
SMPTE says that the 4K/UHD Demo room has two main goals – firstly, to demonstrate the growing maturity of 4K technologies and how quickly it's being adopted; and second, to try and address the remaining challenges that 4K faces during its expansion.
The demos will also attempt to drive home to consumers the advantages of 4K, doing so with a series of side-by-side comparisons. As such, the 4K/UHD Demo room will showcase a number of the world's best-in-class 4K displays, including Samsung's 85-inch S9 UHD TV, which will be used to illustrate the potential of the 2160p UHD TV format; two Sony 55-inch Ultra HD TVs giving a demo of its 4K upscaling engine; one Sony 30-inch professional 4K monitor displaying live content filmed by its F55 4K camera; and three Canon 30-inch professional 4K monitors that have been designed to support mastering and grading of native 4K content.
It's not just the sheer beauty of 4K/UHD that will be on display though. As well, a clutch of industry leaders will be showcasing various methods of delivering 4K content into the living room. These include Rovi, which will demonstrate 4K compression using the HEVC SDK v1.1 codec, with a split-screen comparison of HEVC/H.265 and the older, AVC/H.264 standard; and Cisco, which will demo 4K test clips broadcast using its own, internally developed HEVC compliant codec that should "enable delivery over existing infrastructure to consumers."
The purpose of the demo is to show that contrary to popular belief, the lack of native 4K content and its delivery does not present a major hurdle to 4K/UHD's large scale adoption, explains Insight Media in its press release.
Chris Chinnock, president and founder of Insight Media, stated that,"this year has been pivotal for UHD/4K, with all the fundamental bits and pieces of its ecosystem alinging."
"We're expecting that the 4K/UHD demo room at SMPTE 2013 will be the largest collection of 4K media equipment and displays in one room. With a series of side-by-side comparisons that we're sure everyone will appreciate, people will be able to see just how 4K has advanced. It's gonna be some sight!"
Source: Insight Media