We're in the middle of reviewing a 2014 4K Ultra HD television, but just had to stop what we're doing and get the word out that Netflix's 4K streaming appears to be live and operational, bringing much-needed 4K content to viewers who own a compatible ultra high-definition (UHD) TV.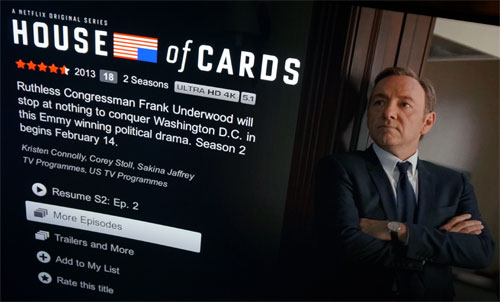 Towards the end of last year, Netflix first revealed its plans to provide 4K streaming, after quietly trialling a selection of 4K video clips at various frame rates. The company dominated this year's CES following 4K Blu-ray's no-show, announcing together with several major TV brands including Samsung, Sony and LG that it will be delivering 4K programming via a Netflix client on HEVC-capable TVs from these manufacturers sometime in the near future.
Well, the future seems to be now: thanks to a heads-up from veteran UK AV journalist Steve May, we've been watching House of Cards Season 2 in Ultra HD 4K through the Netflix app on a new Samsung HU8500 UHDTV we're currently testing. It was more in hope than expectation that we played the first episode (Chapter 14) – imagine our delight when the stream eventually switched to [2160 HD] after going through [720p HD] and [1080p HD].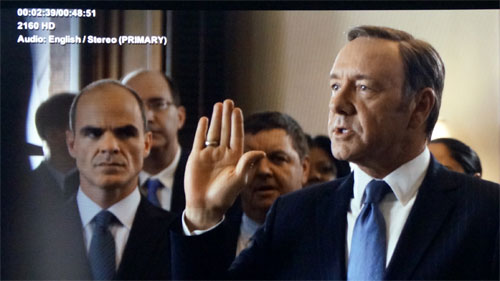 So how does it look? You can't cheat the physics of compression, especially given Netflix's 4K streaming bitrate of 15.6 Mbps which is lower than that of well-transferred Blu-rays, albeit using the more efficient HEVC/h.265 codec. The opening shot of Frank Underwood (Kevin Spacey) and his wife (Robin Wright) running in a park at night is a testing sequence with lots of gradients and camera noise, and we saw minor posterization during the fade in, and around the street lamps. To our eyes, the [2160 HD] layer did not look visibly more detailed than the [1080 HD] one in this fairly dark scene.
Where the 4K version did shine was with bright, colourful scenes. On-screen images were rendered with greater sharpness and smoother gradients, receiving a very slight boost in intra-scene gamma and contrast in the process too. Every time the video stream switched from [1080p HD] to [2160 HD], it's as if a veil had been lifted from the front of the screen, bringing objects – even faraway ones in long shots – into breathtaking clarity. Here's a close-up of the US presidential flag showing the difference in quality between the 1080p and 4K streams on the same UHD TV:
Click on the options below to compare:
[1080p HD] stream <========> [2160 HD] stream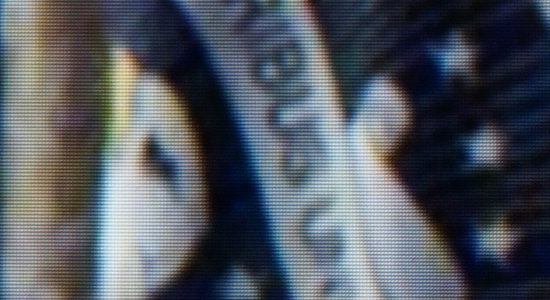 Whether the improvement is visible from normal viewing distances remains debatable, however there's no denying that House of Cards S2 in 4K Ultra HD was by far and away the best-looking title we've seen among Netflix's catalogue of movies and television series, making the company's previous highest-quality [Super HD] streams seem blurry in comparison. We still think that reference-level 1080p Blu-ray transfers like Oblivion look cleaner especially during busier sequences, but Netflix has done a decent job within the shackles of manageable internet streaming bandwidth.
House of Cards Season 2 is now available to watch in glorious ultra high-definition (at least in the UK), as long as you have access to a compatible 4K display with built-in HEVC decoder and updated Netflix client (for example 2014 models from LG, Samsung and Sony), not to mention sufficiently fast broadband speed (Netflix recommends at least 15Mbps). If you're lucky enough to satisfy these requirements, has Netflix 4K been enabled for your region? Let us know in the comments below!