Widespread adoption of 4K TV may be closer than we think, despite persistent worries about the lack of content for the next-generation display technology. According to the latest report from NPD DisplaySearch, consumers are set to embrace 4K on a massive scale before the year is out.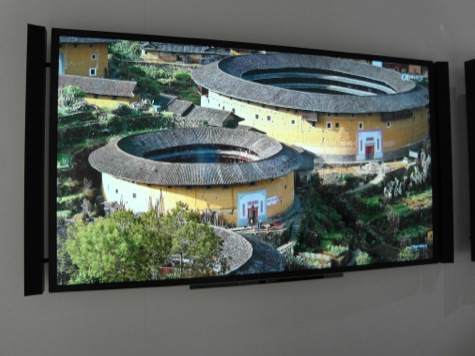 4K TV to hit 2.6 million global shipments this year
The industry analyst firm's Quarterly Large-Area TFT Panel Shipment Report, published this morning, confidently predicts a mass increase in the sale of Ultra HD resolution display panels, with more than 2.6 million units expected to be shipped by the end of this year. Compared with just 63,000 units shipped in 2012, this is the strongest evidence yet that 4K is finally taking off.
NPD Display Search predicts in its report that the growth in 4K LCD panels will be led by five suppliers, feeding a number of TV Brands across the world.
David Hsieh, Vice President of NPD DisplaySearch, states that China will be key to this growth, especially in the 50-inch to 65-inch display segment:
"4K TV Panel makers are primarily focused on 50-inch, 55-inch, 58-inch and 65-inch sizes at the moment, and it's here where we can expect to see the biggest increase in shipments, most especially in China."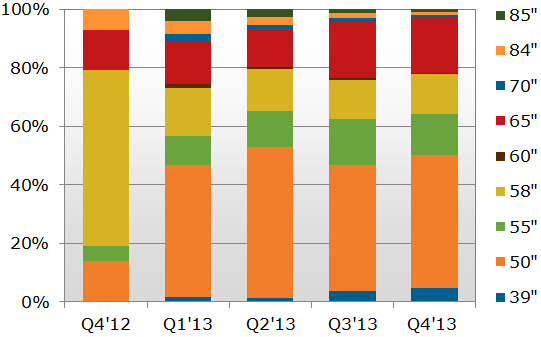 4K×2K LCD TV panel shipment forecast by size (Q4'12-Q4'13)
This is an encouraging sign for TV manufacturers and shows that consumers evidently believe that 4K TV represents the future, yet this growth should be put into perspective. For now at least, 4K will remain something of a luxury, given that TV shipments of all types totalled 237 million last year. This is understandable enough considering that Sony's 84-inch Bravia KD-84X9005 will set consumers back around £20,000. The likes of Samsung, Sharp and Toshiba haven't announced prices for their own 4K models just yet, but these are all likely to be similarly price. Chinese brands such as TCL, Hisense and Haier should all produce cheaper models, but it's not known at this stage if/when these might ship to the UK.
For those wondering about OLED TVs, this technology is also expected to grow albeit at a much slower pace than 4K. Bearing in mind that LG is the only brand to have announced a firm release date for its OLED TV so far, NPD DisplaySearch expects around 50,000 units to be shipped in 2013, up from about 10,000 the year before.
Source: NPD DisplaySearch