Samsung has thrown down the gauntlet to rivals LG and Sony with yet another gambit in the ongoing Ultra HD TV price wars, cutting up to a grand off the price of its smaller F9000 4K TVs just weeks after their UK launch.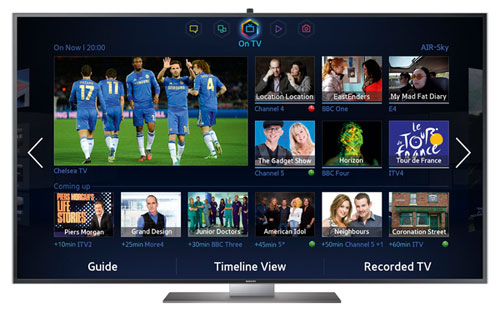 The Korean electronics giant has slashed the asking price of its 55-inch Samsung UE55F9000 by a whopping £700 to just £3,299, representing a 17.5% reduction on its original £3,999 price tag. Simultaneously, Samsung has also dropped the price for its larger 65-inch UE65F9000 to just £4,999 from the original £5,999, amounting to a 16.67% discount.
Samsung's move comes following similar price cuts by rival firms LG and Sony on their own 4KTV models last week, though not necessarily in the United Kingdom. Interestingly though, it was Samsung who fired the opening shot in this price war when it cut the cost of its curved OLED TVs by a massive $6,000 in the USA, to just $9,000 from the original $15,000 asking price. This action prompted an almost immediate retaliation by LG, though somewhat curiously it refused to budge on the $15K asking price of its own OLED TVs, and instead offered a heavy discount on its 55-inch and 65-inch 4K models. Less than 24 hours later, Sony pulled a similar trick, slashing $1,500 and $2,000 respectively off the cost of its own 55in and 65in Bravia X9 4K Ultra HD televisions, presumably in a bid to stay competitive.
No doubt we're in the middle of a price war between the world's biggest television manufacturers, even if Samsung continues to deny it. The South Korean firm insisted last week that its aggressive price cuts are nothing to do with getting one over their rivals – rather, it claims that it's brought about by improved manufacturing yields that have reduced the cost of producing its large-screen OLED panels. But whether or not this claim is true, Samsung's initial act was most definitely a shrewd one, and one that forced LG and Sony to respond.
With the prices of next-generation TVs plummeting like a stone, this can only be good news for consumers who are perhaps thinking of buying one but not quite convinced. £3,299 is still a hefty price to pay for a TV, but it does at least put Samsung's smallest 4K TV within the reach of a few thousand more potential buyers. But perhaps we should spare a thought for the early adopters too – those who rushed out to the shops as soon as Samsung's F9000s hit the shelves will likely be feeling a bit aggrieved to have spent up to an extra £1000 – had they know the prices would drop so quickly most would probably have waited a few more days before getting their wallets out.
What do you think of the ongoing 4K and OLED TV price wars? Are these massive price discounts enough to tempt you to whip out your credit card? Let us know your feelings in the comments section below.