Although some of the world's biggest TV manufacturers are gearing up for the high profile launch of their next-generation 4K TVs, these are unlikely to make much of a dent in the LCD television market, said a prominent market research firm.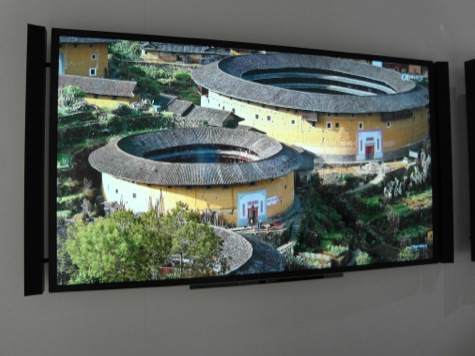 4K TV to remain niche, merely a stopgap until OLED
The new 4K televisions touted by the likes of Sony, LG and Toshiba at the IFA 2012 consumer electronics show in Berlin boast a pixel format of 3840 x 2160, four times that of current 1080p HDTVs, and are said to have unbelievable clarity and depth. But despite the awesome viewing experience they offer, few consumers are likely to want to own one of these ultra-high definition 4K TVs, according to a new report from IHS iSuppli.
"Demand for 4K TVs will be negligible over the next few years, with shipments unlikely to account for greater than 1% of the TV market," said iSuppli this week.
The latest IHS iSuppli Television Market Tracker Report predicted that while demand will increase from just 4,000 units this year to as many as 2.1 million units by 2017, this will still represent a mere 0.8% of the total LCD TV market share.
4K "Just A Stopgap" Until OLED
4K TVs have generated much excitement in the industry over the last few months, with the likes of Sony and LG unveiling their own 84-inch models priced at £25,000 and £15,000 respectively. In addition, Chinese brands Hisense and Konka have also stated their intention to get in on the act, promising to release their own 4KTV models by the end of the year.
But IHS iSuppli noted that given their prohibitive costs, the 4K TV market is unlikely to be a dominant one, with neither consumers nor manufacturers willing to pursue the technology.
"The amount of content available at 4K resolution is very limited," explained IHS iSuppli's TV systems and technology research director Tom Morrod.
"The market for 60-inch TVs and super-size TV sets is very small, accounting for just 1.5% of all units shipped in 2012. Most consumers don't want or need that large a TV, and for many, the full HD 1080p resolution is more than enough."
"Due to these factors, plus the prohibitive costs of these sets, it's likely that 4K televisions will remain luxury items limited to just commercial uses and the wealthiest of consumers."
Another problem for 4K TVs is that many leading TV brands see the products as merely a 'stopgap', filling in while they await the arrival of OLED TVs.
OLED TV displays are said to offer a far superior picture quality than even 4K LCD TVs, yet production of these has been slow due to the limited capacity of OLED display panel manufacturers. However, this is likely to change in the future as manufacturing techniques become more efficient, with LG and Samsung both expecting to achieve competitive pricing and volume in the next two years.
For Japanese brands, 4K televisions are therefore an important product that they hope can 'fill the gap' in the high-end market and help them to compete with their South Korean rivals, although they will only be able to do so until such a time as OLED TVs become more widely available, IHS concluded.