Fans of Channel 4 content have received some good news this month, after the British commercial broadcaster unveiled a variety of significant upgrades to its popular 4oD video-on-demand (VoD) service. The innovations, which will be rolled out on both Apple iOS and Android platforms, will enable viewers to watch live television on their smartphones and tablets away from their HDTVs, as well as download content from the channel to be consumed later offline.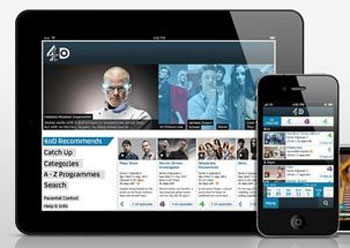 4oD iOS & Android app update to bring live TV & offline viewing
Channel 4 has announced that the upgraded 4oD app for both Android and iOS should be coming in the early part of next year. Using the mobile application, viewers will be able to tune into some of their favourite shows on their iPhone, iPad or Android devices when the programmes are actually being broadcast on TV. This "Watch Live" feature offers access to all of the stations that come under the Channel 4 umbrella including More 4 and E4; whereas the "Pause and Play" functionality empowers users to pause a 4oD programme on one device, and then continue watching on another platform from the same point.
Many will also find the offline viewing feature extremely useful, as it will allow them to download Channel 4 shows using WiFi, and then watch the content when they want, which will come in handy at times when there's little to no 3G/4G connectivity, or if they wish to avoid using up their data allowance. This free ad-supported service will arrive first on iOS devices in early 2013, and then on Android later in the year.
Channel 4's spokesperson Sarah Rose said that the broadcaster is extremely excited about becoming the UK's first commercial public service broadcaster to give viewers the ability to enjoy offline mobile viewing, allowing them to catch up on their favourite Channel 4 programmes no matter where they are. She added that the ability to pause and play content will be welcomed by many people who consume content on a range of devices.