At a product showcase event in Weybridge this week, LG Electronics reaffirmed its commitment to OLED TV technology by launching its 55-inch flat-screen "Gallery" OLED TV for sale in the UK for the first time, as well as detailing the model numbers and release timelines for the company's forthcoming 4K OLED TVs.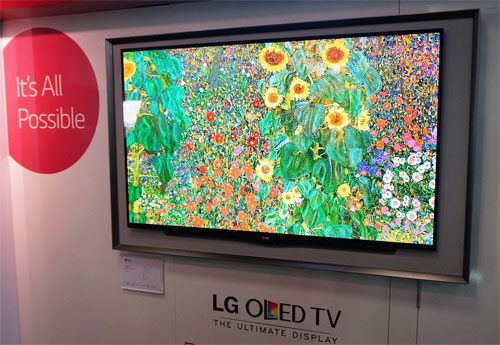 The LG 55EA880W Gallery OLED TV will go on sale exclusively at British luxury department store Harrods, underlining the display's premium status. Price has been set at £6,999 – a good bit more expensive than the Korean manufacturer's own 55EA980W curved OLED television which has undergone a series of price cuts, settling most recently at £3,999.
The extra money buys you a flat panel – the only non-curved OLED TV on the market. The EA880W uses the company's WRGB OLED technology, delivering true blacks, lush colours and plasma-like viewing angles within a super-slim and lightweight chassis. Other features include full HD 1080p instead of 4K UHD (ultra high-definition) resolution, Cinema 3D (the brand's brilliant moniker for passive 3D), integrated WiFi, a 100W forward-facing 2.2 channel "Canvas Speaker" audio system, and a Gallery Mode that lets you enjoy high-res legendary paintings from Vincent van Gogh and Paul Gauguin, or just your own personal photos in slideshow format. Unfortunately it doesn't come with LG's new WebOS platform, but does retain the brand's Netcast Smart TV portal.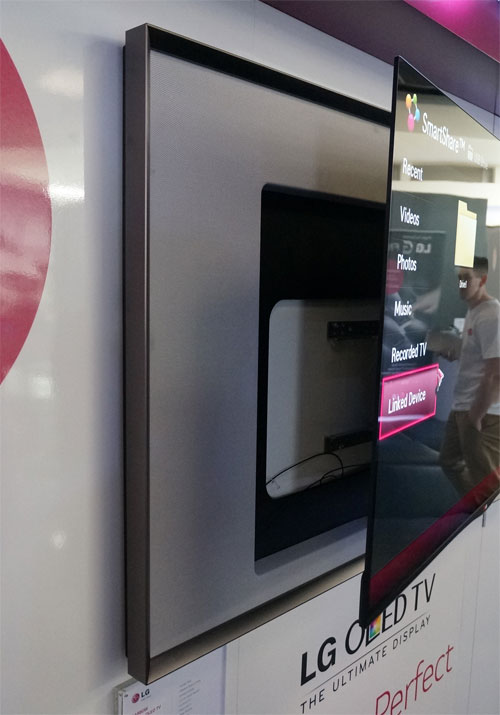 The 55in flat-screen OLED panel can actually be detached from the underlying Gallery frame for use as a standalone display without sound (the screen connects to the speakers via optical), though there isn't a table-top stand so it would have to be wall-mounted. LG UK's commercial director for consumer electronics Andy Mackay said that the 55EA880W is very much aimed at the custom install market, rather than as a mass market proposition.
At the event, LG also revealed that they're prepping three sizes of 4K curved OLED televisions for release in the United Kingdom during the second half of 2014. The 55-inch LG 55EC980W and the 65-inch 65EC980W are due to appear earlier, whereas the glorious 77-incher is primed for an IFA launch in September. Prices are yet to be determined, but they're probably not for the faint-hearted.
At a time when other companies are focusing on 4K Ultra HD and curved TVs, it's refreshing to see LG stand firmly behind OLED which we believe offers a revolutionary jump in image quality due to its ability to produce absolute blacks and infinite contrast. Given other TV makers' apathy towards OLED, ploughing ahead with the display technology is a risky move, but may just pay off for LG, propelling it as a premium AV brand that's capable of delivering unrivalled picture quality.