When we reviewed Samsung's KE55S9C curved OLED TV some 6 weeks ago, we called it the best direct-view display we've ever laid our eyes on, chiefly due to its ability to render true 0 cd/m2 blacks owing to OLED technology's self-emissive properties. The Korean manufacturer is not the only player in the OLED television market though – its cross-town rival LG Electronics also has a 55-inch curved OLED model on sale in the United Kingdom, which is the subject of our review today.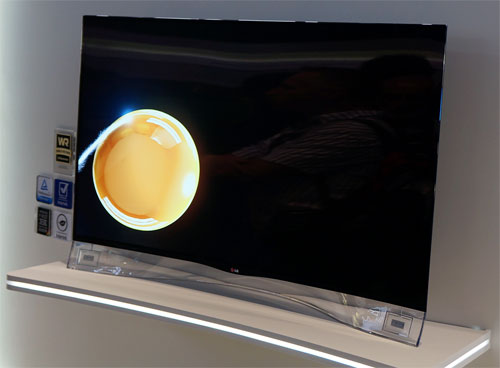 We recently took delivery of an LG 55EA980W from established British home entertainment retailer Richer Sounds, and have been putting it through our rigorous test procedures, not only to compare it against Samsung's offering, but also to gather more data on OLED display technology that has captured the imagination of video enthusiasts all around the world. The EA980W features a 55in curved screen, white OLED (WOLED) with RGBW colour filter technology, full HD 1080p instead of 4K Ultra HD resolution, ISF and THX certification, passive 3D (dubbed "Cinema 3D" by LG), as well as integrated WiFi connectivity together with the company's Smart TV platform. Let's find out how it performs.
Design
Over recent years, LG has been trying to shed its "bargain basement" brand image and move upmarket, and no product epitomises this more than the 55EA980W curved OLED television. The display ships in a black box that simply oozes quality; and unpacking the various bits and pieces gave us the same sort of premium feel you'd get from unboxing an Apple product.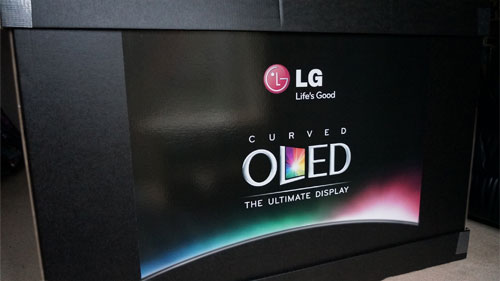 The OLED panel itself looks aesthetically stunning, and is at its breathtaking best when inspected from the side. It's only 4.5mm deep – so unfathomably thin in fact that our knees were buckling at the thought of snapping an £8,000 TV into half while we were taking the set out from its box, despite the back of the chassis purportedly having been reinforced by carbon fibre. The OLED screen is framed by a slim bezel, and sports a gentle concavity which is not as pronounced as we'd come to expect.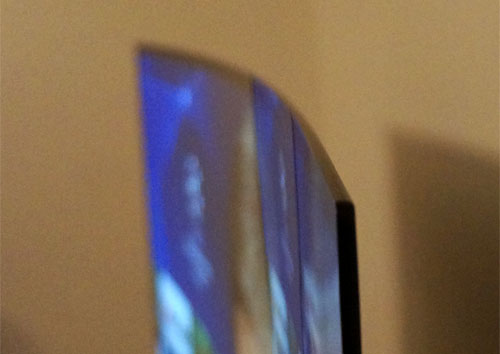 The panel sits atop a fixed transparent perspex stand which follows the width and curvature of the screen, so you would need to have an AV rack that's at least nearly as wide as the telly on which to place the LG 55EA980W, or else the whole unit will topple forward (akin to the Samsung F8000 LED TV and its "Arc Stand"). The stand also contains a pair of "clear speakers" whose sound quality is slightly above average though no match for an external soundbar or home theatre system.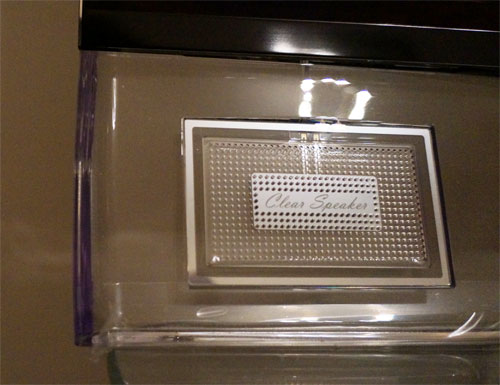 We did think that the plastic makeup of the stand cheapened the premium feel a tad, but there's no denying that the entire ensemble looked fantastic, with the slim bezel and transparent stand working in tandem to create a highly convincing "floating in air" effect. Irrespective of your stance on curved displays, it's impossible not to be wowed by the subtly curvaceous, ultra-slender panel.
Connections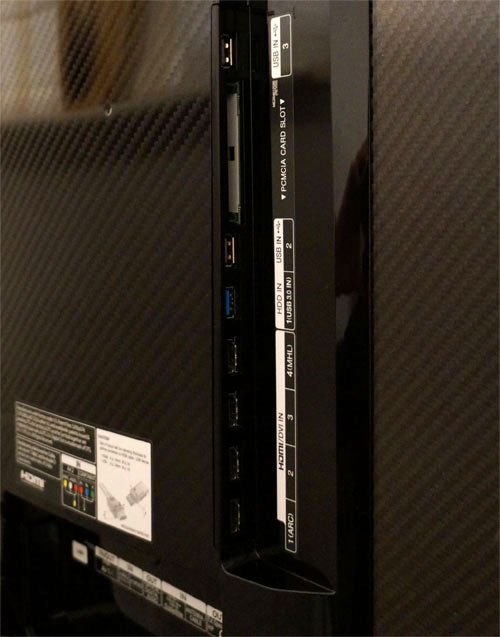 4x HDMI, 3x USB, component, SCART, Freeview HD & satellite tuners, LAN, audio outs.
Remote Controls
The EA980W comes with two remote controls: one's your bog standard, traditional clicker; the other is LG's "Magic Remote" that functions like a mouse when you point it at the TV a la Nintendo's Wiimote. The latter works really well, allowing for intuitive access and control of items on screen, and even boasts a built-in microphone for voice control.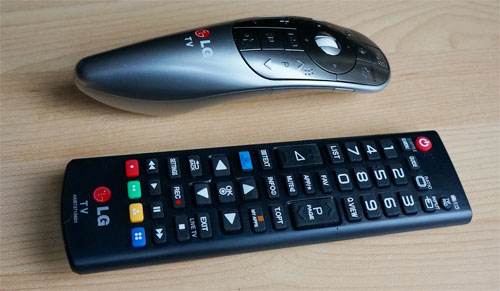 We have two minor complaints though. The first is that you're forced to sync the Magic Remote with the television to click the scroll-wheel during the initial setup process, or else you can't proceed. Second, the traditional remote doesn't have a dedicated [3D] button to manually enable 2D-to-3D conversion or any other 3D mode (side-by-side, top-and-bottom, etc.) – it's only found on the Magic Remote.
Calibration
Note: Our review sample was calibrated using CalMAN Professional, the industry-leading video calibration software.
Like Samsung's S9C curved OLED TV, the LG 55EA980W is affected by Automatic Brightness Limiter (ABL) circuitry, where full-screen white scenes will be automatically dimmed to protect the television's internal components. While it's never intrusive during real-world viewing, and not as aggressive as that implemented on plasma televisions, it does mean that windowed or APL patterns should be used for the purpose of calibration rather than full-field ones. Ironically, the internal test patterns offered on the 55EA980 is full-screen, which would lead to a wonky picture if used to calibrate the display.
For the record, the maximum light output we managed to extract from the 55EA980W on a full-field 100% white pattern was 82 cd/m2, which was just over half of the 150 cd/m2 achieved by the Samsung KE55S9C. The discrepancy may be due to LG's RGBW versus Samsung's true RGB subpixel layout, a difference in ABL threshold, or a combination of both. Both OLED TVs returned similar maximum luminance on a 100% white windowed pattern (LG 345 cd/m2; Samsung 350 cd/m2).
Among the picture presets available on the LG EA980W, the most accurate are the ones endorsed by THX or ISF (Imaging Science Foundation), namely [THX Cinema], [ISF Expert1] and [ISF Expert2]. All the settings in [THX Cinema] mode are locked out, so if you wish to make any further picture adjustments, you'd have to use one of the [ISF Expert] modes. We carried out pre-calibration measurements in [THX Cinema] mode, and then calibrated in [ISF Expert1].
Greyscale
The pre-calibrated greyscale accuracy of the 55EA980W OLED display in [THX Cinema] mode was outstanding: delta errors (dEs) consistently measured under the commonly accepted perceptible threshold of 3 except at 50% stimulus. Even peak luminance was bang on our usual target of 120 cd/m2, which is all the more impressive given that none of the picture settings can be changed in this preset. This is without doubt the most accurate out-of-the-box greyscale we've seen all year – clearly LG's decision to seek THX's expertise has paid dividends, so well done LG, well done THX.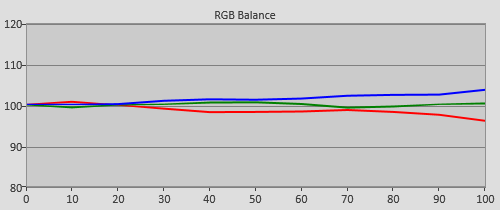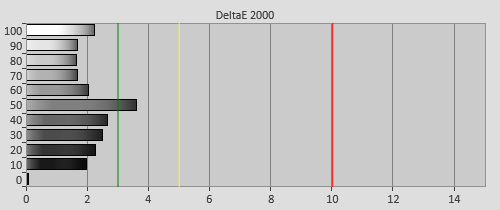 Pre-calibration RGB tracking and delta errors (dEs)
Since the 55EA980 provides us with not only 2-point but also a staggering 20-point [White Balance] system, we couldn't resist attempting to improve the already excellent greyscale accuracy. We only needed the two-point WB controls to reduce dEs to below 2 across the entire luminance range: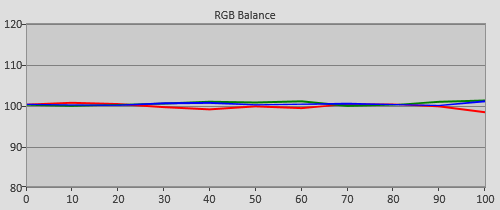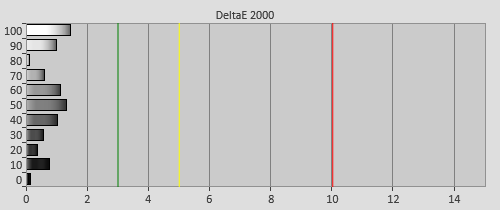 Post-calibration RGB tracking and dEs in [ISF Expert1] mode
Gamma
The LG 55EA980W's gamma tracked closer to the conventional 2.22 than 2.4 which has since 2011 been recommended by the International Telecommunications Union (ITU) as the reference electro-optical transfer function (EOTF) for flat-screen HDTVs used in dark-room studio mastering.
| | |
| --- | --- |
| | |
| Pre-calibration gamma tracking (avg 2.22) | Post-calibration gamma tracking (avg 2.36) |
Nowadays we routinely calibrate the TVs we review to 2.4 gamma to replicate the intended appearance of an HD master. Setting [Gamma] to "2.4" in [ISF Expert1] mode got us reasonably close to that target.
Colour
Several [Colour Gamut] choices are available on the 55in LG EA980W OLED TV, of which "BT709" is – as suggested by its name – most accurate to the Rec. 709 HDTV standard. Out of interest, we also checked out [Colour Gamut] "Wide" to see how large is the range of colours the 55EA980W is capable of producing, even if it's oversaturated and inaccurate. The LG's maximum colour gamut did not go as wide as that measured on the Samsung KE55S9C, which is perhaps down to a difference in OLED technology employed: Samsung uses direct-emission, true R-G-B subpixels; whereas LG's is WOLED-CF, i.e. White OLED backlight with 4-colour (RGBW) filter on top.
| | |
| --- | --- |
| | |
| [Colour Space] "BT709" | [Colour Space] "Wide" |
Technicalities aside, any discussion about the size of a wide colour gamut is purely academic, since we're only interested in whether a display can fulfil the Rec. 709 colour space, which the 55EA980 did without any fuss. After making some tweaks in the Colour Management System (CMS), we obtained a first-rate result: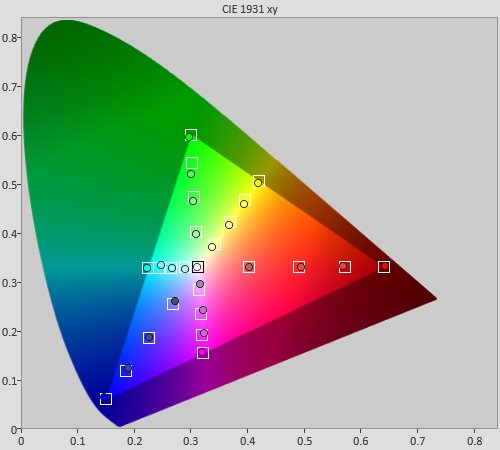 Post-calibration colour saturation tracking
…with delta errors never exceeding the visible limit of 3 (colour decoding taken into account) across all the 25%, 50%, 75% and 100% colour saturation tracking points. Lovely jubbly.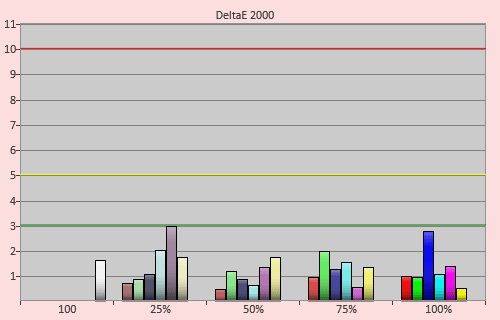 Post-calibration colour errors (<3 not appreciable to the eye)
Benchmark Test Results
| | |
| --- | --- |
| Dead pixels | 2 dead subpixels |
| Screen uniformity | Bottom-half brighter + banding at 5%-10% stimulus |
| Overscanning on HDMI | 0% with Aspect Ratio set to "Just Scan" |
| Blacker than black | Passed |
| Calibrated black level (black screen) | 0 cd/m2 |
| Calibrated black level (ANSI checkerboard) | 0.0004 cd/m2 |
| Black level retention | Very mild – not visible outside test sequence |
| Primary chromaticity | Very good |
| Scaling | Excellent |
| Video mode deinterlacing | Very effective jaggies reduction |
| Film mode deinterlacing | Passed 3:2 & 2:2 cadence tests |
| Viewing angle | Excellent |
| Motion resolution | 600 with [TruMotion] engaged; 300 otherwise |
| Digital noise reduction | Acceptable at baseline |
| Sharpness | Defeatable edge enhancement |
| Luma/Chroma bandwidth (2D Blu-ray) | Full Luma; Chroma horizontally blurred unless [PC] mode in 60Hz |
| 1080p/24 capability | No judder in 2D or 3D with [Real Cinema] engaged |
| Leo Bodnar input lag tester | 55ms with [Game Mode] engaged |
| Full 4:4:4 reproduction (PC) | Yes, with input label set to [PC] |
Power Consumption
| | |
| --- | --- |
| Default [Eco] mode | 103 watts |
| Calibrated [ISF Expert1] mode | 71 watts |
| Standby | <1 watt |
Picture Quality
Black Level
Over the years, we have used a variety of adjectives to describe excellent black-level performance, ranging from "deep" and "inky" to "rich" and "hypnotic", with the superlative of superlatives usually being reserved for the best plasmas like the Pioneer Kuro line and this year's Panasonic ZT and VT series. But after auditioning Samsung's and now LG's 55-inch curved OLED TVs, we clearly need an adjective of even higher intensity, and the most apt we've come up with is – don't laugh – "black" black.
Because OLED is a self-emissive display technology without the need for a backlight unit, each pixel can be switched on and off independently of each other on a per-pixel basis, contributing to deeper blacks and brighter whites which can co-exist on the same scene if need be. Our Klein K10-A reference-grade colorimeter could not detect any light output from the LG 55EA980W at all when the TV's displaying full-field video black. This is very different from the auto-dimming shenanigans commonly seen on LED LCDs these days, in that the absolute level of blacks held firm even in the presence of lit pixels on other parts of the screen. The K10A meter returned a figure of 0.0004 cd/m2 rather than zero on a 4×4 ANSI checkerboard pattern, which we're sure is due to neighbouring light scatter (the curved screen prevented us from obtaining a completely light-proof seal on the centremost black patch).
The true 0 cd/m2 blacks on the LG EA980W is as good as it gets, surpassing even the best-performing plasma display panel (PDP). The unrivalled black-level response also has a beneficial effect on the television's colour palette, allowing colours to "pop" with such vibrancy while still maintaining an aura of authenticity – we like to think of true blacks as the ideal canvas for colours to shine. The 55EA980W's awesome contrast performance was truly intoxicating, making us want to revisit all the films we've watched before to see them in a new light.
Screen Uniformity
We previously praised the essentially perfect screen uniformity on the Samsung KE55S9C, but when we put up 5% and 10% stimulus full-field patterns on the LG 55EA980, we immediately noticed that the lower half of the screen appeared slightly brighter than the top half. There were also several vertical stripes of alternating darker and lighter bands.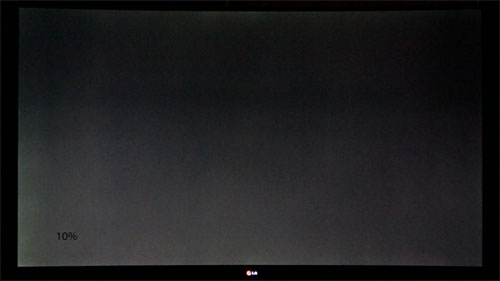 This is probably an unfortunate side effect of LG making the panel as thin as it is, which is not helped by the stress placed upon the lower portion of the screen by the fixed stand. To be fair, these screen uniformity issues did not rear their ugly heads in real-life content, not even as DSE (dirty screen effect) which typically manifest itself during panning shots across a tonally uniform background (for example a green football field).
We saw no image retention or burn-in during our time spent with the set.
Motion
Despite boasting insanely fast response time, the current generation of OLED televisions are driven by sample-and-hold method, so their motion characteristics resemble LCDs instead of impulse-type displays such as CRTs and plasmas. Indeed, running our reference motion resolution test sequence (namely the horizontally scrolling line chart in Chapter 31 of the FPD Benchmark Software disc) on the 55EA980W yielded a motion resolution of 300, the same result usually observed on vanilla LCD panels unaided by motion-enhancing technologies.
LG's own flavour of motion-compensated frame interpolation (MCFI) can be found in the [Picture Options] > [TruMotion] submenu. Besides offering a few predefined, non-adjustable modes like "Clear" and "Smooth", the company also provides controls for owners to adjust the deblur and dejudder components independently of each other via the [User] preset. Enabling [TruMotion] doubled the EA980's motion resolution to 600 regardless of what settings we used, even [De-Judder] "0" and [De-Blur] "0" in [User] mode! Incidentally, this is the [TruMotion] settings we'd recommend to viewers: on our review sample, it boosted motion clarity without introducing significant interpolation artefacts, or soap opera effect to 24p drama/movies.
Video Processing
The standard-definition handling of the LG 55EA980W was of a very high quality. Upscaling was crisp with full detail capture, although there was a touch more ringing than the class-leading Samsungs. Video-based deinterlacing was up there with the very best, mopping up jaggies almost completely. The TV aced the 3:2 over 480i and 2:2 over 576i cadence tests too as long as [Real Cinema] was engaged, ensuring that film-based material are processed correctly without any deinterlacing artefacts or resolution loss.
Strange though it may sound, LG's [Real Cinema] mode also doubles as a toggle for native 24p output – you'll need to set [Real Cinema] to "On" to avoid experiencing telecine judder during playback of 1080p/24 content such as Blu-ray movies.
3D
LG has been the chief proponent of passive 3D (which is cleverly marketed as "Cinema 3D") from the outset, and the company's not about to abandon ship on its most cutting-edge HDTV. Two stylish pairs of polarized glasses are included with the OLED TV, complete with their own Alain Mikli case, as well as corresponding clip-on versions for bespectacled owners.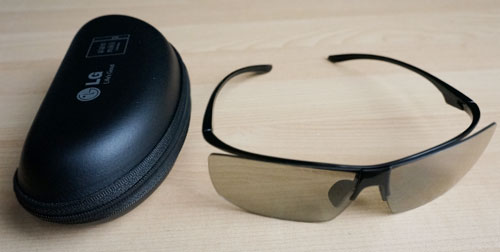 As is the case with all passive 3-D TVs, the extra-dimensional image on the 55EA980 was bright and flicker-free, though we did feel that 3D depth and dimensionality suffered as a consequence of the halved vertical resolution. Crosstalk was non-existent, but like all 3DTVs featuring FPR (film-type patterned retarder) 3D LCD panel technology, vertical viewing angle was very limited – we started seeing double "ghost" images once we went beyond 15° off-axis vertically. Placement is crucial: make sure you sit at eye level with the screen.
Console Gaming
With both next-gen consoles from Microsoft and Sony having hit the streets over the past couple of weeks, potential buyers may want to know if the LG 55EA980W curved OLED television is a suitable gaming display for the Xbox One or PS4. If you're into twitch games like first-person shooters (FPS), the answer is "not really": input lag (as measured using a Leo Bodnar tester) in [Game] mode came in at 55ms, which whilst is slightly faster than that found on Samsung's S9C OLED, does not lend itself to a responsive gaming experience. Renaming the source input label to [PC] did not cut down the figure any further. The TV's input lag spiked significantly outside [Game] mode – for example [ISF Expert1] returned an unplayable result of 138ms.
Full 4:4:4 reproduction was catered for, but only with the input label set to [PC]. Close-up scrutiny revealed very mild jagged edges, which is not as clean as a true RGB subpixel layout. We're really talking pixel-peeping though: from a normal viewing distance, the pentile-like effect was unnoticeable.
Conclusion
The LG 55EA980W is the second OLED TV we've tested, and like the first, it delivers a picture that blows away any LED LCD television, and eclipses even the best-performing plasmas, owing largely to its ability to render true blacks. Should OLED displays come down in price and become more commonplace in the future, we may have to revise our review scoring system: do we still assign so high a weighting on contrast ratio if every TV's black level is 0 cd/m2?
Until that day arrives though, the black-level performance of the LG EA980W stands head and shoulders above every other flat-screen TV except Samsung's KE55S9C, the only other OLED television on the market in the UK. That we were enamoured by the supreme blacks didn't mean the 55EA980's other excellent attributes went unnoticed. Thanks to THX's involvement, out-of-the-box greyscale accuracy in [THX Cinema] mode ranked as the best we've seen all year. The onboard video processing was first-rate, guaranteeing no degradation in both SD and HD quality. And did we mention how jawdroppingly gorgeous the design – what with its unbelievably slim, curved screen – looked? We didn't even notice the subtle curvature after a while: such was the mesmerising effect the unreal blacks had on us.
The obvious question to ask is: which is better between this and the Samsung S9C, both being curved OLED displays that cost more than any other 55″ televisions on the market? Based on our indepth testing, we'd have to give the slight edge to the Samsung: its active 3D is full-res and not hampered by vertical off-axis limitation; it features black frame insertion (BFI) as a means to reduce motion blur without introducing interpolation artefacts; and we prefer the cleaner look of its true RGB subpixel structure even if it's only apparent from up close. And the Samsung KE55S9C's lower price to the tune of £1000 is not to be sniffed at too.
But let's not take anything away from the LG 55EA980W, because it's truly a fabulous TV in its own right. Underpinned by the inkiest blacks imaginable, the EA980W's world-class picture quality is a giant step forward in the company's effort to establish itself as a premium AV brand.
Note: If you're interested in buying this TV, please support us by considering making your purchase from our friends at Richer Sounds who kindly loaned us a retail set to review, and will provide competitive prices and first-rate customer service.