Christmas has come early for those of you eyeing an OLED television. According to our sources in the retail sector, LG Electronics has today slashed the price of its 55EA980W 55-inch curved OLED TV by a massive £3,000, which means that the stunning display can now be purchased at £4,999.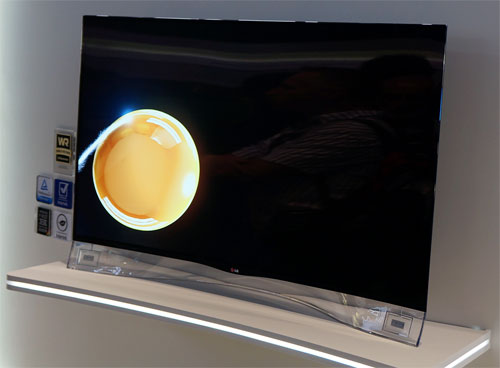 The LG EA980W 55-incher originally carried a retail price tag of £7,999 since its UK launch in September, so this price cut represents a whooping 37.5% discount. Several retailers like Richer Sounds and Crampton & Moore have updated their ecommerce store with the new, lower price. While we haven't received confirmation either way, it's highly likely that LG will discount the price of its curved OLED in other regions such as North America and Europe in the coming weeks too.
At this time of writing, Samsung's corresponding 55in curved OLED model – the KE55S9C – is still priced at £6,999, available exclusively through upmarket British retailer John Lewis. LG's latest move undercuts Samsung's offering by a not inconsiderable £2,000, though given past history, the latter will probably respond with a price drop of its own.
Earlier this month, we noted that LG has started supplying its WRGB OLED panel to Chinese TV maker Skyworth, suggesting that production yield has improved. Maybe the latest price cut is a reflection of lower manufacturing costs?
Or perhaps, it's simply LG's measure to clear stock before the next wave of OLED TVs (possibly with 4K Ultra HD resolution, hopefully flat) are unveiled at CES 2014. The South Korean company today announced that it will be unveiling a gigantic 105-inch curved 4K TV at CES next month, although the display technology used will be LED LCD rather than OLED.
Even at 5 thousand pounds, the LG 55EA980W curved OLED TV remains significantly more expensive than similarly sized LED LCD TVs. However, its unrivalled contrast performance owing to true 0 cd/m2 blacks puts its picture quality far beyond the reach of any LED LCDs, earning it our highest "Reference Level" award when we reviewed it earlier this month. It's still not cheap, but we're just glad that the price has started to come down to make large-screen OLED technology nearly affordable for the masses.