OLED TV pacemaker LG Electronics has announced that it will be unveiling four new OLED televisions at the IFA 2015 consumer electronics trade show that's kicking off in Berlin next week, including long-awaited flat-screen and 4K HDR-capable versions.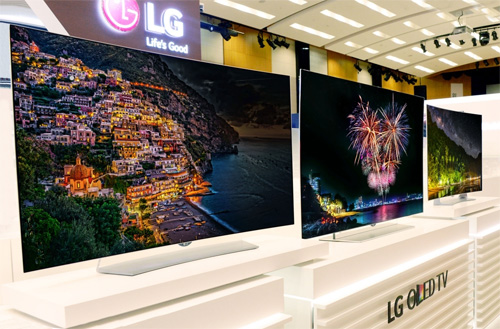 LG's new flat-panel OLED TV range is the EF9500 series which is also the world's first flat OLED display with 4K UHD (ultra high-definition) resolution. First seen at CES earlier this year, the LG EF950V will be available in the UK in two screen sizes of 55 and 65 inches, namely the 55EF950V and 65EF950V (corresponding model numbers in other countries will be the 55EF9500 and 65EF9500 respectively).
What's more, the LG 55EF950V and 65EF950V OLED TVs (as well as a curved 55EG920V) will be capable of handling HDR (high dynamic range) content, not only via streaming from the likes of Amazon Prime Video and Netflix 4K, but also from "external sources" according to the South Korean manufacturer's press release. Hopefully this will mean that these sets can accept and display HDR-mastered material from upcoming Ultra HD Blu-rays over their HDMI 2.0a ports – we have reached out to LG to clarify.
Update 27 August 2015: LG have confirmed that the 55EF9500, 65EF9500 and 55EG9200 will have HDMI 2.0a inputs at launch. Here's their response to our question in full:
HDR content will be deliverable over HDMI connections as well as streaming, for newly launched 4K OLED TV models: EF9500 and EG9200. This means EF9500 and EG9200 models come equipped with HDMI 2.0a.
However, there's a slight concern we picked up from the following snippet in LG's released statement this morning:
…OLED panels can deliver the absolute black which makes the bright colours of HDR look even more impressive. OLED TVs are able to render the required HDR light range at lower peak brightness, resulting in an exceptional and more comfortable viewing experience.
Reading between the lines, this suggests that the LG EF9500 and EG9200 HDR-capable OLED televisions may not be able hit the higher peak brightness figures (1000 nits being commonly quoted) demanded by high dynamic range content, although we must stress that at this time of publication, HDR standards have not yet been formally announced. We'll probably have to wait until after IFA next month to get a clearer picture.
Features on the new LG 4K OLEDs include razor-thin depth (slimmer than any smartphone on the market today), near-invisible bezel, shimmering transparent stand, WebOS 2.0 smart TV platform, and Harman Kardon speakers. The curved LG 55EG9100/ 55EG910V is likely the direct successor to the current 55EC930V 1080p OLED television.
LG's new 4K OLED TVs will begin going on sale in South Korea, Germany, the USA and the United Kingdom at the end of August (2015), with the rollout scheduled to continue over the next few months in select markets. UK pricing remains unknown, but we'll be sure to bring you more details once we visit LG's show booth (Hall 18) at IFA next week.