It's OLED season, and we kick off the first of three successive OLED TV reviews with LG's 55EG920V which was first outed in a free Netflix promotion earlier this year. As if OLED versus LED isn't confusing enough, the average buyer will probably be asking what separates this model from the LG 55EG960V (reviewed here) which commands the same price and is still widely available?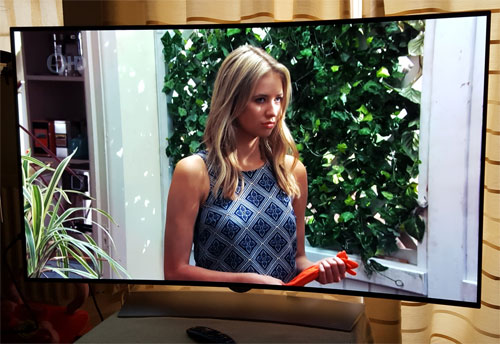 While both feature a curved screen and UHD (ultra high-definition) resolution of 3840×2160, the LG EG920V actually holds a major advantage over the EG960V, in that the former is blessed with HDMI 2.0a ports which let the television play HDR (high dynamic range) content from external HDMI sources such as an Ultra HD Blu-ray player. In other words, the 55EG920 offers a greater degree of future-proofing than the 55EG960, even though the latter ships with a higher-quality metallic stand and Harmon Kardon sound.
Calibration
LG has been steadily improving the calibration controls on its OLED televisions, and the company's efforts were evident on the 55EG920V. Less adjustments were required to achieve 2.4 gamma compared with the first, second and even early third generation of OLEDs from the South Korean manufacturer. Certain measures still needed to be taken though to obtain the most accurate colours, and to minimise the risk of undue posterisation.
Equipment used to calibrate our LG 920V review unit included a Klein K10-A profiled against a JETI Specbos 1211 spectroradiometer, DVDO's AVLab TPG signal generator, and CalMAN software.
Greyscale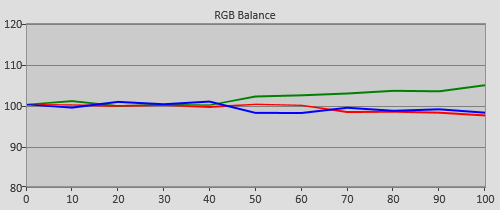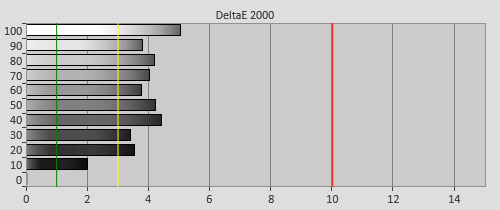 Pre-calibration RGB tracking and delta errors (dEs)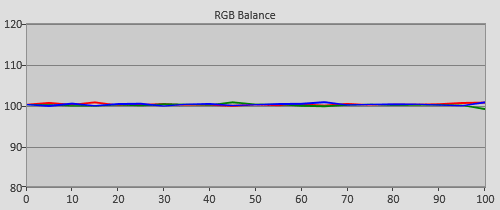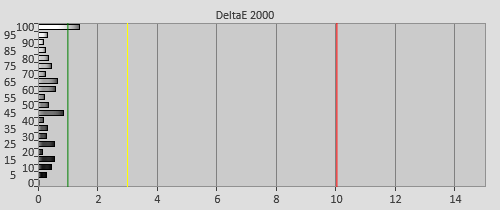 Post-calibration RGB tracking and dEs in [ISF Expert] mode
Gamma
| | |
| --- | --- |
| | |
| Pre-calibration gamma tracking (2.14) | Post-calibration gamma tracking (2.37) |
Colour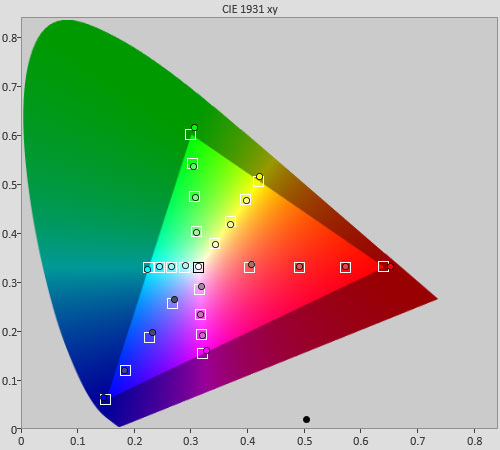 Post-calibration colour saturation tracking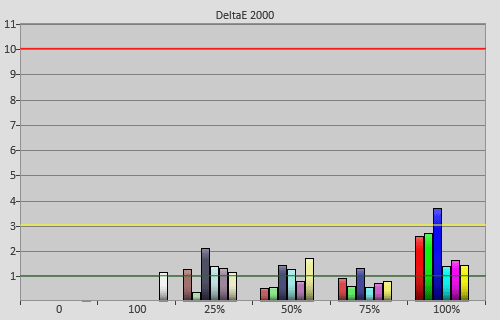 Post-calibration colour errors (<3 not appreciable to the eye)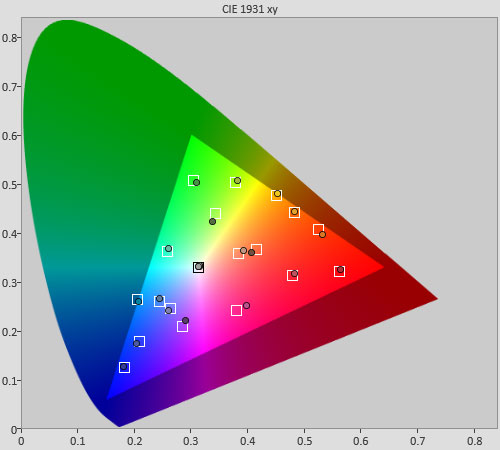 Post-calibration Colour Checker Classic test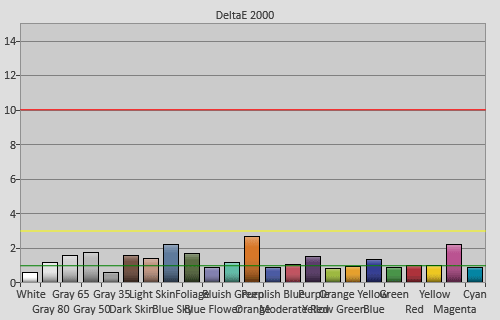 Post-calibration Colour Checker Classic errors (<3 not appreciable to the eye)
Benchmark Test Results
| | |
| --- | --- |
| Dead pixels | None |
| Screen uniformity | Vignetting and vertical banding in low APL scenes |
| Overscanning on HDMI | 0% with [Aspect Ratio] set to "Just Scan" |
| Blacker than black | Passed |
| Calibrated black level (black screen) | 0 cd/m2 |
| Calibrated black level (4×4 ANSI) | 0 cd/m2 |
| Black level retention | Occasional floating blacks |
| Primary chromaticity | Good, though depends on brightness |
| Scaling | Very good |
| Video mode deinterlacing | Effective jaggies reduction |
| Film mode deinterlacing | Passed 3:2/480i & 2:2/576i cadence tests |
| Viewing angle | Excellent |
| Motion resolution | 650 with [TruMotion] engaged; 300 otherwise |
| Digital noise reduction | Optional; effective when engaged |
| Sharpness | Defeatable edge enhancement |
| Luma/Chroma bandwidth (2D Blu-ray) | Full Luma; Chroma horizontally blurred |
| 1080p/24 capability | No judder in 2D or 3D with [Real Cinema] engaged |
| Measured panel refresh rate | 100Hz |
| Measured DCI-P3 coverage | 85% |
| Leo Bodnar input lag tester | 50ms in [Game] mode |
| Full 4:4:4 reproduction (PC) | Yes for both 1920×1080 and 3840×2160@60Hz |
Power Consumption
| | |
| --- | --- |
| Default [Eco] mode | 111 watts |
| Calibrated [ISF Expert] mode | 81 watts |
| Standby | <1 watt |
Picture Quality
If you have more than a passing interest in OLED TVs, then you'll know what to expect from the LG 55EG920V. Blacks were as inky as they get, thanks to the display technology's self-emissive characteristic that allows each pixel to be switched off as required. The prodigiously deep canvas of blacks also lent an insane amount of depth to every scene, injecting more "pop" to the image and more vibrancy to the colours than what's normally seen on transmissive displays like LED LCDs.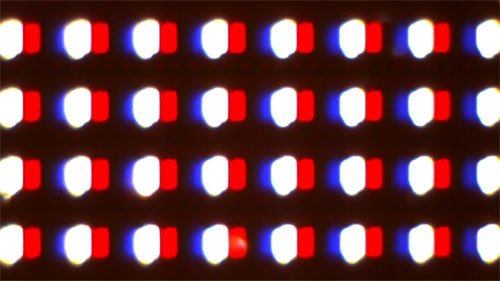 Macro shot of subpixels confirming LG Display's WRGB OLED matrix
And the EG920V's viewing angles were excellent both vertically and horizontally: the television held onto its contrast and colours better off-axis than any other LCD-based televisions, even those equipped with IPS panels. The on-screen filter also didn't impart any significant tint off-centre, unlike the 1080p LG 55EA980W and 55EC930V which took on a greenish cast from extreme angles.
It's the area just above black where LG's WRGB OLED panels traditionally struggle, and the 55EG920 wasn't spared. There's the customary darkening of the sides, as well as streaks of thin vertical bands in super-low APL (Average Picture Level) scenes: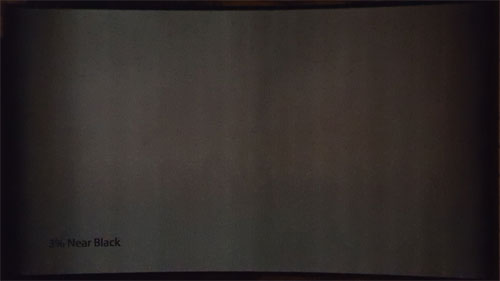 Near-black vignetting & vertical banding after 200+ hours of running in
To be fair, such non-uniformity only reared its ugly head in really dark sequences, and could be made less noticeable by calibrating to a lower gamma (thus resulting in a quicker rise out of black), or introducing more ambient lighting (so your eyes won't be as sensitive in picking up dark detail). The side vignetting could also reduce after an extended period of running in to allow for an adequate number of OLED compensation cycles, but from our experience it will never be completely eradicated – anyone who claims that his/ her LG OLED TV doesn't suffer from vignetting is just not using the right test material to show up the problem.
Talking about OLED compensation cycle (whose main purpose we understand is to combat image retention), the default one on the LG 920 kicked in upon standby after at least 3 accumulated hours of operation:
Pre- and post-OLED compensation counter with number of hours (UTT) in service menu
Unfortunately there were more near-black woes on the 55EG920V. According to LG, the above-black handling on its 2015 OLEDs is done at lower than 8-bit gradation, which explains various dark-scene phenomenons (especially with less-than-pristine video signal) such as false contouring, increased noisiness, misfiring pixels, and intermittently floating blacks (video black would light up ever so slightly even after we've set [Brightness] correctly against a PLUGE pattern). While careful calibration at the lower end could attenuate some of these issues, the only surefire method to make all these above-black artefacts disappear was – ironically – to lower [Brightness] and crush some shadow detail.
Let's look on the bright side… literally. With both [OLED Light] and [Contrast] cranked up to maximum, our 55in LG EG920V review sample hit 446 cd/m2 on a 2% window white pattern – the brightest we've measured from an OLED TV yet. Because of ABL (Automatic Brightness Limiter), peak white luminance dropped to 149 cd/m2 on a full-white screen.
Although this level of peak brightness came nowhere near the 900-1000 nits specified on top-end LED TVs, any concerns we had regarding whether this was sufficient for an impactful HDR experience were immediately dispelled once we plugged a USB stick loaded with several 4K HDR-mastered demo clips into the display.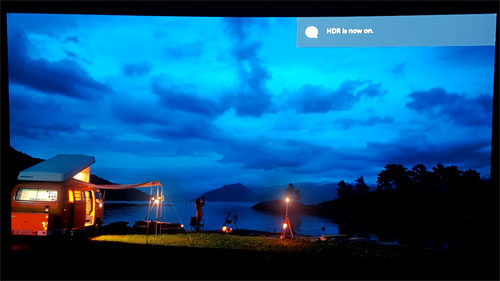 Two videos supplied by LG in particular looked wonderfully spectacular, exhibiting the sort of contrast brilliance, tonal subtlety and colour dynamism that typified HDR. In fact, in our opinion it was arguably the best HDR presentation we've witnessed on a consumer display, with the 55EG920's absolute blacks providing the perfect platform for images to leap from the screen.
Not all HDR demos played well on the 55EG920V though, probably due to differing standards. For example, the Life of Pi and Exodus snippets (which worked a treat on high-end Samsung SUHD TVs) appeared washed out with elevated black level on the LG, suggesting that the EG920 wasn't applying the correct PQ (perceptual quantiser) EOTF formula.
With [Colour Gamut] set to "Wide", the LG 920 reached 85% of the DCI-P3 standard: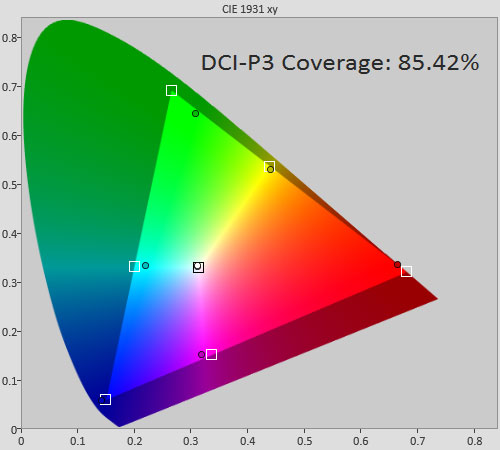 3D delivery was first-rate on the EG920V, with the combination of full HD 3D resolution, sufficiently bright picture and judder-free 24Hz playback, not to mention absence of flicker and crosstalk all working harmoniously to provide sensational depth and detail to extra-dimensional material. Just make sure you're sitting exactly at eye level to the screen, since crosstalk would worsen considerably once you go beyond 15° of eye level vertically, which is par for the course for a passive 3D display.
The 55EG920V performed similarly to other LG 4K OLEDs when it came to gaming responsiveness, registering an input lag of 50ms in [Game] mode on a Leo Bodnar tester. Changing the HDMI input label to [PC] did not bring further improvement.

Lag time in [ISF Expert] mode was 64ms, roughly doubling to 132ms if [Trumotion] was engaged.
Conclusion
The 55EG920 is yet another excellent addition to LG's growing fleet of OLED TVs. Sure, the near-black issues remain unfixed, but otherwise picture quality is outstanding, helped largely by unrivalled black-level rendition. Between the LG 55EG920V and the 55EG960V, we prefer the former due to its HDMI HDR playback capability; although being purists, we'd probably take the flat-screen 55EF950V over either, especially if there's no price premium involved.
Note: If you're considering buying this television, please support this site by making your purchase from our advertising partner Crampton and Moore who will provide competitive prices and first-rate customer service.