For the past couple of years, television owners who wish to take the next leap in picture quality had to make a choice between UHD (ultra high-definition) resolution and OLED (organic light-emitting diode) technology, since the higher-end TVs on the market are either 4K LED LCDs or 1080p OLEDs. That dilemma ends today, because these two exciting display technologies – 4K and OLED – can now be found on a single product, namely the LG 55EG960V that's sitting pretty in our test room.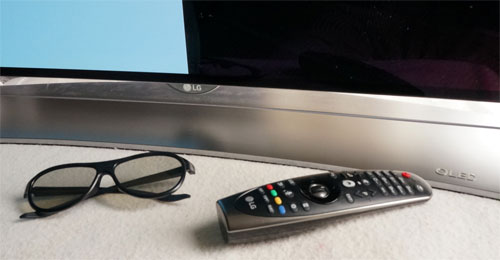 Compared with the 55EC930V we reviewed late last year, the EG960V boasts several key upgrades, namely 3840×2160 resolution, faster quad-core processor, improved onboard sound from Harman Kardon, and enhanced WebOS 2.0 Smart TV platform, though the number of HDMI ports has been reduced from 4 to 3. Besides the 55-incher we're testing today, LG's first curved 4K OLED TV series in 2015 will also be available as the 65-inch 65EG960V.
Note: Our review sample was the British version, but its picture performance shouldn't be drastically different from the LG 55EG9600 and 65EG9600 sold in the USA.
Design
Whichever angle you look at it, the LG 55EG960 is a gorgeous piece of kit. Framed by a slim black bezel that's tastefully offset against shiny silver trim, the OLED panel sports an ever-so-gentle curvature, inviting onlookers to drink in its wafer-thin sexiness. For all OLED's well-publicised strengths in blacks and contrast, it might be this size-zero slenderness that sells the display technology to the public, although as usual LED LCD isn't giving up without a fight in this area.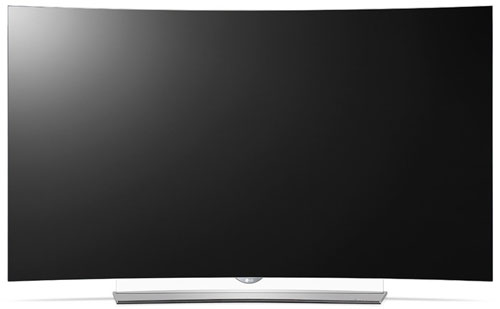 We could see the odd uneven dimpling on the front panel when it caught reflections of straight objects, but it's less noticeable than what we observed on 2014's EC930V. The screen is supported by a transparent stretch of column on its stand, which – together with the bezel – provides arguably the most convincing "floating in air" effect we've seen yet from a non-wall-mounted TV. The base of the stand is arced (what else), and carries a brushed metallic silver finish as well as an "OLED" inscription.
The back of the panel – finished in white – is equally impressive. It's made of plastic, but we never thought it's cheap or squeaky. The razor-thin top portion is adorned with an almost-invisible honeycomb pattern, whereas the bottom bulges out necessarily to accommodate the processing components, connections and speakers. With a detachable flap covering the mounting points for the table-top stand, the layout is clean, clutterless and minimalistic – this is a TV that looks every penny of its £3,800 price tag.
Connections
In this day and age, providing only three HDMI inputs is quite stingy especially on a display costing this much: once one is used for ARC (audio return channel), you're left with only two to connect multiple devices, which can be an annoyance if you don't already own an AV receiver or HDMI switcher. HDMI1 and HDMI2 ports are specified to be HDMI 2.0 with HDCP 2.2 compliance.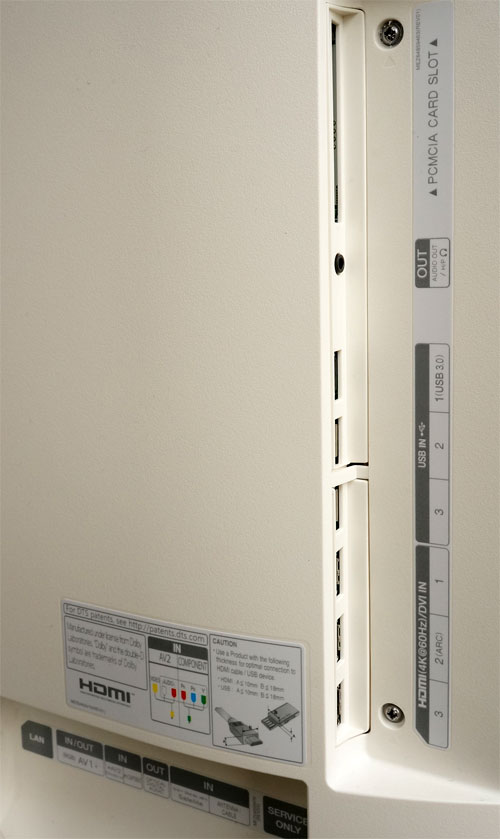 3 HDMI, 3 USB, component, Freeview HD & satellite tuners, LAN, CI slot & optical out
Calibration
Before delving into nitty-gritty technical data, we're extremely pleased to report that navigating the user menu on the 55EG960V was a joy rather than a chore. The beefier processor, upgraded WebOS 2.0 system and a redesigned Magic remote all played their part in a slick, responsive experience, which in turn made any attempt to calibrate the television that bit easier.
Armed with our profiled Klein K10-A meter, a DVDO AVLab TPG signal generator, and CalMAN 5.4.2 video calibration software, we selected the [ISF Expert] mode (which is the most accurate out-of-the-box preset), and got down to work on the 55in LG EG960V.
Greyscale
Out-of-the-box RGB balance in [ISF Expert] mode was very good, but there's sudden excess of blue between 40% and 70% video stimulus, which was actually more jarring in real-world content than a linear red or blue predominance across the entire luminance range: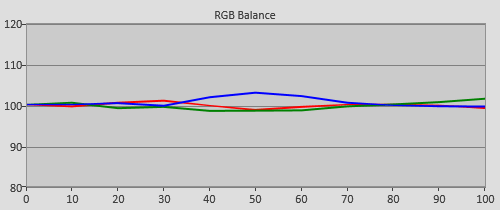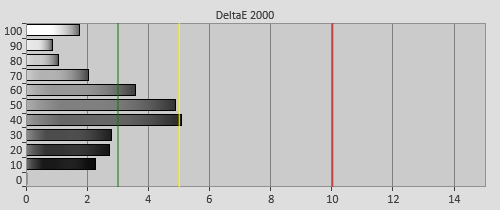 Pre-calibration RGB tracking and delta errors (dEs)
Using the LG EG960V's 20-point [White Balance] system which only functioned properly with [Contrast] and [Brightness] pegged correctly, we proceeded to iron out the kinks in the greyscale: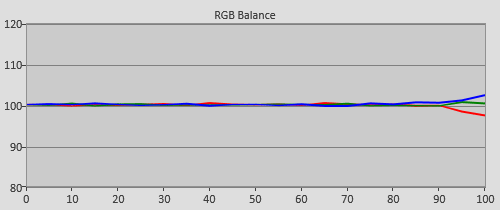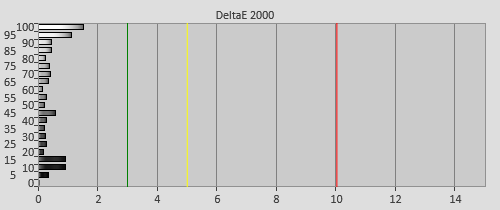 Post-calibration RGB tracking and dEs in [ISF Expert] mode
Eagle-eyed readers may have noticed some red clipping near peak luminance, but it was unavoidable if we wanted to hold the calibrated greyscale in place. In any case, delta errors (dEs) never exceeded 2 throughout (the dE cutoff before inaccuracies start becoming visible to the human eye is widely considered to be 3).
Updated 14 November 2015: Following a firmware update, the [Contrast] value required to align the 20-point WB controls has changed, and less adjustments are needed.
Gamma
The default [Gamma] setting in [ISF Expert] mode was "2.2", which yielded a measured overall gamma of 2.18. However, there were undue jumps and dips at various intervals, causing unwanted posterization and flaky skin tones in real-life viewing.
| | |
| --- | --- |
| | |
| Pre-calibration gamma tracking (2.18) | Post-calibration gamma tracking (2.38) |
2.4 gamma has been decreed by the ITU (International Telecommunications Union) as the recommended EOTF (electro-optical transfer function) for an HDTV used for dark-room studio mastering. Selecting [Gamma] "2.4" on the 55EG960 got us closer to this target, but we found shadow detail to be indistinct in this configuration. Fortunately by repurposing the 20p WB as 20p gamma controls, we could lower near-black gamma to 2.1 and 2.2 to lift the shadow detail while preserving the "pop" and depth afforded by 2.4 gamma for midtones and highlights.
Interestingly, LG has added a new "BT1886" choice among the [Gamma] options on the EG960V/ EG9600. For the uninitiated, BT.1886 gamma formula modifies a base 2.4 gamma curve according to the black (and white) level of the display to provide a quicker rise out of black and avoid shadow detail clipping on low-contrast displays, therefore facilitating a more consistent presentation of the same video signal on individual displays with different brightness/ contrast characteristics.
According to the BT.1886 function, gamma on a display with a black level of 0 cd/m2 should adhere to 2.4 throughout the curve, and indeed, there's no difference between the [Gamma] "2.4" and "BT1886" options on the 55EG960V both measured and visually assessed. Perhaps the addition of [Gamma] "BT1886" is just LG's way of driving home the awesomeness of zero blacks on its OLED TVs.
Colour
The latest update to SpectraCal's CalMAN software now allows us to measure a display's gamut coverage against any colour space standard. With [Colour Gamut] set to "Wide", the LG EG960 4K OLED TV reached 86% of DCI-P3 which represents the likelier WCG (wide colour gamut) target for UHD televisions in the near term than the more ambitious but less practical Rec.2020 standard.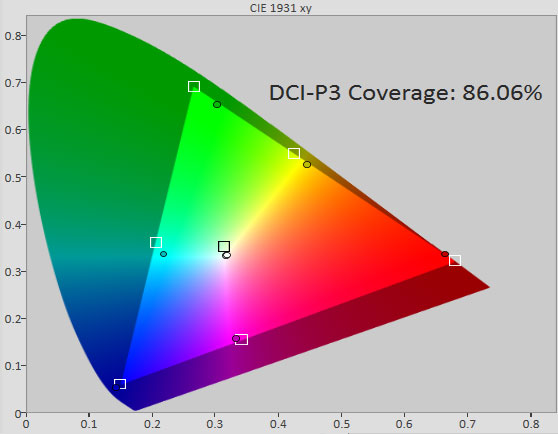 HD material (which makes up the bulk of content watched on these TVs) is still mastered to Rec.709 standard though. While LG has made some improvements to the onboard colour management system (the controls are more effective and less prone to introducing artefacts), we couldn't fully correct the 55EG960V's generally non-linear tracking: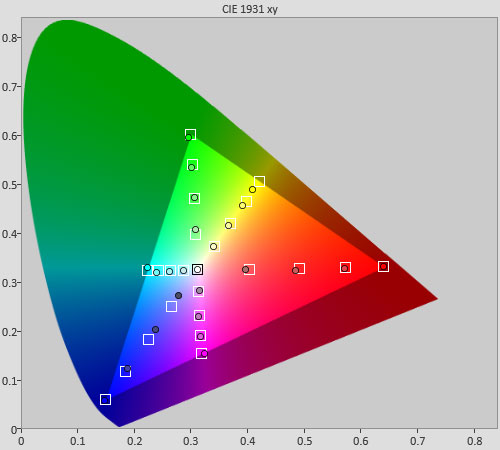 Post-calibration colour saturation tracking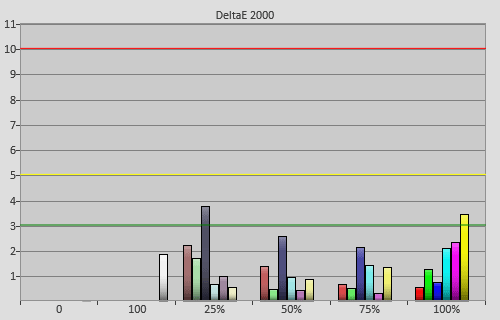 Post-calibration colour errors (<3 not appreciable to the eye)
Running a Colour Checker Classic measurements on our calibrated LG EG960 further revealed that several shades of colours wouldn't look quite right in real-world content. Switching [Colour Gamut] to "Wide" improved certain hues but would skew others.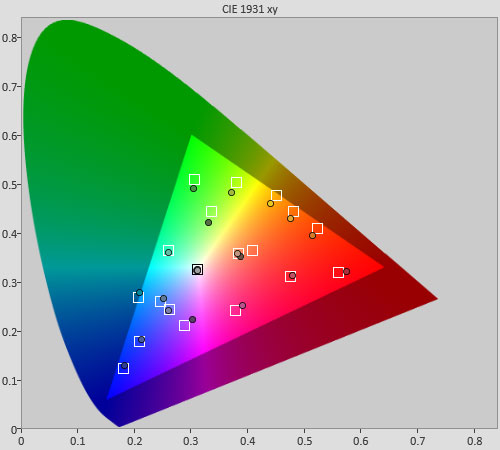 Post-calibration Colour Checker Classic test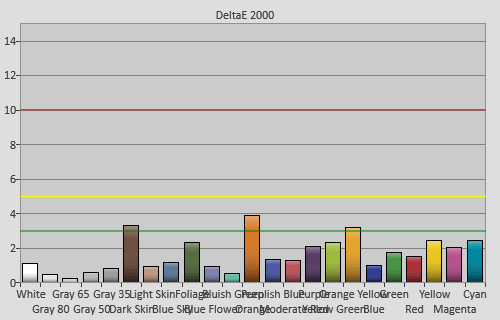 Post-calibration Colour Checker Classic errors
Benchmark Test Results
| | |
| --- | --- |
| Dead pixels | None |
| Screen uniformity | Near-black thin vertical streaks & vignetting |
| Overscanning on HDMI | 0% with [Aspect Ratio] set to "Just Scan" |
| Blacker than black | Passed |
| Calibrated black level (black screen) | 0 cd/m2 |
| Calibrated black level (4×4 ANSI) | 0 cd/m2 |
| Black level retention | Stable |
| Primary chromaticity | Very good, though depends on brightness |
| Scaling | Very good |
| Video mode deinterlacing | Effective jaggies reduction |
| Film mode deinterlacing | Passed 3:2 & 2:2 cadence tests in SD |
| Viewing angle | Excellent |
| Motion resolution | 650 with [TruMotion] engaged; 300 otherwise |
| Digital noise reduction | Optional; effective when engaged |
| Sharpness | Defeatable edge enhancement |
| Luma/Chroma bandwidth (2D Blu-ray) | Full Luma; Chroma horizontally blurred |
| 1080p/24 capability | No judder in 2D or 3D with [Real Cinema] engaged |
| Leo Bodnar input lag tester | 49ms in [Game] mode |
| Full 4:4:4 reproduction (PC) | Yes for both 1920×1080 and 3840×2160@60Hz |
Power Consumption
| | |
| --- | --- |
| Default [Eco] mode | 157 watts |
| Calibrated [ISF Expert1] mode | 123 watts |
| Standby | <1 watt |
Picture Quality
Black Level & Contrast
Black-level response is the raison d'etre of OLED TV, and didn't the LG 55EG960 ace this department. Every single one of the 8-million-plus pixels found on this television can be individually switched on and off due to the technology's self-emissive properties, and the result is the inkiest, truest blacks possible on any display. As expected, on both full-field video black and a 4×4 ANSI chequerboard pattern, the EG960V returned a zero-illumination reading of 0 cd/m2 according to our trusty Klein K10-A meter.
Subpixel structure
The TV was no slouch either at the other end of the contrast ratio spectrum. Granted, it didn't go as bright as its LED LCD rivals on a full-white screen, generating only 149 cd/m2 with both [OLED Light] and [Contrast] cranked up to max, but this is significantly brighter than anything a plasma could muster. Maximum luminance on a windowed white pattern measured 417 cd/m2, making the 55EG960V the brightest market-ready OLED display we've tested thus far.
Of course, for critical viewing in a dimly-lit room, we would have the choice of dialling down the 55EG9600's peak luminance to 120 cd/m2, but suffice to say that this TV won't struggle even in a sun-filled viewing environment.
Uniformity
The LG 55EG960V's biggest improvement over last year's 55EC930V 1080p OLED TV is in the area of colour uniformity, both on- and off-axis. Whereas the EC930V exhibited uneven colour tinting (notably a magenta tint along the sides), and took on a greenish cast when viewed off-centre, we did not see such issues on the EG960V even after scrutinising with various intensities of full-screen grey slides. Well done LG!
Near-black uniformity remained problematic though. When we fed some full-field just-above-black patterns to the television, we observed not only the sides appearing much darker than the centre, but also multiple thin vertical streaks running up and down the screen. Although these near-black inconsistencies won't be visible in 99% of what you watch, they may rear their ugly heads during truly dark scenes, particularly in a dim room at night when your pupils dilate and your sensitivity to low-light detail increases. Until another TV maker (Panasonic anyone?) chips in with more OLED models, it's unknown whether this uniformity issue is inherent in WRGB OLED technology.
Motion
By now, regular HDTVTest readers would have picked up that all OLED TVs manufactured to date use a sample-and-hold driving method, making their motion more akin to LCDs than CRTs and plasmas. LG's EG9600 is no different: with [TruMotion] disabled, motion resolution (as determined via the horizontally scrolling lines in Chapter 31 of the FPD Benchmark Software Blu-ray disc) came in at 300 lines, the same as what we would expect from a vanilla LED LCD unassisted by motion-compensated frame interpolation (MCFI).
To boost motion clarity, three [TruMotion] options are offered besides "Off", namely "Clear", "Smooth" and "User" which further provides independent [De-Judder] and [De-Blur] controls. Both "Clear" and "Smooth" increased motion resolution to 650 lines, but introduced soap opera effect (SOE) to 24p films as well as interpolation artefacts. We preferred customising [TruMotion] "User" with separate [De-Judder] and [De-Blur] settings to obtain the sharpest motion on the 55EG960V without significant side effects.
The OLED television handled 1080p/24 material properly without telecine judder, as long as [Real Cinema] was engaged. In general viewing, we spotted some stuttering from time to time (especially from the internal Freeview HD tuner) as [TruMotion] processing kicked in, but it wasn't frequent or severe enough to bother us.
4K
Using a Chillblast gaming computer that's equipped with a Geforce GTX 970 graphics card, we confirmed that the LG 55EG960V reproduced 4:4:4 chroma at 3840×2160@60Hz from HDMI1 or HDMI2 ports, as long as the input was labelled as [PC], and [HDMI Ultra HD Deep Colour] was enabled (which requires a TV reboot).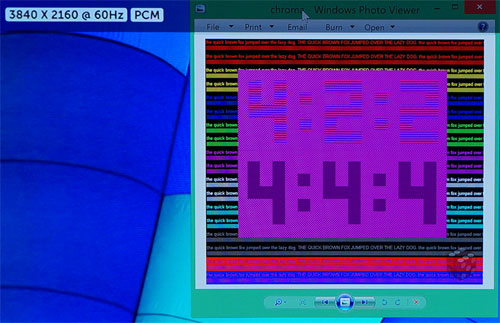 Currently the EG960 doesn't support HDR (high dynamic range) content, and it's not clear whether there's a possibility of adding HDR capabilities in the future with a firmware update. True, the picture put out by this 4K OLED TV was HDR-like enough as it was, anchored by its 0 cd/m2 blacks, but what many people overlook about HDR-mastered content is that there are extra gradation and detail that's simply not available in the corresponding non-HDR material. If a 4K TV doesn't have the capability to read HDR metadata in the video stream, then you'll be missing out on those additional nuances and subtleties, however good the native dynamic range of the display may be.
Moving onto more widely available UHD (ultra high-definition) content, Netflix 4K looked impressive for the most part, but there's a bug with the timeline/ subtitle bar popping up at regular intervals while streaming. We hope LG can fix this with a software update.
3D
As much as we enjoy watching good tri-dimensional movies, until now every 3DTV we've reviewed has presented its own share of problems depending on the technology deployed. Active-shutter glasses (ASG) 3D? Excessive darkening and flicker. Polarized/ passive 3D? Halved vertical resolution and visible horizontal scanlines (on 1080p ones). 3D plasma? Too dim. 3D LED LCD? Crosstalk.
The EG960V 4K OLED TV (which ships with two pairs of polarized glasses included) eliminates almost all of these issues in one fell swoop. Its passive 3D system (dubbed "Cinema 3D" by LG) introduced neither flicker nor significant brightness loss (we recorded a maximum luminance of 177 cd/m2 on a peak white window through the polarized lens), yet still delivered full HD 3D resolution (we verified this using our own custom-authored test card) since the native screen resolution was 3840×2160. OLED's super-fast pixel response time all but eradicated crosstalk, though it'll surface if you watch the television beyond 15° above or below eye level owing to the polarized filter used.
Add insane blacks and contrast to the mix, and what you get is by far and away the best 3-D TV ever in the domestic setting. The 55EG960V processed 24Hz and 50Hz extra-dimensional film-based material without judder even with [Real Cinema] off, although there's some stuttering with 50Hz video-based content in 3D mode.
Console/ PC Gaming
Gaming responsiveness wasn't the quickest on the LG 55EG960V, but it's not the slowest either: our Leo Bodnar input lag tester returned a figure of 49ms in [Game] mode. We suspect that for most users, it'll be perfectly playable especially when the mesmerising contrast, vibrant colours and clean motion (LCD panels are prone to black smearing and overdrive errors) are taken into account.

Labelling the HDMI input as [PC] did not reduce input lag any further in [Game] mode; instead this renaming increased lag slightly to 55ms, which is still an improvement over the 108ms measured in [ISF Expert] mode.
Conclusion
The EG960V is yet another step in the right direction for LG's precious OLED TV technology, offering several key improvements over last year's EC930V. Gone were the colour uniformity issues, undefeatable noise reduction, and off-axis green tinting which plagued previous generations of LG OLED TVs to some degree. The 55EG960V's native 4K resolution not only paved the way for full-res 3D that's highly gratifying to watch, but also removed any "screen door effect" on 1080p sets that perturbed certain viewers. And did we mention that the user menu and WebOS 2.0 portal are now much more responsive?
It's not easy deciding on a final rating for the LG 55EG960. On the one hand, by virtue of its true blacks and wide viewing angles courtesy of its self-illuminating pixels, the vast majority of viewers will clearly prefer the OLED television against the current crop of LED LCDs on the market in a side-by-side comparison, so there's an argument for handing out our "Reference Level" award.
On the other hand, plasmas (albeit now defunct) and some LED LCD televisions still have the upper hand in motion clarity, near-black uniformity, and colour accuracy across the entire luminance range. Compatibility with future HDR content is also uncertain, which can be a worry if you're spending nearly £4,000 on a 55in display that may have no way of taking full advantage of Ultra HD Blu-ray whose listed specifications include HDR.
At the end of the day, there's no perfect display, and for most people the LG 55EG960V/ 55EG9600 will provide the best overall picture quality among TVs available to buy new on the market at this time of writing.