OLED (organic light-emitting diode) display technology is shaping up to become the future of home entertainment in the eyes of Europe's most eminent experts, who have just bestowed one of the industry's most prestigious awards on LG Electronics for its groundbreaking 55″ EM970V OLED TV.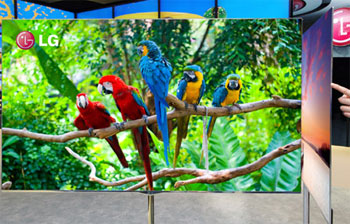 Rebadged as 55EM970V, LG OLED TV scoops EISA award
The European Imaging and Sound Association (EISA), which is made up of experts from 50 video and audio magazines in 19 European countries, has chosen the new LG 55EM970V as the winner of this year's prestigious European Display Achievement award in recognition of its astonishing picture quality, wide viewing angles and extraordinary contrast.
LG Home Entertainment Company's CEO and president Havis Kwon said that the award underlines the firm's growing dominance of the industry:
"The award demonstrates that LG has become an industry leader in home entertainment, and represents a benchmark for our designers and engineers who place high value in the opinions of the EISA's experts."
LG's OLED-based 55-incher is the largest and slimmest of its kind, delivering stunning images thanks to a combination of its WGRB, Colour Refiner and 4 Colour Pixel technologies that add a white subpixel to the three main pixels. With its incredibly realistic colours that can be easily viewed from any angle, together with its sleek, elegant design, the 55EM970V brings a whole new meaning to the phrase "immersive experience".
EISA, which every year honours the best home entertainment products based on technology, innovation and design, isn't the first organisation to single out the marvels of the LG EM970V. Earlier this year, the Korean manufacturer's OLED television picked up two CNet awards – Best of Show and Best of CES – at the Consumer Electronics Show 2012 in Las Vegas, while in May it scooped Korea's Presidential Award for Multimedia Technology when its home nation hosted the World IT Show. 
Curiously, up until now the display was known as the LG 55EM960V. The company hasn't made any official announcement about this change in model number, and so we can presume that there has been no major revision in the set's specifications.
LG's OLED TV success is not the only reason that the Seoul-headquartered conglomerate is patting itself on the back, as it also took home the EISA European Smart TV Award for its 55LM960V Cinema 3D TV, in recognition of the HDTV's outstanding features such as voice recognition, magic gesture and pointing, and its Nano full-array local-dimming LED backlight technology.