TP Vision, the company that develops and sells Philips TVs in the United Kingdom and Europe, is getting serious about OLED technology. The 55POS9002 is the second such television from the Dutch brand, after the inaugural 901F we reviewed back in February. Like its predecessor, the Philips 9002 features a 55-inch WRGB OLED panel sourced from LG Display, native UHD (ultra high-definition) resolution of 3840×2160, three-sided Ambilight system, Android Smart TV platform, as well as HDR support which fulfils the criteria specified by the UHD Alliance for Ultra HD Premium certification.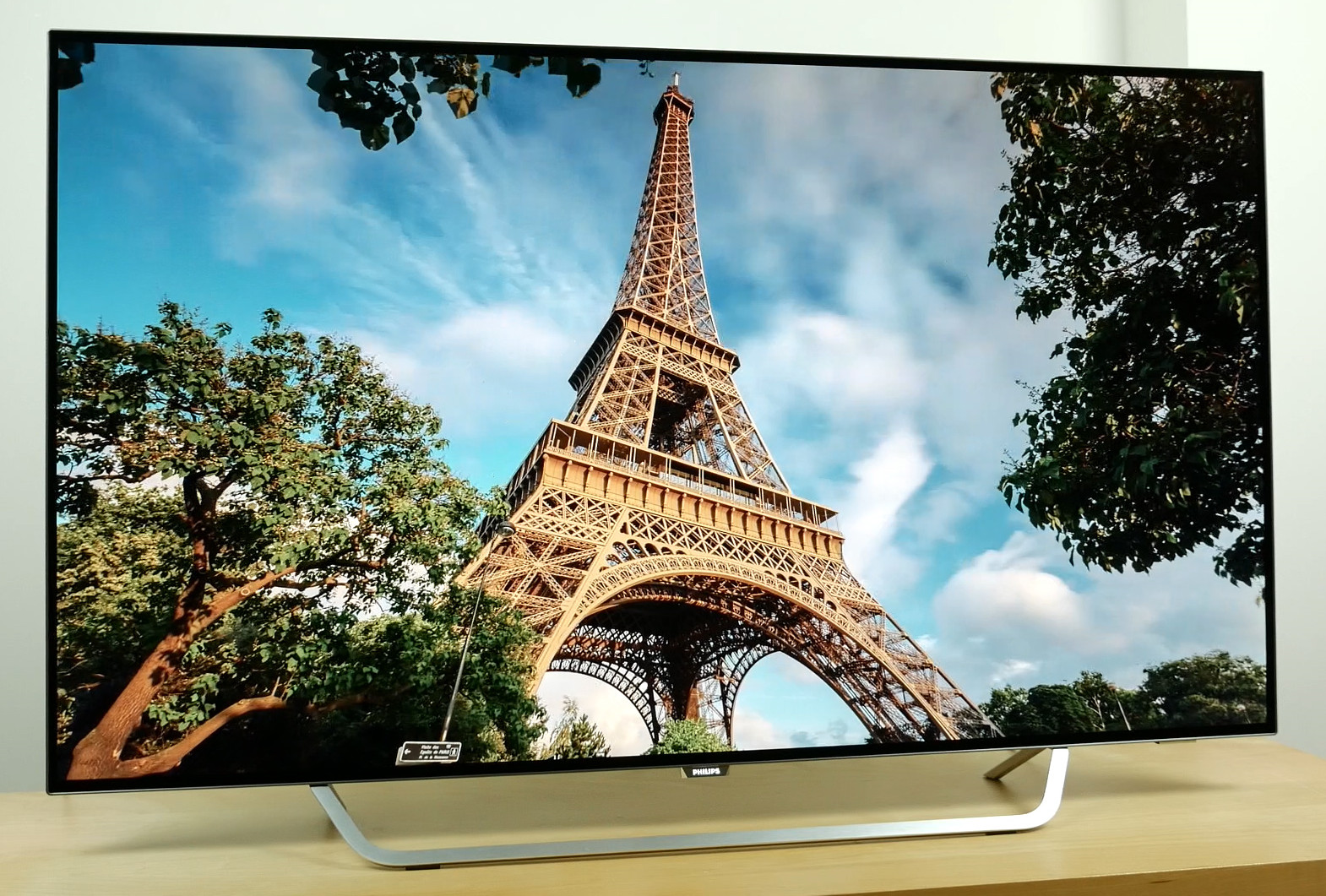 New to the party is a P5 processor that carries out picture processing in very specific steps to elevate the picture quality especially from ropey sources. The price is more affordable too, retailing at £1800 when it goes on sale at John Lewis on the 23rd of November 2017.
Design
The self-illuminating nature of OLED display technology (no backlight required) allows for slim aesthetics, and the Philips POS9002 has taken full advantage, what with its slender panel and black bezel that can effortlessly blend into any lounge. A gunmetal grey casing adds an air of elegance to proceedings.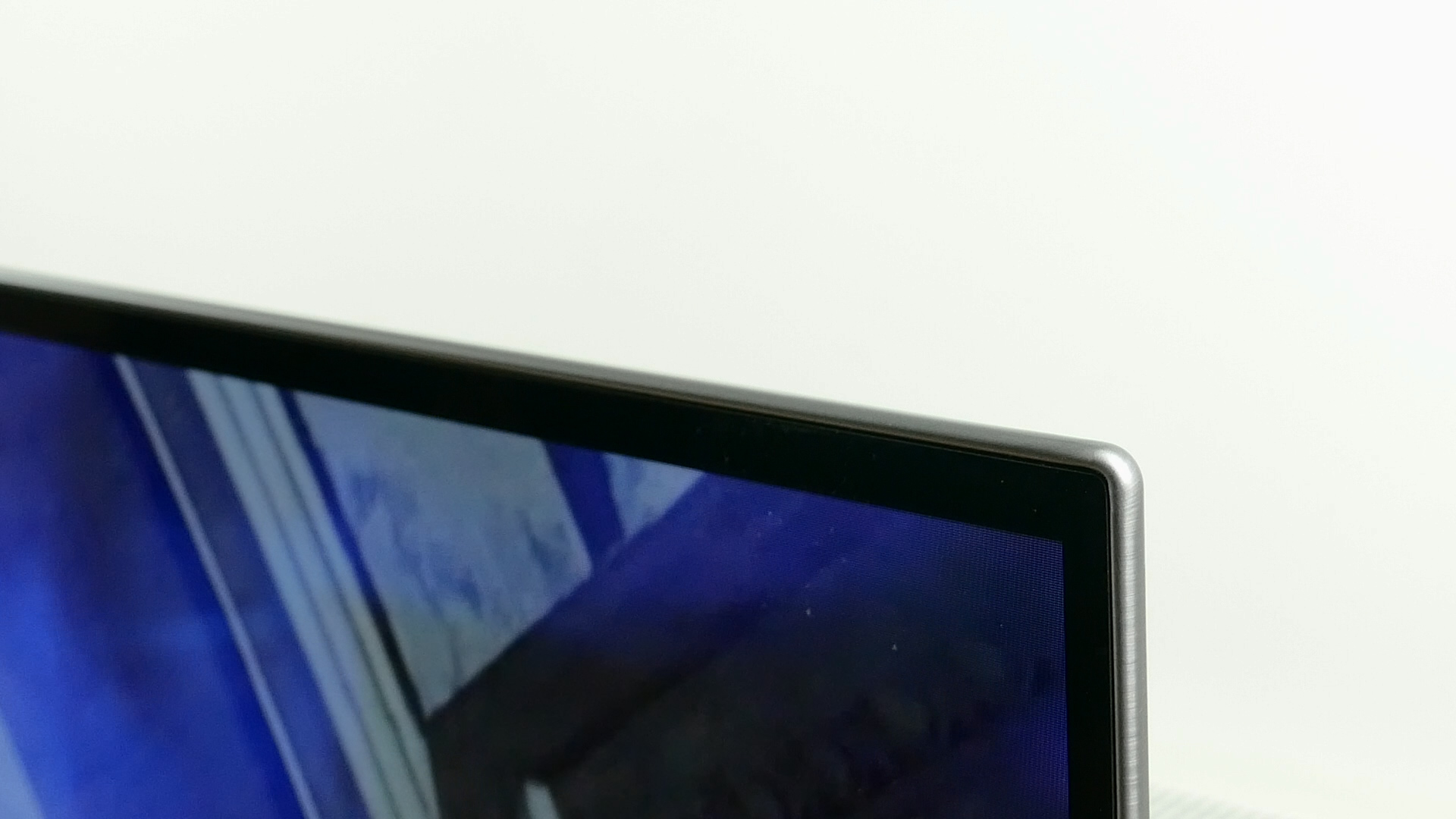 Hanging from the bottom border of the screen is a Philips logo whose illumination can be dimmed down or even turned off from the user menu.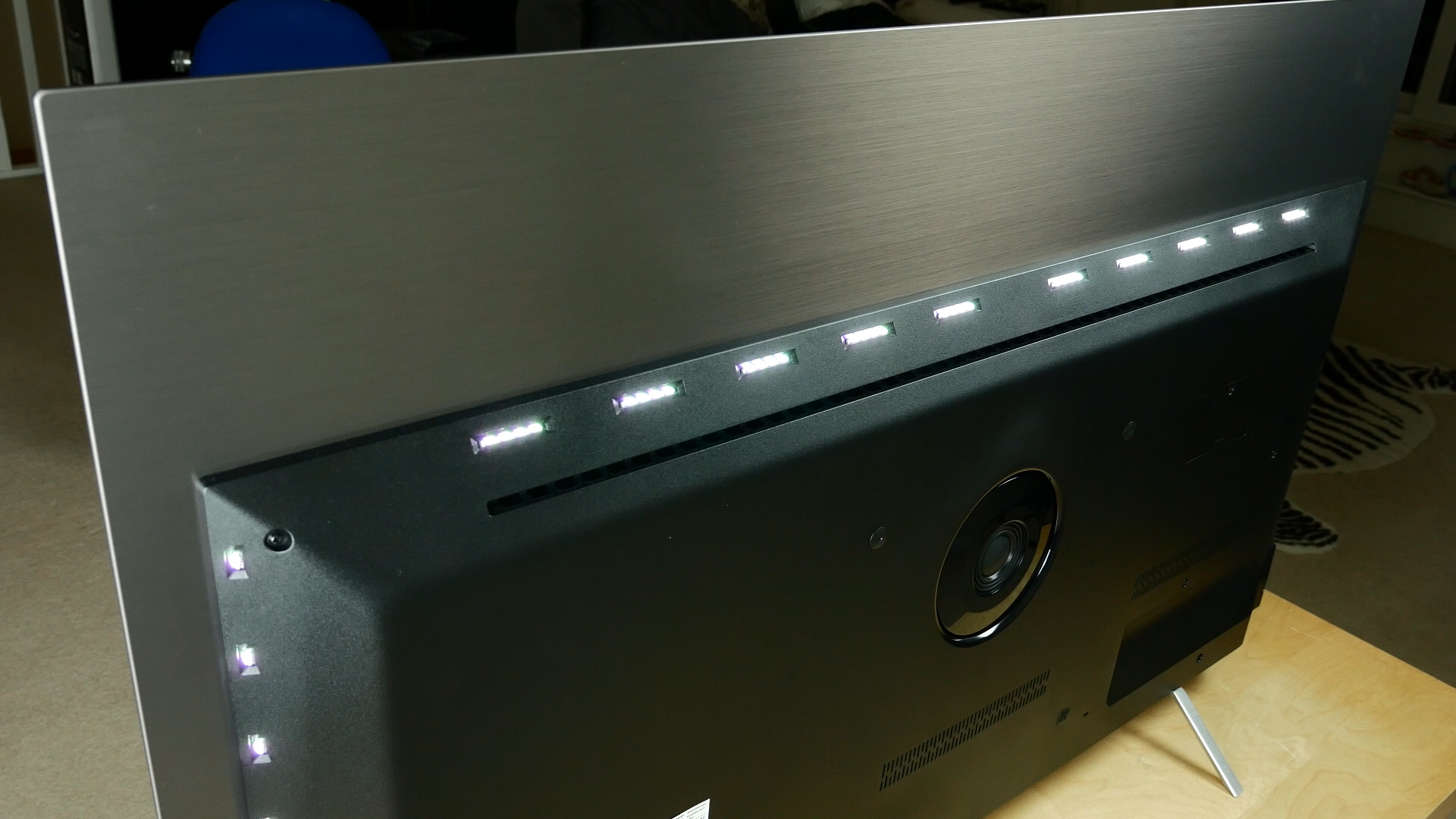 The rear of the 55POS9002 expands out of necessity to house the TV's innards, and is dotted by telltale Ambilight LEDs around the top and sides. The screen sits on a U-shaped stand which is finished in classy brushed metallic silver, and doesn't demand as wide an AV rack for placement as the 55POS901F whose feet extended beyond the width of the panel.
Connections
Although there are four HDMI inputs on the Philips 9002, only HDMI ports 1 and 2 support the HDMI 2.0b and HDCP 2.2 standards, so for the best results you'll need to hook up your 4K HDR video source to one of these two inputs, and enable the [UHD 4:4:4/ 4:2:2] setting in the user menu.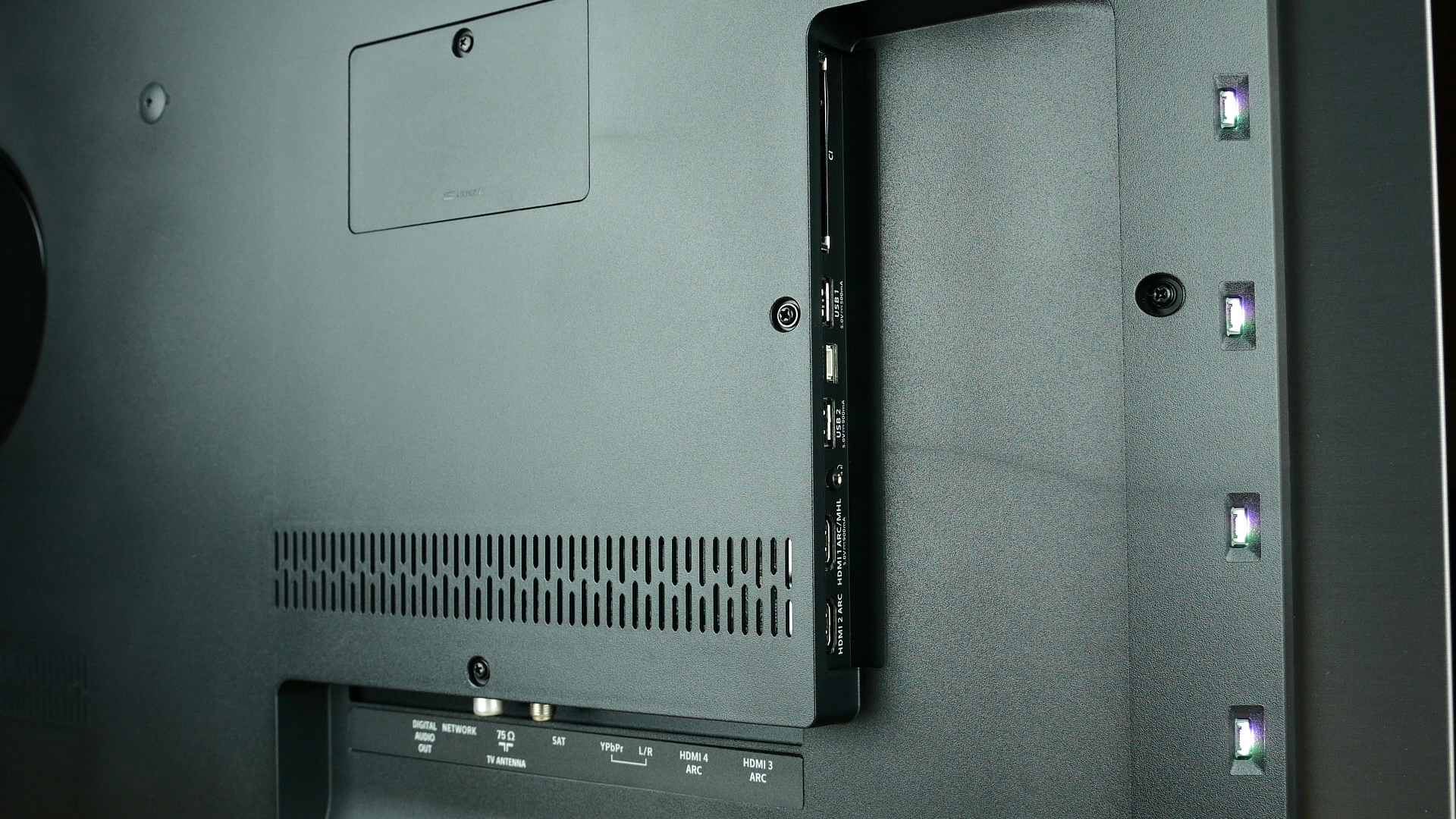 Calibration
The Philips POS9002 offers two-point white balance controls and dual-axis colour management system (CMS), which can be considered lacking when the likes of LG, Panasonic and Samsung are providing 10- or even 20-point white balance controls and three-axis CMS that allows adjustments of hue, saturation and luminance on their high-end sets.
Furthermore, it's easy to introduce floating blacks or colour clipping by making the wrong adjustments. After extensive testing though, we managed to achieve reasonably accurate greyscale and colours, with only one out of 140 patches measured in the gruelling Colour Checker SG chart exceeding the humanly perceptible threshold of delta error (dE) 3.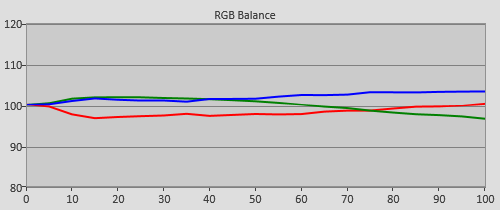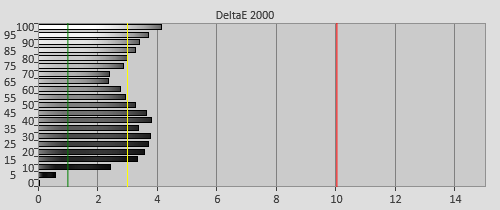 Pre-calibration [ISF Night] RGB tracking and delta errors (dEs)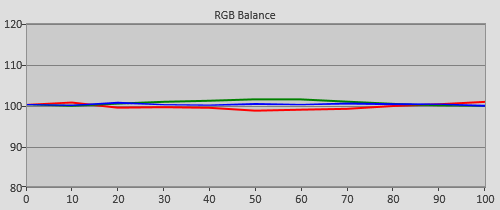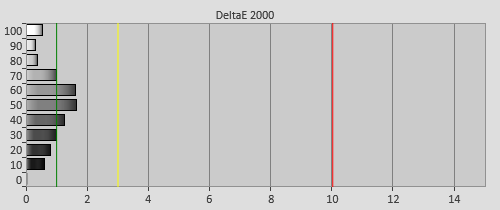 RGB tracking and dEs after [Custom colour temperature] calibration
| | |
| --- | --- |
| | |
| Pre-calibration gamma tracking (2.2) | Post-calibration gamma tracking (2.43) |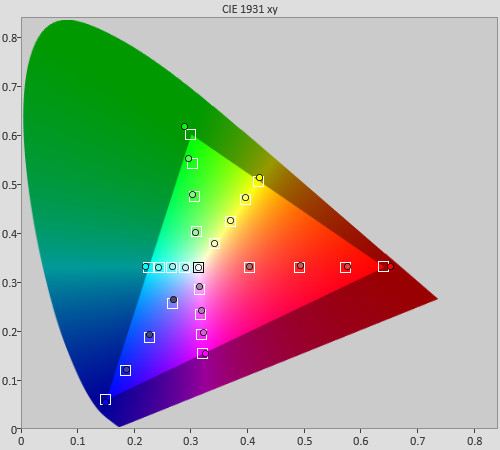 Post-cal colour saturation tracking against Rec.709 standard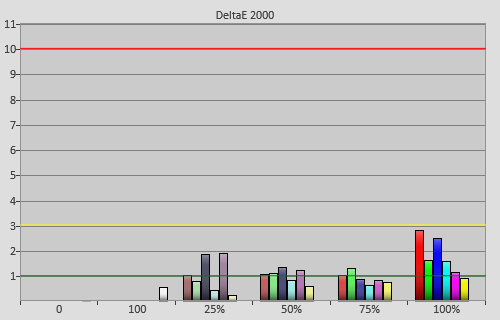 Post-calibration colour errors (<3 not appreciable to the eye)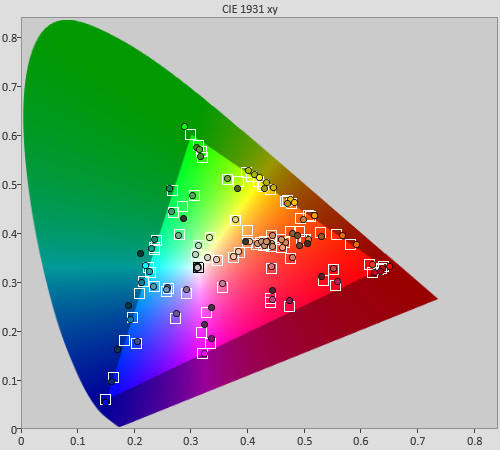 Post-calibration Colour Checker SG test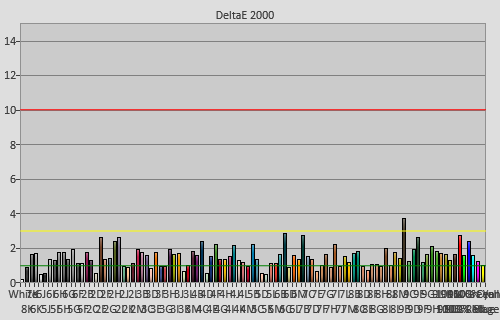 Post-calibration Colour Checker SG errors (<3 not appreciable to the eye)
Like all Philips TVs we've reviewed to date, the settings are shared between SDR and HDR modes within any single picture preset. Furthermore, the 55POS9002 stays on the corresponding picture preset when you switch between SDR and HDR modes (for instance, when you get out of [HDR Movie] mode to watch SDR, you'll end up in [Movie] mode), requiring manual switching if you have different picture presets calibrated for SDR and HDR respectively (as it should be). Equipment used for calibration included a Klein K10-A meter profiled to a JETI Spectraval 1511 spectroradiometer, Murideo Fresco Six-G HDR-capable signal generator, and Portrait Display's CalMAN software.
Benchmark Test Results
| | |
| --- | --- |
| Dead pixels | None |
| Screen uniformity | Mild reverse vignetting and vertical streaks near-black |
| Overscanning on HDMI | 0% with [Picture Format] set to "Original" |
| Blacker than black | Passed |
| Calibrated black level (black screen) | 0 cd/m2 |
| Calibrated black level (4×4 ANSI) | 0 cd/m2 |
| Black level retention | Mostly stable |
| Primary chromaticity | Very good |
| Scaling | Very good |
| Video mode deinterlacing | Good jaggies suppression |
| Film mode deinterlacing | Passed 3:2 & 2:2 in SD; and 3:2 in HD |
| Viewing angle (cone) | 166° |
| Motion resolution | 650 with [Motion styles] engaged |
| Digital noise reduction | Optional |
| Sharpness | Defeatable edge enhancement |
| Luma/Chroma bandwidth (2D Blu-ray) | Full luma; chroma horizontally blurred |
| 1080p/24 capability | No judder with correct [Motion styles] settings |
| 2160p/24 capability | No judder with correct [Motion styles] settings |
| Measured panel refresh rate | 120Hz |
| Measured peak brightness | 740 cd/m2 |
| Measured DCI-P3 coverage | 98% |
| Leo Bodnar input lag tester | 39ms in [Game] and [HDR Game] mode |
| Full 4:4:4 reproduction (PC) | Yes with [HDMI Ultra HD] set to "UHD 4:4:4/4:2:2" and [Computer] mode engaged |
Power Consumption
| | |
| --- | --- |
| Out-of-the-box [Standard] mode | 143 watts |
| Calibrated [ISF Night] mode | 104 watts |
| [HDR Movie] mode | 202 watts |
| Standby | <1 watt |
Picture Quality
The Philips 55POS9002 uses a 55-inch WRGB OLED panel sourced from LG Display, which is similar to what's found on all 2017 OLEDs from other TV brands, and so is capable of delivering true 0 cd/m2 blacks and wide viewing angles by virtue of the display technology's self-emissive characteristics.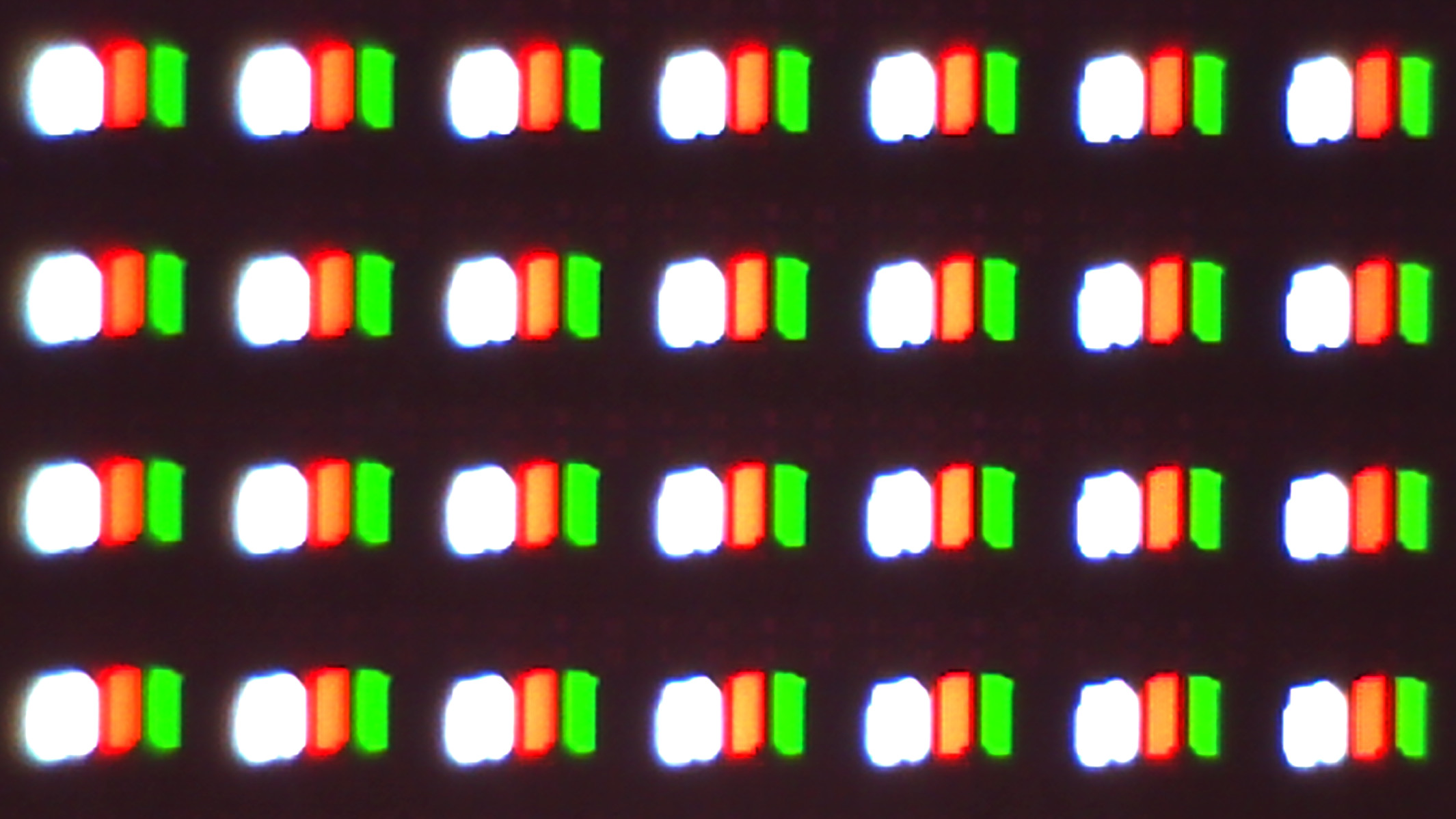 Macro photo of subpixel layout confirming WRGB OLED panel from LG Display
TP Vision has been keen to emphasise that beyond the inherent advantages conferred by the underlying OLED panel, picture processing can have a huge impact on the final image quality, and certainly we can see some evidence of the company's claims on the POS9002, especially when it comes to motion handling. The motion menu has been relaid (possibly on all TVs with P5 processor), where there are different [Motion styles] presets in addition to a "Personal" option that further unlocks the [Perfect Natural Motion] and [Perfect Clear Motion] submenus.
With [Motion styles] "Off", motion resolution came in at the sample-and-hold baseline of 300 lines according to the horizontally scrolling lines in Chapter 31 of the now-discontinued FPD Benchmark Software test disc, and some telecinic judder also ensued for 24p films. Engaging [Motion styles] increased motion resolution to 650 lines and restored 5:5 pulldown, but many of the presets introduced unmistakable soap opera effect (SOE) to movies and intermittent interpolation artefacts. There's a bug which secretly enables frame interpolation when switching sources despite what's selected in the [Motion styles] menu, so just be aware.
Nevertheless, it's possible to achieve the highest motion resolution without such side effects with the correct [Perfect Natural Motion] and [Perfect Clear Motion] settings, even though the Philips 9002 doesn't have black frame insertion (BFI) on board. On balance, we feel once optimised, TP Vision Philips' motion implementation is the most watchable among OLED manufacturers: Panasonic's HCX2 processor drops frames on 25p/ mixed edits broadcast material unless [Game Mode] or [Pure Direct Mode] is engaged; Sony's [Motionflow] still introduces the slightest SOE to a trained eye if you wish to extract the highest motion clarity from the Bravia A1; and LG's [TruMotion] is susceptible to the odd stutter (albeit much rarer with the latest firmware update).
Not specific to the Philips POS9002, there are three key concerns faced by more knowledgeable video enthusiasts who are yet to jump on the OLED bandwagon. First is near-black uniformity, and while our review sample exhibited mild reverse vignetting and thin vertical streaks on full-field dark grey patterns visible in a pitch-black room, they were not out of the ordinary for a 2017 OLED TV, and didn't detract from our enjoyment of the set.
Second, some 2017 OLED screens suffer from uneven colour tinting chiefly on 65-inch models, commonly a yellow tint running down the left edge of the panel. Our 55in Philips 9002 review unit was spared from this problem, presenting a clean image without discolouration when we cycled through full-field greys of brighter intensities.
Last but not least, the risk of permanent screenburn have put off many prospective OLED TV buyers, which is understandable given the self-emissive properties of the display technology. From our experience, OLED is significantly less susceptible to image retention and burn-in than plasma ever was, and the compensation cycles that take place during standby after certain hours of operation do help keep these issues at bay. Of course, the risk still exists however small, especially if displaying static logos on news channels or games for prolonged periods. In Philips' defence, the POS9002 dims down its screen or goes into a floating logo screensaver mode quicker than any other OLED makes on the market, and offers a manual compensation cycle trigger which wasn't present on its predecessor, the 55POS901F.
Upscaling from standard-definition sources was very good, with the SMPTE RP-133 test pattern in 576i looking crisp and detailed without excessive ringing or fizziness. However, given how much TP Vision has promoted the ability of its P5 processor to clean up lower-quality video sources, we were genuinely surprised to find the Philips 55POS9002 exhibiting more near-black noise and posterisation in heavily compressed broadcast material (1080i50) when compared side-by-side against a 2017 LG OLED, although we'd be the first to admit that we switched off all unnecessary noise reduction processing on both sets in the comparison, and the LG had just received a picture-quality-enhancing firmware update.
After extensive testing, we traced the issue down to irregular gamma tracking just above black, resulting in a bumpy gradation from one dark shade to another manifesting as noisy pixellation.
| | |
| --- | --- |
| | |
| Philips 9002 56-point gamma tracking | Rival 2017 OLED 56p gamma tracking |
Certain tones in HDR content seemed to be affected too, with the skies in the 4K Blu-ray of The Martian occasionally displaying a hard transition from one tone to the next. While we're talking about HDR, the Philips POS9002 supports the open standard HDR10 and HLG (Hybrid Log-Gamma) broadcast formats, but not Dolby Vision. Support for the royalty-free HDR10+ dynamic metadata standard is currently under consideration but not confirmed.
HDR peak brightness came in at 740 nits on a 10% window, and 140 nits full-field, with more aggressive ABL (Automatic Brightness Limiter) algorithm than LG's 2017 OLEDs which – to be fair – boast the brightest ABL of any self-emissive consumer television to date. Perhaps to maintain overall brightness or APL (Average Picture Level), the Philips 9002 applies the same tone-curve to both 1000-nit and 4000-nit mastered Ultra HD Blu-ray titles, leading to a slight loss of specular highlights.
Click on the options below to compare PQ EOTF tracking:
1000 nits | 4000 nits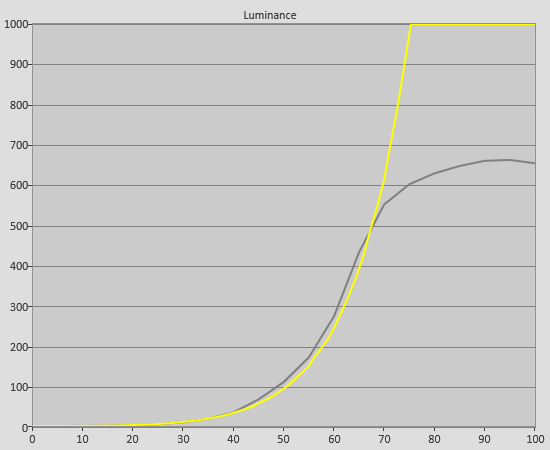 As we've stressed time and again however, there's no established standard for display-side tone-mapping at present, and trying to fit 1000 or even 4000 nits into a TV with lower peak brightness always entails sacrificing either overall luminance or bright highlight detail.
DCI-P3 gamut coverage measured 98%, and HDR colours looked natural enough, although green-based hues could appear oversaturated at times.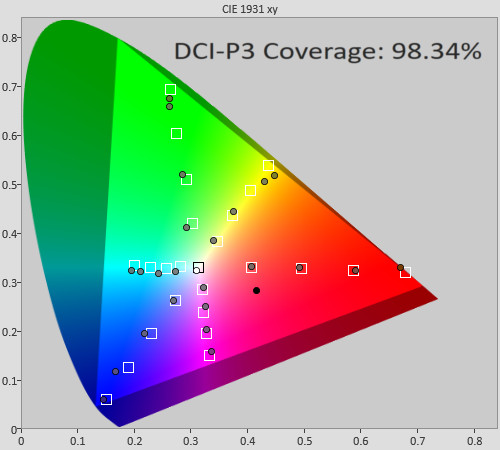 Post-cal colour saturation tracking against DCI-P3 standard in Rec.2020 container
Gaming-wise, it's good to see TP Vision acknowledging the high input lag on the Philips 901F, and lowering it on the 9002. Our Leo Bodnar tester returned a figure of 39ms in both SDR and HDR [Game] modes, which whilst not as responsive as the class-leading LG 2017 OLED TVs, should be good enough for non-hardcore gamers.
| | |
| --- | --- |
| | |
| Input lag in [Game] mode | Input lag in [HDR Game] mode |
No review of a high-end Philips TV in recent years is complete without mentioning Ambilight, the brand's integrated bias lighting system. The iteration on the 55POS9002 is three-sided; we preferred a static, stable light output rather than the out-of-the-box video-responsive setting, though we had to lower the Ambilight's brightness substantially to avoid overpowering shadow detail particularly for HDR content.
Video Review
Verdict
A strong follow-up to the 901F, the Philips 9002 is a competitively-priced OLED TV from TP Vision. Granted, it's not as cheap as the LG 55B7 or 55C7 which are expected to go below £1500 on Black Friday, but Philips' USPs of Ambilight and superb motion handling should win it some fans.