Amidst all the superlatives bestowed upon LG's OLED TVs, it's easy to forget that the South Korean manufacturer is also responsible for producing a large number of LCD-based displays. While not entirely our fault, we'll be the first to admit that we've played our part in such neglect: the LG 55UH770V we're reviewing today is the first non-OLED television from the company we've tested for more than two years!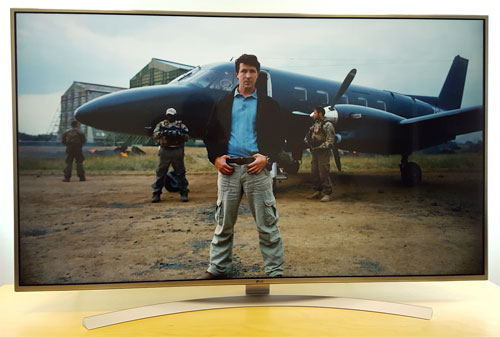 The UH770V series (otherwise marketed as the UH7700 in the USA) is LG's most affordable "Super UHD TV" range for 2016, featuring 3840×2160 resolution, IPS-type LCD panel, edge LED backlighting, quantum dot colours, HDR (high dynamic range) support for both HDR10 and Dolby Vision formats, as well as the brand's intuitive WebOS 3.0 Smart TV platform. Besides the 55-incher we've received for review, it's also available as the 49-inch LG 49UH770V, the 60-inch 60UH770V and the 65-inch 65UH770V.
Updated 8 October 2016: It turns out that the LG UH770 actually doesn't use quantum dot technology despite its "Quantum Display" branding. Here's the full response from LG when we sought clarification:
LG's specially designed IPS 4K Quantum Display can reproduce more shades of colours with finer gradation: over a billion rich colours in all. The IPS 4K Quantum Display yields a more accurate and lifelike picture from a wider viewing angle.

IPS 4K Quantum Display is the latest IPS technology that improves quantum effect efficiency of the light source, which is different from quantum dot display technology.
Design
The LG 55UH770's styling is attractive though not cutting-edge. The semi-gloss LCD screen is framed by a plastic bezel that's convincingly finished in brushed metallic silver. The bezel and the chassis itself are slightly chunkier than what we're used to seeing from this year's edge-lit LED televisions, but the TV is still a good deal slimmer than CCFL LCDs and plasmas of yesteryears.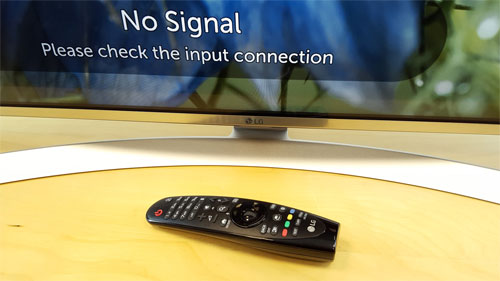 The panel sits on a crescent Toblerone-shaped stand carrying a matte silver finish. The 55UH770V ships with a black Magic remote which ironically sports a dedicated 3D button even though the display doesn't support 3D.
Connections
Using a Murideo Fresco Six-G device, we verified that all three HDMI ports on the 55in UH770V successfully passed 3840×2160@60Hz resolution with HDCP 2.2.
Calibration
We calibrated our LG 55UH770V-ZA review sample using a profiled Klein K10-A meter, a DVDO AVLab TPG signal generator and SpectraCal's CalMAN 2016 software. A few notes:
We were able to attain accurate colours and greyscale using the onboard controls, with only two blue shades out of the 140 measured in the Colour Checker SG chart exceeding the humanly perceptible threshold of delta error (dE) 3. Considering that we had to avoid touching the [Colour Management] system which was flawed, this level of accuracy qualifies as an excellent result;
Despite some red channel clipping, we pushed [Contrast] as high as possible to maximise dynamic range while keeping dE at 100% video stimulus under 3;
Although greyscale was flattened after calibration, minor banding and discolouration remained visible on a grey ramp pattern, suggesting that the underlying panel wasn't true 10-bit.
Greyscale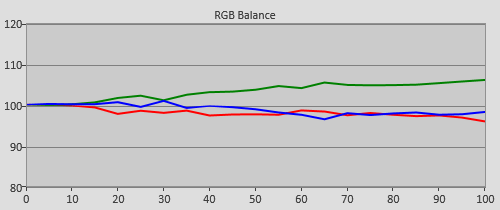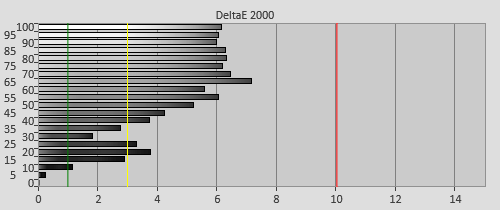 Pre-calibration [ISF Expert] RGB tracking and delta errors (dEs)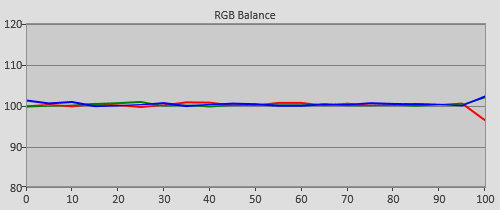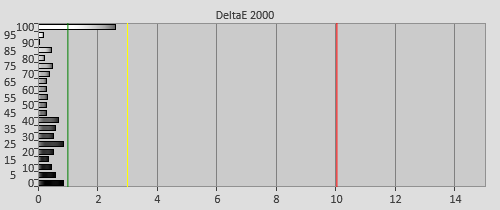 RGB tracking and dEs after 2p & 20p [White Balance] calibration in [ISF Expert] mode
Gamma
| | |
| --- | --- |
| | |
| Pre-calibration gamma tracking (2.23) | Post-calibration gamma tracking (2.39) |
Colour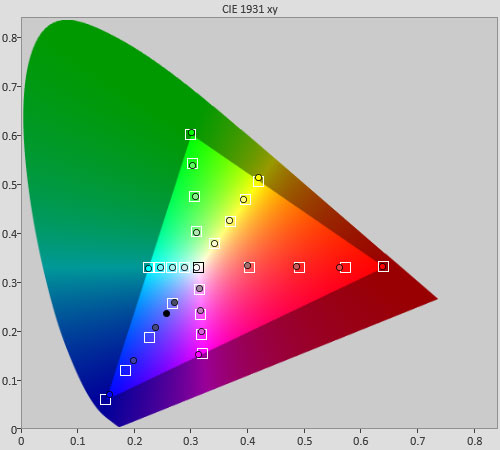 Post-cal colour saturation tracking against Rec.709 standard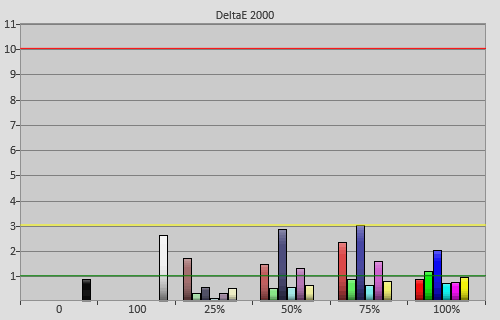 Post-calibration colour errors (<3 not appreciable to the eye)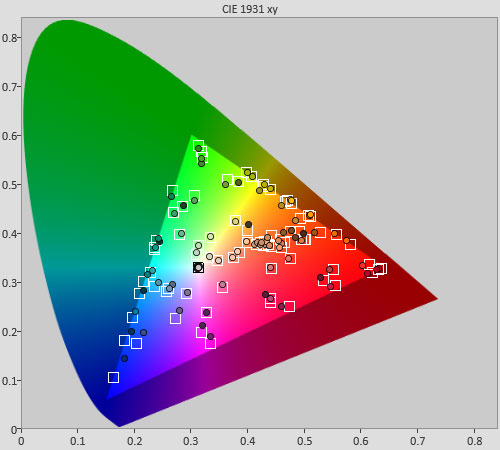 Post-calibration Colour Checker SG test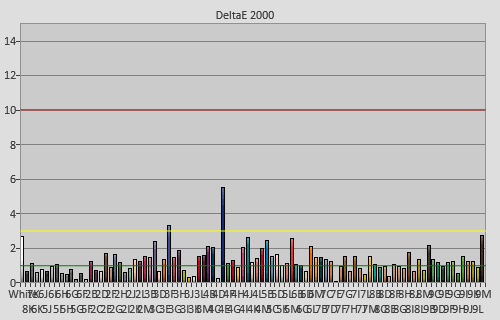 Post-calibration Colour Checker SG errors (<3 not appreciable to the eye)
Benchmark Test Results
| | |
| --- | --- |
| Dead pixels | None |
| Screen uniformity | No clouding; mild DSE (dirty screen effect) on panning |
| Overscanning on HDMI | 0% with [Just Scan] engaged |
| Blacker than black | Passed |
| Calibrated black level (black screen) | LEDs shut off |
| Calibrated black level (4×4 ANSI) | 0.087 cd/m2 |
| Black level retention | Backlight fluctuation with [LED Local Dimming] on |
| Primary chromaticity | Very good |
| Scaling | Very good for HD |
| Video mode deinterlacing | Very effective jaggies reduction |
| Film mode deinterlacing | Passed 3:2/480i+1080i & 2:2/576i cadence tests |
| Viewing angle (cone) | 80° |
| Motion resolution | Up to 900 with [TruMotion] engaged; 300 otherwise |
| Digital noise reduction | Optional; effective when engaged |
| Sharpness | Defeatable edge enhancement |
| Luma/Chroma bandwidth (2D Blu-ray) | Full Luma; Chroma horizontally blurred |
| 1080p/24 capability | No judder |
| 2160p/24 capability | Frame skipping every 13 seconds in HDR mode |
| Measured panel refresh rate | 120Hz |
| Measured peak brightness | 455 cd/m2 |
| Measured DCI-P3 coverage | 85% |
| Leo Bodnar input lag tester | 37ms in [Game] mode; 54ms in HDR mode |
| Full 4:4:4 reproduction (PC) | Yes for both 1920×1080 and 3840×2160@60Hz |
Power Consumption
| | |
| --- | --- |
| Default [Eco] mode | 86 watts |
| Calibrated [ISF Expert] mode | 49 watts |
| [HDR Standard] mode | 122 watts |
| Standby | <1 watt |
Picture Quality
Black Level & Contrast
With [LED Local Dimming] switched off and peak white aligned to our normal dark-room target of 120 cd/m2, black level on our LG UH770V review unit measured 0.093 cd/m2 on a 4×4 ANSI chequerboard pattern, and dropped even lower to 0.066 cd/m2 on a full-field black raster. Whilst still not as deep as those produced by VA-type LCDs, these figures represented an improvement from previous IPS panels which typically yielded blacks north of 0.10 cd/m2 – could quantum dot's more efficient transmittance have helped in this regard?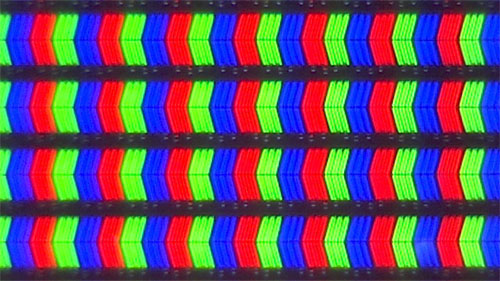 Macro photo of subpixel layout confirming RGB IPS-type LCD matrix
The 55UH770V's black level could be darkened even further by engaging pseudo-local dimming through the television's [LED Local Dimming] control. However, since the LED modules are implemented exclusively along the bottom border of the panel, there are only six separately dimmable zones (you can even use the Magic remote pointer to count against a black screen), each spanning the entire height of the screen. As a result, blooming (in vertical chunks) and backlight fluctuation would invariably be visible in dark scenes (especially if watched in a light-controlled room), though there's one particular [LED Local Dimming] setting that kept these artefacts to a minimum.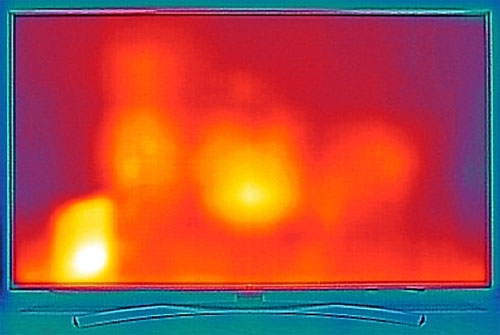 Thermal scan indicating bottom-mounted LED configuration
Owing to IPS's compressed dynamic range, shadow detail looked less distinct than that presented by VA LED LCDs regardless of whether [LED Local Dimming] was enabled. Like all LG LCD-based TVs we've reviewed to date, the 55UH770 would shut off its LEDs even when there's some near-black information that should be displayed on screen (for example a 2% above-black windowed pattern). This over-aggressive auto-dimming behaviour could only be defeated through the service menu, but then any local dimming function would be totally knocked off, making this approach a no-go.
Motion
Enabling [TruMotion] boosted the LG 55UH7700's motion resolution (as determined via the horizontally scrolling lines in Chapter 31 of the FPD Benchmark Software Blu-ray disc) from the LCD baseline of 300 to a maximum of 900 lines, although interpolation artefacts and soap opera effect (SOE) would ensue unless [TruMotion] "User" (which allows for independent deblur and dejudder settings) was optimised.
| | |
| --- | --- |
| | |
| Optimised [TruMotion] "User" | [TruMotion] "Clear Plus" |
Perhaps the most interesting [TruMotion] option found on the UH770 was "Clear Plus" which darkened the on-screen luminance slightly due to a dose of backlight scanning. While [TruMotion] "Clear Plus" contained an element of interpolation too leading to SOE, it was the first time we'd seen backlight scanning implemented on an LG television, making us wonder if black frame insertion (BFI) is possible on the company's OLEDs after all?
Viewing Angle
The onboard IPS LCD panel retained colour saturation better off-axis than VA-type LCDs, but blacks still brightened up considerably beyond 40° from the centre, as you can see from the top and bottom letterbox bars in the video below:
HDR
The LG 55UH770V hit a peak brightness of 455 cd/m2 on UHDA-specified window sizes, which was sustained for two minutes before dropping to a baseline of 322 cd/m2. Peak brightness on full-field white raster came in at 330 cd/m2, and the display reached 85% of DCI-P3 colour gamut: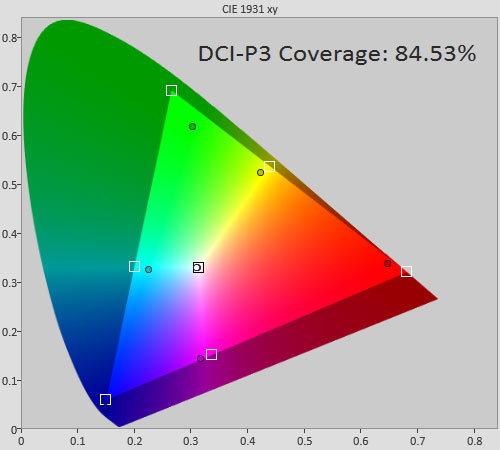 The UH770V tracked ST.2084 PQ (perceptual quantisation) EOTF (electro-optical transfer function) very well up to around 180 nits, after which tone-mapping kicked in until the display's peak brightness cap of 455 nits: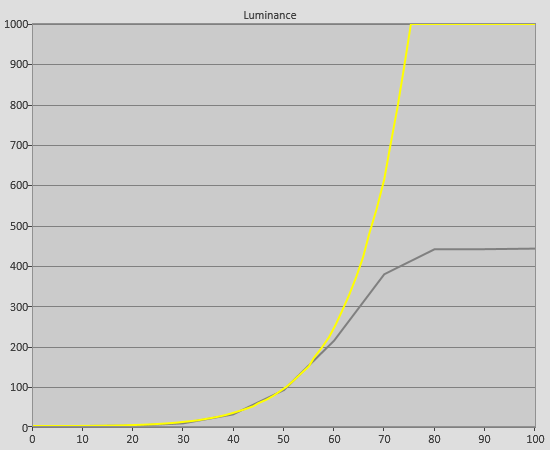 Greyscale in HDR mode measured reasonably accurate, at least until 100 nits after which green channel was heavily pushed to achieve higher peak brightness: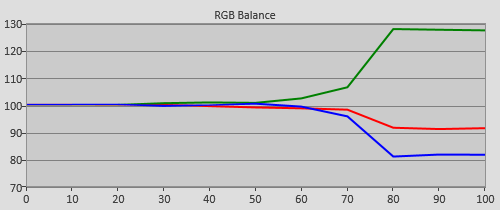 Tracking of DCI-P3 colour space inside Rec.2020 container was fairly impressive too within the 55UH7700's inherent gamut: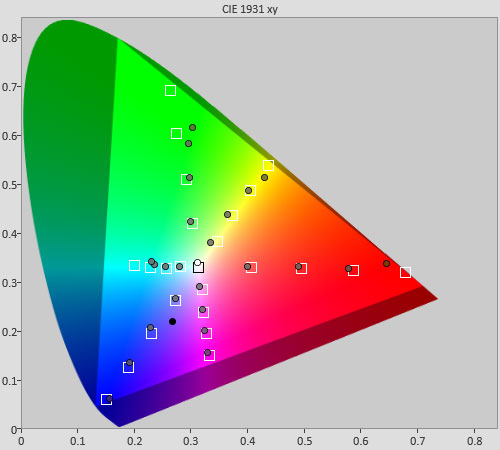 With measurements out of the way, we proceeded to watch some 4K Blu-rays on the 55″ LG UH770. While colours appeared realistic, and APL (Average Picture Level) in most scenes matched another UHD Premium TV we had in for review, there were a few major issues. First, HDR10 playback from a Samsung K8500 UHD BD player would skip frames every 13 seconds or so on our 55UH770V sample, which was easily noticeable in films featuring lots of slow panning shots, such as The Martian and The Revenant. We triple-checked our discs and source player, and experimented with every single setting – especially [TruMotion] – to try and eradicate the frame-skipping, but to no avail.
Second, because [Backlight] and [Contrast] needed to be maxed out to meet the high brightness demands of HDR, the vertical blooming/ haloing and backlight fluctuations on the television reached epidemic levels, detracting severely from the viewing experience. Of course, [Backlight] and [Contrast] could be dialled down to tame these artefacts, but then the resultant image wouldn't look remotely close to HDR.
The 55UH770's relatively low peak brightness also caused specular highlights to get blown out even in Ultra HD Blu-ray movies that are only mastered to 1000 nits. Dolby Vision (DV) content fared better in this regard: all the highlight detail were retained, but since the DV remapping process had to take into account the lower brightness capabilities of the display, what's supposed to look bright didn't actually look very bright at all.

Left: 4K BD on UHD Premium TV; Right: Dolby Vision on 55UH770V
If we arbitrarily assigned top-performing full-array local dimming (FALD) LED LCDs such as the Panasonic DX902, Samsung KS9500 and Sony ZD9 (review in progress) a HDR Impact Factor™ of 9 or 10; then we'd score Dolby Vision on the LG UH770V at most a 6. Low peak luminance significantly dilutes the HDR experience, especially when there are no OLED's true blacks and pixel-level illumination to save the day.
Gaming
Placing our Leo Bodnar tester on the screen of the LG 55UH770V returned a more than acceptable input lag of 37ms in [Game] mode.
| | |
| --- | --- |
| | |
| Lag time in [Game] mode | Lag time in [HDR] mode |
For HDR gaming, owners have to use one of the three existing HDR presets which measured 54ms (additional latency of one frame).
Conclusion
LG has improved a number of things on the UH770V compared with previous LED LCD offerings from the company. The TV's native black level was the deepest yet we've measured from an IPS LCD panel, though still not a patch on most VA LCDs, let alone self-emissive displays like plasma and OLED televisions. The 55UH770 could be also calibrated to highly accurate levels; backlight management was better than previous iterations (at least in SDR); and input lag had been cut down to allow for more responsive gaming.
But at the end of the day, the LG 55UH770V's Achilles' Heel was always going to be the limited contrast performance of IPS screen technology, especially as the industry marches relentlessly towards HDR. The display's shallower black level meant that its backlight engine had to work much harder to produce convincing blacks and HDR brightness at the same time, resulting in seriously distracting vertical blooming and luminance fluctuations. Throw in frame-skipping problem during 4K Blu-ray playback, and we think there are better alternatives on the market albeit at slightly higher prices, such as the Panasonic DX750, or better yet, the Samsung KS7000 (review pending). Of course, if budget isn't an issue, by all means go for one of LG's outstanding OLEDs.