It's been a challenging few years for the TP Vision/ Philips entity since their amalgamation, at least as far as the UK market is concerned. First, British buyers were dismayed to find that top-end Philips TVs would be launched elsewhere in Europe but not in the United Kingdom. Also, well-reviewed Philips products were not easily available to purchase in the UK due to limited chain of distribution, which not only proved frustrating for video enthusiasts, but also slowly eroded confidence in the consumer electronics brand.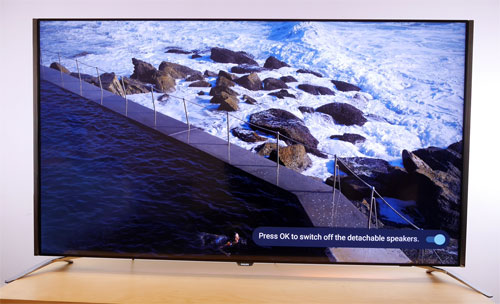 At the firm's annual TV launch event earlier this year, TP Vision's executives acknowledged and promised to address these issues. And the first 2016 Philips TV that we're reviewing today, the 65-inch 65PUS8601 Ultra HD 4K television with 4-sided Ambilight technology, should give us a glimpse of the company's direction.
Design
The Philips 8601 looks very classy aesthetically, what with its super-slim black bezel and an illuminated logo hanging out from the bottom of the screen. The PUS8601 sits on two chrome feet which are not only affixed at both ends of the panel, but also angled outwards to trim their silhouettes and provide adequate clearance for the bottom-mounted Ambilight LEDs to work their magic. In other words, you'd need an AV cabinet that's even wider than the screen if you do not intend to wall-mount the display.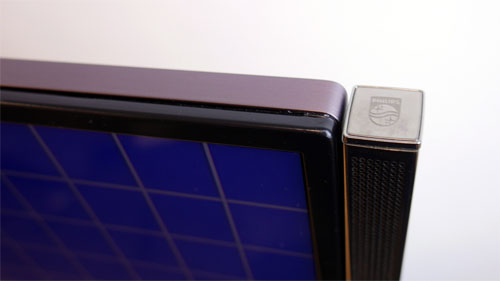 But the Philips 65PUS8601's most impressive party trick is undoubtedly its magnetic side speakers which can be detached and placed on separately purchasable floor mounts (model number PTA860 costing £300) to deliver a wider soundstage and deeper bass performance. This is yet another example of unique innovation from the interesting manufacturer, not dissimilar to how two wireless speakers could be jettisoned from its award-winning HTL9100 soundbar to provide a better surround sound experience.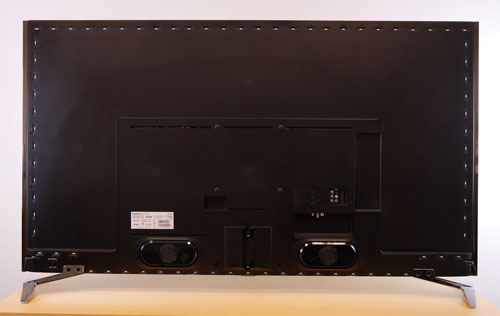 Thanks to edge-lit LED backlighting, the chassis is relatively slender too by LED LCD standards. At the back of the 8601, visible LED modules are dotted around all four borders of the TV, constituting Philips' exclusive Ambilight technology which is essentially a form of integrated bias lighting to improve perceived blacks and reduce eye fatigue. Two prominent woofers can also be seen at the bottom of the rear of the telly.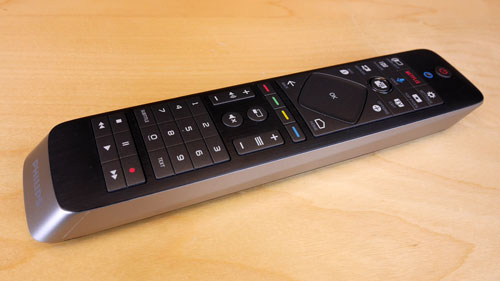 The supplied remote control has a substantial, weighty feel befitting a premium UHD (ultra high-definition) TV, and features a QWERTY keyboard at the back for faster typing (more of which is required in these days of password-entering and web browsing on modern Smart TVs). Tactile feedback is good, although because the central navigation pad is also touch-sensitive, it's very easy to accidentally brush your finger over the touchpad while trying to click left, right or [OK], causing you to overshoot and miss the option you originally wanted to select.
Connections
The Philips 65in 8601 offers four HDMI ports – all successfully passed 3840×2160@60Hz resolution with HDCP 2.2 according to a Murideo Fresco Six-G test device.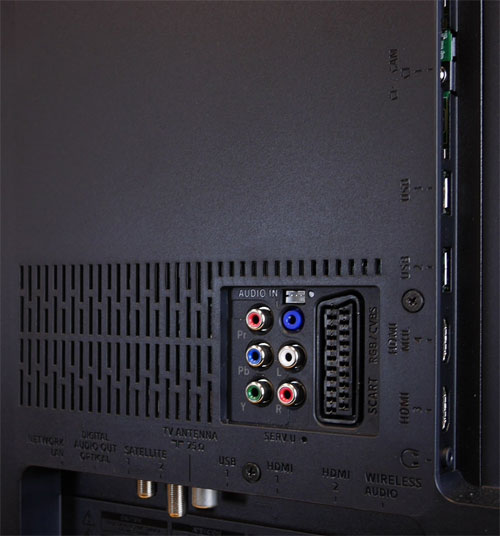 Calibration
We calibrated our Philips 65PUS8601/12 review sample using a profiled Klein K10-A meter, a DVDO AVLab TPG signal generator, and SpectraCal's CalMAN Ultimate software. Due to the convoluted picture menu and some unconventional nomenclature (for example, the top-level [Contrast] slider actually controls backlight output, whereas the more traditional [Video Control] adjustment is buried inside the [Advanced] submenu), calibration took lots of time and patience, but we managed to achieve relatively accurate greyscale and colours, with only a few colours (mainly teal/ green) out of 140 patches in the Colour Checker SG chart exceeding the commonly accepted perceptible threshold of delta error (dE) 3.
Greyscale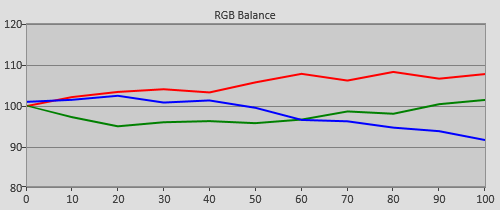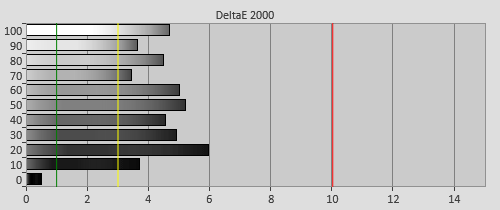 Pre-calibration RGB tracking and delta errors (dEs) in [ISF Night] mode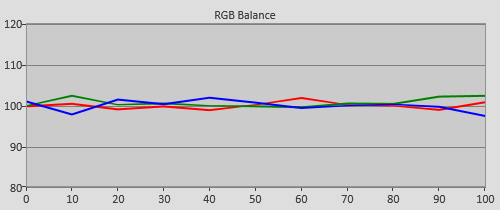 Calibrated RGB tracking and dEs after 2p & 10p white balance adjustments
Gamma
| | |
| --- | --- |
| | |
| Pre-calibration gamma tracking (2.46) | Post-calibration gamma tracking (2.4) |
Colour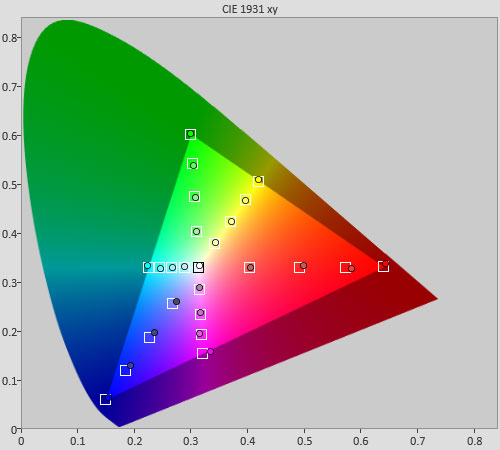 Post-calibration colour saturation tracking in [ISF Night] mode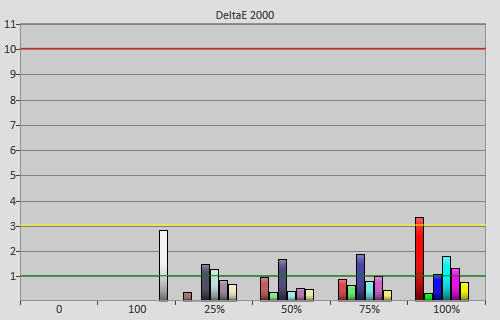 Post-calibration colour errors (<3 not appreciable to the eye)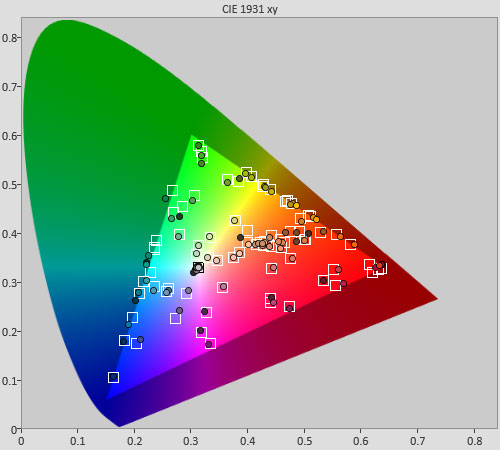 Post-calibration Colour Checker SG test in [ISF Night] mode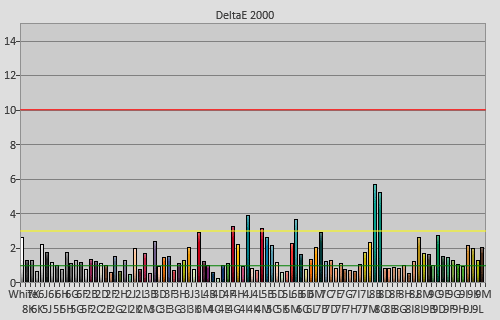 Post-calibration Colour Checker SG errors (<3 not visible to the eye)
Benchmark Test Results
| | |
| --- | --- |
| Dead pixels | None |
| Screen uniformity | Sides darker than centre; some DSE |
| Overscanning on HDMI | 0% with [Picture Format] set to "Original" |
| Blacker than black | Passed |
| Calibrated black level (black screen) | 0.042 cd/m2 |
| Calibrated black level (4×4 ANSI) | 0.042 cd/m2 |
| Black level retention | Stable with [Contrast Mode] & [Perfect Contrast] off |
| Primary chromaticity | Very good |
| Scaling | Very good, though with a touch more ringing |
| Video mode deinterlacing | Good jaggies suppression |
| Film mode deinterlacing | Passed 3:2 & 2:2 in SD; and 3:2 in HD |
| Viewing angle (cone) | 56° |
| Motion resolution | 1080 with [Clear LCD] on |
| Digital noise reduction | Optional |
| Sharpness | Mild undefeatable edge enhancement |
| Luma/Chroma bandwidth (2D Blu-ray) | Full luma; chroma horizontally blurred except in [Game] & [Computer] modes |
| Measured panel refresh rate | 120Hz |
| Measured peak brightness | 578 cd/m2 |
| Measured DCI-P3 coverage | 81% |
| 1080p/24 capability | No judder |
| Input lag (Leo Bodnar tester) | 38ms |
| Full 4:4:4 reproduction (PC) | Yes with [HDMI Ultra HD] set to "UHD 4:4:4/4:2:2" and [Computer] mode engaged |
Power Consumption
| | |
| --- | --- |
| Out-of-the-box [Standard] mode | 175 watts |
| Calibrated [ISF Night] mode | 86 watts |
| Standby | 1 watt |
Picture Quality
The Philips 65PUS8601 uses a VA-type LCD panel whose strengths and weaknesses are now well-known within the TV enthusiast community. Native black level was deep for an LED LCD, coming in at 0.042 cd/m2 on both a full-black screen and a 4×4 ANSI chequerboard pattern once peak white was pegged at our usual target of 120 cd/m2 for dark-room critical viewing.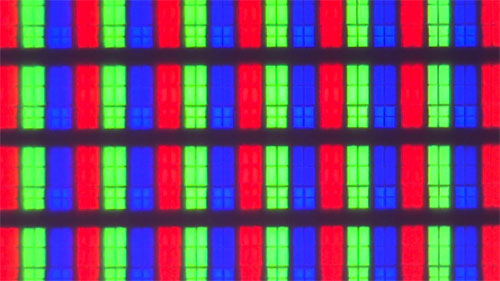 Macro photo of subpixel layout indicating VA-type LCD panel
The Philips 8601 employs frame dimming instead of local dimming, which means that whenever the dimming kicks in to deepen black level, brighter elements on screen would also be dimmed correspondingly, so there's no actual increase in contrast ratio. Because of this, we chose to disable all the dimming-related controls, since the television's native black-level performance was decent enough.
A thermal scan confirmed the PUS8601's edge LED backlighting, with the LEDs positioned along the left and right sides of the display: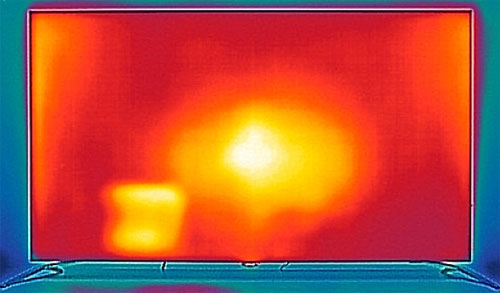 There exist two motion processing options on the 65PUS8601/12: [Perfect Natural Motion] and [Clear LCD], which equates to the de-judder and de-blur controls respectively on LG and Samsung models. [Perfect Natural Motion] effectively smoothed out any judder in slow-panning shots, but even its least aggressive setting of "Minimum" introduced unmistakable soap opera effect (SOE) to 24fps movies and interpolation artefacts, so we preferred to leave it off.
| | |
| --- | --- |
| | |
| [Clear LCD] off | [Clear LCD] on |
[Clear LCD], on the other hand, was awesome. It boosted motion resolution (as determined via the horizontally scrolling lines in Chapter 31 of the
FPD Benchmark Software
test disc) from the LCD baseline of 300 lines to 1080 (the maximum allowed by the test pattern) WITHOUT incurring any SOE or interpolation artefacts, nor any flicker or luminance drop associated with black frame insertion (BFI). We saw no reason to turn it off, and would happily enable it for watching all types of content.
With [Sharpness] set to "0" and [Ultra Resolution] disabled, there's still some undefeatable sharpening applied at all times on the PUS8601 even in [Game] or [Computer] mode, which is hardly surprising given Philips' penchant for all things picture processing. While this might generate the artificial impression of the 65PUS8601 being more detailed than competing 4K TVs, the image would at times appear overly etched or grainy.
Like all Philips TVs moving forward in 2016, the 8601 doesn't support 3D playback. In terms of HDR (high dynamic range), the TV manufacturer has promised a firmware upgrade later in the year for this key 4K Blu-ray feature. In spite of the absence of HDR support at time of publication, we proceeded to assess other aspects of the set's UHD (ultra high-definition) parameters. Peak luminance hit 578 cd/m2 on UHDA-approved window sizes (and more impressively on full-field white too), which is somewhat short of the 700 nits quoted by Philips, although perhaps the forthcoming HDR update may unlock more brightness with the appropriate HDR10 metadata.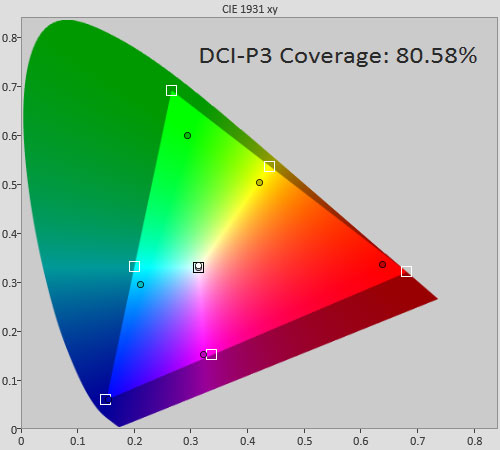 As illustrated by the CIE chart above, the 65PUS8601's colour gamut reached 81% of the DCI-P3 standard. Again, with the relevant infoframe there might be a possibility that the post-HDR-update gamut could be slightly larger.
In the past, Philips televisions had suffered from high input lag, but the company seemed to be taking gaming responsiveness more seriously this year after listening to constructive feedback. With [Game] mode engaged, the 65″ PUS8601 returned a lag time of 38ms from our Leo Bodnar tester, the lowest yet we've measured from a Philips-branded TV.

There's good news for PC gamers too, because input lag stayed at 38ms in [Computer] mode which allowed for 4:4:4 chroma. This figure went up to 80ms in the [ISF] modes as a result of heavier video processing.
Conclusion
The Philips 65PUS8601/12 has got us really excited about the potential of the company's upcoming 2016 TV models, even though the absence of local dimming and readily available HDR support prevented the display from squeezing into the top tier of 4K Ultra HD TVs we've reviewed.
The 8601 offers at least three features not found on televisions from any other manufacturer: the detachable speakers, built-in Ambilight bias lighting system that deepened perceived blacks and reduced eye strain, as well as a set-and-forget [Clear LCD] option which enhanced motion clarity without introducing any of the adverse effects associated with interpolation (soap opera effect, interpolation artefacts) or black frame insertion (flicker, brightness drop). If the latter two make their way onto Philips' forthcoming FALD (full-array local dimming) 7601 series or OLED TV, then videophiles will be in for a treat this year.