Philips has launched its flagship 9600 series of UHD (ultra high definition) TV at the IFA 2015 consumer electronics trade show in Berlin. Available in one single screen size of 65 inches, the Philips 65PUS9600 boasts some mouth-watering specifications that should make it one of the best 4K TVs on the market.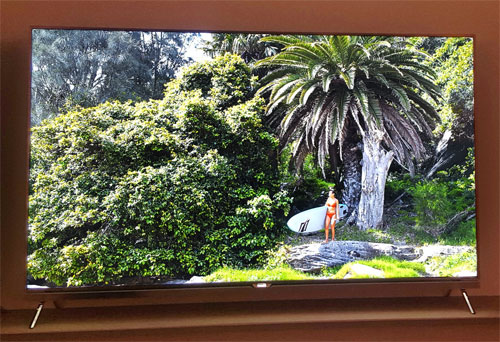 The headlining feature is of course support for high dynamic range in line with the HDR10 Media Profile open standard endorsed by the CEA (Consumer Electronics Association), which includes SMPTE ST 2084 EOTF (electro-optical transfer function) and ST 2086 metadata among other parameters. During an enlightening workshop hosted by TP Vision, the company's TV guru Danny Tack explained that the PUS9600's Bright Premium panel can not only provide a peak brightness of 1000 nits, but also sustain this high luminance level across 30% of the screen surface area, which is substantially more than the circa-10% delivered by its competitors at this time of publication.
Integral to the Philips 9600's HDR-rendering efforts is its direct LED backlighting with full-array local dimming (FALD). There will be 16 columns and 16 rows of individually dimmable segments, giving a total of 256 dimming zones, the highest for a 65in LED LCD television on the market at this time of writing. To achieve even deeper blacks and brighter whites, the contrast will be optimised by TP Vision's Micro Dimming Premium technology which further analyses the picture from the video signal in 6400 different software zones.
The result was certainly extremely impressive going by what we saw at the session, specifically a demo footage of fireworks display lighting up the night sky. Not only did the bursts of explosion sparkle with such realism and intensity, the black backdrop looked jaw-droppingly inky in an almost OLED-like fashion (caveat: there's dim ambient lighting from the back of the room). Blooming/ haloing was also kept to a minimum as the brightly-lit fireworks travelled up the sky leaving plumes of smoke behind, serving as a testament to the effectiveness of the 65PUS9600's local dimming algorithm.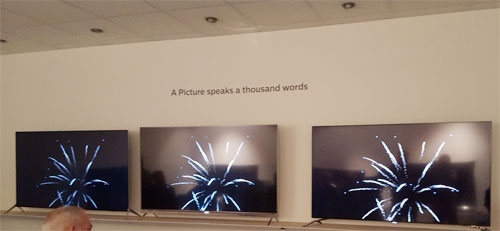 Because Tack believes that a true HDR experience cannot be fully realised on an edge-lit LED panel (a sentiment with which we thoroughly agree), the PUS9600 will be the only set in Philips' 2015 TV lineup to feature HDMI 2.0a compliance. While sales of step-down models may be affected by this decision, we thoroughly applaud TP Vision's refreshing stance of committing to delivering a first-rate viewing experience instead of misleading consumers in the uncertain landscape of 4K Ultra HD.
Other specifications on the Philips 9600 include a native 100Hz panel with backlight scanning to provide pseudo-200Hz motion, 94% DCI-P3 coverage, 17-bit colour processing, 4 HDMI ports (one of which is HDCP 2.2-compatible), a user menu setting to apply an adapted gamma curve to non-HDR source for pseudo-HDR effect, 4-sided Ambilight integrated bias lighting, as well as Android-based Smart TV platform with hex-core processor.
All in all, the Philips 65PUS9600 is shaping up to be the TV to beat this year (at least in its size class) for HDR presentation, although obviously we'd like to get our hands on a review sample with our own test gear and patterns. The only question is, will it even arrive in UK shops, given that high-end Philips TVs haven't been released on these shores over the past couple of years. TP Vision's executives were quick to reassure us that the firm have every intention of launching the 9600 series in the United Kingdom when it goes on sale during the fourth quarter of 2015, so as long as they can get some retail partners on board, British video enthusiasts may be in for a treat.