Philips has become the latest television manufacturer to jump on the HDMI 2.0 bandwagon with the launch of its newest 4K Ultra HD TV, the Android-powered 65PUS9809.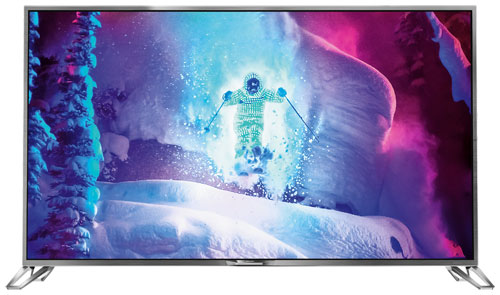 The 65-inch Philips 65PUS9809 is billed as the company's latest flagship model, and claims to be the first European brand to embrace Google's Android operating system. What's more, it claims to offer an enhanced Android experience too, offering access to all apps, services, and content in the Google Play Store alongside existing Philips' apps and services.
Specs-wise, the Philips 9809 competes with the best that Korea's and Japan's top brands can throw at us. The TV boasts 4K UHD (ultra high-definition) resolution combined with its proprietary Perfect Pixel Ultra HD picture quality engine that adjusts and optimises the on-screen images to enhance the overall quality, together with its Bright Pro and Micro Dimming Premium features. Onboard 3D capability is of the active flavour, suggesting underlying VA-type rather than IPS LCD panel.
Philips says that Bright Pro is capable of boosting contrast to a light output that's far superior to standard LED backlighting, while the Micro Dimming feature helps to further optimise this to deliver deeper blacks and brighter whites. It does so by analysing each picture and adjusting the direct LED backlight, which is split into 144 segments – something that sounds an awful lot like a full-array local dimming LED backlighting. Naturally it also features the company's Ambilight technology to enhance your viewing pleasure by glowing light onto the wall behind the telly.
It's an awesome display no doubt, but the 65in Philips PUS9809 does have one big disadvantage. The Ultra HD television lacks inbuilt support for the HEVC codec, which is a basic requirement for anyone hoping to stream 4K content from Netflix – which to date, is one of the only sources of 4K content of any kind, though Philips claims that its Ultra Resolution upscaling technology can display regular content in something close to 4K.
A company spokesperson told HDTVTest:
At TP Vision, we are closely following the industry developments with new compressing technologies that have the potential to deliver even better video streams in 4K, such as HEVC. Once we are certain that the main service providers in our markets will start delivering content in the HEVC standard, HEVC will certainly be on our roadmap. For the 9809 TV sets we are currently evaluating customer needs and possibilities to offer an external HEVC solution as needed."
As far as pricing goes, Philips haven't yet released any details but we can expect to find out closer to the 65PUS9809's official launch date, which is pegged for late August.