Hisense has launched its 65XT910 4K TV featuring the company's improved ULED technology in the United Kingdom at the high-tech surroundings of Infinity Red Bull Racing factory in Milton Keynes earlier this week. The screen promises several key LED LCD technologies that will undoubtedly appeal to those who have more than a passing interest in picture quality, and is available at a keen price.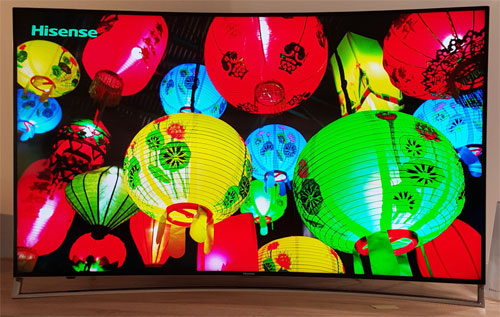 ULED (Ultra LED) is Hisense's branding moniker for its highest-end LCD-based displays, in the same vein as Samsung's SUHD range. Towards this end, the XT910 features direct LED backlighting, full-array local dimming (FALD) with 240 independently dimmable zones, an extra-wide colour gamut generated by quantum-dot nanocrystals, and backlight scanning to improve motion clarity.
Needless to say, a native UHD (ultra high-definition) screen resolution of 3840×2160 is on board, and the Hisense 65XT910 will use a 65-inch curved panel with 4000mm radius of curvature. Other specifications include HDMI 2.0, inbuilt HEVC decoding, and active 3D capabilities. HDR (High Dynamic Range) compatibility will be added via firmware update before the year is out.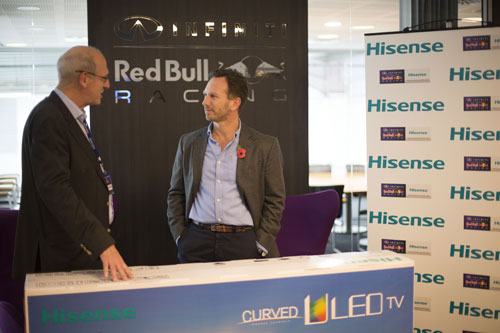 While Hisense has been the television market leader in its native country of China over the past 10 years, the firm is a relative newcomer to the British consumer electronics scene (at least as far as TVs are concerned). To build brand awareness, the Chinese manufacturer has signed a multi-year partnership deal with Infiniti Red Bull Racing, which includes kitting out the latter's factory and racetrack pit garages with Hisense's advanced displays.
The Hisense 65in XT910 is available to buy immediately from select UK retailers at a recommended retail price of £2,400. We will be seeking to review one if the opportunity arises.