Three major TV manufacturers have come together in agreement on a new standard relating to the communication protocols that is used to connect active-shutter 3D glasses to their 3D TV models. The project was initiated by Japanese consumer electronics giant Panasonic in collaboration with tri-dimensional technology specialist xPanD, and now both Sony and Samsung have decided to come on board.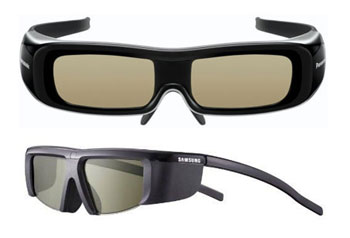 Panasonic, Samsung and Sony unite on active-shutter 3D glasses standard
This push for an interoperable standard for 3D eyewear can be seen as an attempt to make 3D TVs more appealing to consumers who have to date not been entirely convinced by extra-dimensional home entertainment technology. Facing strong competition from the passive 3D TV camp led by Korean conglomerate LG Electronics, these three active 3DTV proponents have teamed up in order to establish standardised protocols that improve cross-compatibility between active-shutter 3D glasses and a variety of 3D-capable HDTV displays, PCs, projectors and 3D cinemas.
Panasonic, Samsung and Sony believe that this new standard for the active 3D eyewear will enable users to enjoy a more immersive viewing experience across all products. Dubbed the "Full HD 3D Glasses Initiative", the project is expected to increase both understanding and adoption of active 3D technology amongst consumers, according to Samsung's visual display business R&D vice president Jurack Chae.
The proposed active-shutter 3D glasses standard will incorporate existing infrared (IR) as well as newer radiofrequency (RF) protocols such as the Bluetooth technology that was first deployed by Samsung. All three companies stressed that only active-shutter technology is able to deliver full HD 3D 1080p picture quality to each eye, while Bluetooth technology will allow for greater freedom of movement when wearing the glasses.
Panasonic, Samsung, Sony and xPanD aim to finalise and release the license for "Full HD 3D Glasses Initiative" next month, following which development and production of the universal active-shutter 3D glasses with the new IR and Bluetooth protocols will start. The standardised eyewear is expected to hit the market in 2012, and be backwards compatible with this year's active 3D televisions.