Samsung has just struck a deal with Amazon and several other partners to expand its ultra high-definition (UHD) content offerings. The partnerships will give Samsung TVs access to new services including live 4K broadcasting, video-on-demand (VoD) and a long-awaited UHD video pack (at least in the UK and Europe).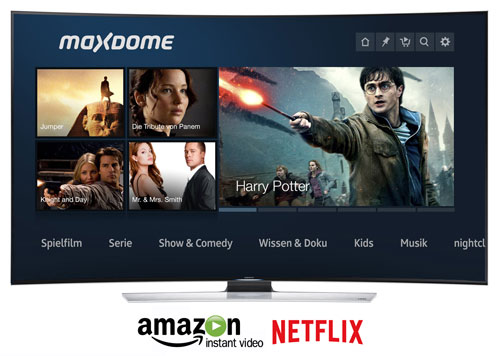 4K TV, also known as Ultra-High Definition television, provides a whopping 3,840×2160 pixel resolution – four times regular Full HD. But as good as it looks, the vast majority of 4K TVs are more expensive than 1080p HDTVs, and there's a real scarcity of native content that makes it hard to justify shelling out for one.
That conundrum means it's in the interests of TV manufacturers to do everything they can to ensure their customers get more Ultra HD content to watch, and that's exactly why Samsung is embracing Amazon. From October, Samsung's UHD TVs will be able to stream content (both movies and TV shows) directly from Amazon's on-demand video streaming service. Samsung says the service will be available "globally", although we wouldn't be surprised to see some countries excluded from the deal.
Amazon's 4K Ultra HD VoD service, called Prime Instant Video, is scheduled to launch this October, and will compete with the likes of Netflix, which already offers 4K streaming, and DirecTV, which plans to stream 4K content on-demand later this year. For now it appears as though Amazon's service will be exclusive to Samsung – although Amazon probably won't be able to resist the temptation of selling its service to other brands once it's up and running.
Besides Amazon, Samsung is also teaming up with content providers including Chili, Maxdome and Wuaki.tv., to provide even more 4K content. The company gave scant details of these partnerships so we can't say for sure what countries these services will be offered too.
Finally, the Korean firm says it will show off its long-awaited "UHD video pack" at next month's IFA show in Berlin. The video pack, which has been produced in association with Fox Home Entertainment and consists of no less than forty 4K movies including Life Of Pi and Star Trek: Into Darkness preloaded on a 500GB media player, was first teased at last January's CES show in Las Vegas and subsequently released in the USA, but was delayed in the United Kingdom and Europe due to licensing issues. We assume that those problems have now been resolved, and that Samsung UHDTV owners on these shores can look forward to more native 4K content.