Move on over Google TV, and say hello to Android TV, the Mountain View company's latest new effort to conquer the fractured Smart TV market. Announced at Google I/O yesterday, the Internet giant achieved something of a coup by announcing that its new Smart TV platform will power TVs from companies including Sony, Philips and Sharp as of next year.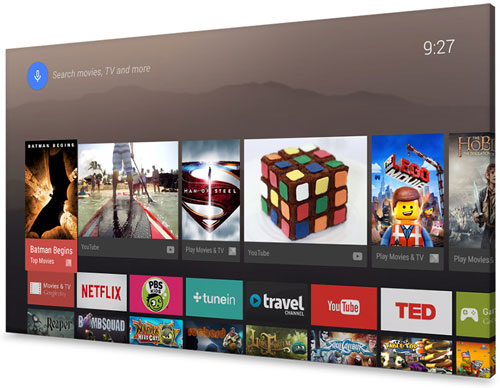 Note that Android TV isn't an entirely new platform. Rather, it's just a revamped version of Android OS that's designed to make streaming video, music and games to televisions as simple as possible. Crucially, the launch of Android TV would seem to signal the demise of Google TV at long last – and to be honest, that's long overdue. First launched in 2010, it's fair to say Google TV didn't exactly set the living room alight, one reason being the almost total lack of anything decent to watch on the platform.
Android TV aims to address that. The platform is essentially much like other Smart TV platforms, though it comes with Google Play rather than the proprietary app stores of brands like Sony and Samsung. It also comes with a bunch of handy new features that Google hopes will set it apart from other platforms.
One of the central components of Android TV is Google Search. In this case, search is powered by voice commands, and can be done using a remote or your Android phone. In the presentation at Google I/O yesterday, Google's Dave Burke demonstrated how a simple search for "Breaking Bad" brought up dozens of YouTube clips, a list of actors, and of course, the show itself. In other words, Android TV aims to deliver a kind of 'second screen' experience right there on your television. Besides simply searching for shows, there's a contextual search feature that lets you browse for content according to genre and actor/actress.
Crucially, Android TV comes with Google Cast support, which means it can be used in exactly the same way as one of its Chromecast dongles. In future, Google aims to bring out a dedicated app store just for TVs.
The interface seems pretty friendly too. In the presentation, Burke revealed that pressing the 'home' button on your smartphone (or remote, or smart watch) directs you to an overlay of movies,TV shows and apps. This include recommended content based on your viewing habits, as well as your most frequently-used applications.
Android TV is set to launch later this year and it won't just be found on TVs. Asus, Razr and others have already announced plans to launch set-top boxes powered by the OS later this year. For those who want some real hardware, Android TV will make its first appearance on Sony's Smart TVs in late 2014. From 2015, Android TV will also power the Smart TVs of TP Vision/ Philips and Sharp, while LG has said it will create 'some' Android Smart tellies.
Notably, Google's biggest smartphone partner Samsung has declined to be involved with Android TV – not really a surprise though when one considers the time and effort Samsung has put into building its own Smart TV platform.