While the launch of the iPad 2 naturally grabbed most of the limelight, Apple's press event in San Francisco this week was notable for the introduction of an accessory cable that concerns the subject matter of this website. The iconic company has unveiled a new Apple Digital AV Adapter that lets users connect compatible iOS devices (such as iPhone 4 and iPod Touch 4G) to their HDTV sets, and display whatever is on the smaller device on the larger screen.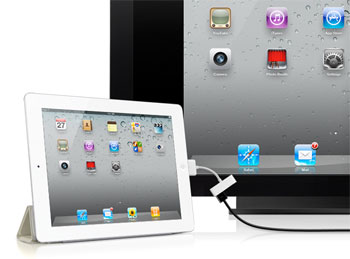 Dubbing the simultaneous dual-screen media-sharing capability "video mirroring", Apple appears to be targeting more than just home cinema fans who wish to enjoy movies stored within their mobile gadgets on their HDTVs. The tech firm is also pitching the accessory cable at business executives who can whip out their iPads to deliver a captivating presentation on a high-definition projection screen, as well as teachers and lecturers who can teach a class using certain educational apps.
The Apple Digital AV Adapter sports a 30-pin connector on one end (for plugging into the source iOS device), and a HDMI port plus another 30-pin connector (for USB charging and syncing of the iPad etc.) on the other. A HDMI cable is not included in the retail package, and so will need to be purchased separately.
Video mirroring in full HD 1080p is only supported on the iPad 2, and even then the maximum resolution for movie playback is only 720p. The other three compatible iOS devices – iPhone 4, iPod Touch 4G (fourth generation) and the original iPad – will have to make do with 720p video out. The adapter cable will also send digital audio streams as part of the HDMI signal, so that sound can be heard on the output screens.
The Digital AV Adapter has been priced up at US $39 (around £24) on the Apple web store in the States, and will go on sale the same day the iPad 2 is released (11 March 2011). UK pricing and availability have not been announced at this point of writing.