A new forecast has suggested that the arrival of Apple's much-speculated HDTV display will double American households' average annual spending on products sold by the technology giant to $888 (around £560) by the year 2015. The average amount spent by households in the USA with disposable income in excess of $10,000 (approximately £6,340) on Apple devices was $444 (roughly £280) over the course of last year.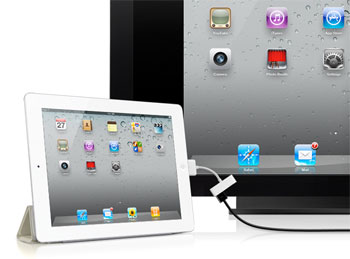 Apple HDTV launch may double US household spend: analyst
The numbers came from Morgan Stanley analyst Katy Huberty. In a note to investors, she said that her projections were extrapolated from the trend of US household spending following launch of new Apple products. When the first-generation of iPhone was unveiled back in 2007, it precipitated a doubling of American household spending on Apple products from $150 (£95) annually to $295 (£187) per year in 2010. Apple's iPad tablet PC is expected to increase the figure more than twofold to $635 (£402) by 2013.
Taking into account the high penetration rate of TV and broadband internet (97% and 61% respectively) among homes in the United States, the premium price point of an Apple HDTV is probably going to bring about a rise of similar magnitude in terms of average household spending, according to Huberty.
Although Apple has not officially announced that it is going to launch a television set, rumours have been rife in the media and entertainment industry regarding its development since the Cupertino-based firm's late co-founder and CEO Steve Jobs claimed in his biography that he had "finally cracked" how to change the TV market. The Apple iTV (as nicknamed by many sources) has been described as a 42-inch LED LCD TV in a consumer survey, and reported to feature voice and gesture controls.