America's love affair with all things Apple shows no signs of abating, with a new poll revealing that almost half of US consumers would 'definitely' be interested in buying the rumoured Apple HDTV.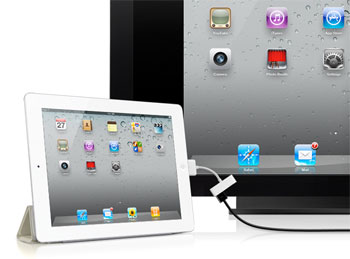 Apple HDTV piques interest of 49% of US consumers polled
Although Apple is yet to make an official announcement, rumours of such a product have been doing the rounds for quite a few months now, to the point that most insiders believe it's only a matter of time before the Cupertino-based technology powerhouse enters the HDTV market. Some have even gone so far as to coin the moniker "iTV", although this is likely to run into trademark infringement issues with the UK broadcaster of the same namesake.
Such is the Apple brand's strength in the USA, that if it does launch a new television set it will likely have an instant impact. Altogether, 49% of American consumers polled by Piper Jaffray analyst Gene Munster said they'd consider buying an Apple HDTV, with another 29% saying that they were not interested in buying a TV currently, but would make an exception for an Apple device.
Munster said that it is hardly surprising that so many consumers would break their usual seven-year television replacement cycle if it means they could get their hands on an Apple TV display, given how popular its other products are.
However, we should remember that 'interest' doesn't always translate directly to 'sales'. One major stumbling block could well be the price of an Apple iTV, which is apparently going to be priced at a cool $1,500 (around £960) when it's finally released in the second half of next year. According to Munster's poll, only 12% of recession-hit US consumers said that they'd be willing to stump up that asking price.
"The asking price will be Apple's biggest hurdle in the HDTV market. The last seven years has seen TV prices decline substantially, to the point where the average 32-inch TV costs 76% less today than it did in 2005," reported Munster.
This is all speculation of course, with Apple remaining as tight-lipped as ever on the prospect of releasing a television. When questioned during last May's D10 Conference, CEO Tim Cook refused to confirm whether a TV set was in Apple's plans, instead preferring to tease fans by saying that any 'hypothetical' Apple TV display would necessarily have to feature the most up-to-date technologies such as voice control (Siri in your TV?) and wireless streaming.
Lending further weight to the rumours of an Apple HDTV is a quote from the late Steve Jobs himself, who previously revealed in his biography that he'd "like to design an integrated TV with the simplest user interface imaginable".