The Apple iTV – the much-speculated television display from the maker of famous consumer electronics gadgets such as the iPod, iPhone and iPad – rumour mill has just received more fuel this week. Prominent US technology web publication The Verge reported that specific details about the television have been leaked in a consumer survey carried out by American retailer Best Buy.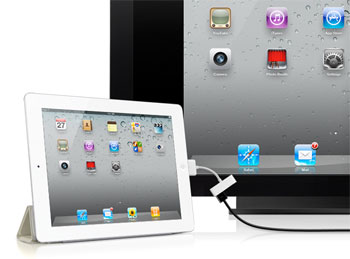 Apple iTV fleshed out as 42″ LED LCD TV in Best Buy survey
Wanting to gauge its customers reaction to the offering from Apple, Best Buy listed a number of tasty specifications in its survey questions. The Apple HDTV, as referred to in the poll, will be a 42-inch LED-backlit LCD TV with a native full HD resolution of 1920 x 1080. Given that the screens on iPhones and iPads are sourced from LG Display, we think it's highly likely that the LCD panel will be an IPS one supplied by the Korean manufacturer too.
Other features on the Apple iTV specified in Best Buy's survey were unsurprisingly related to the software/ content ecosystem (a forte of the Cupertino-based outfit) that is available on the television. According to the questionnaire, the Apple HDTV will be loaded with the company's iOS operating system, linked to the Apple App Store for movie streaming and application downloading (for example the Angry Bird games), as well as connected to the firm's iCloud service for convenient storage of the content (films, TV shows and music) that users have bought from iTunes.
The Best Buy survey also stated that users can use their iPhone smartphones or iPad tablets as remote controls to perform a variety of tasks on the television set. An iSight camera/ microphone unit is built-in for video conferencing (Skype) functionality, and several popular non-Apple services like YouTube, NetFlix and Flickr can be accessed from the internet-connected TV. There was however no mention about gesture nor Siri-like voice controls.
The price cited in the survey for the Apple HDTV is $1499 (around £950). While the details outlined in Best Buy's online questionnaire is more likely to be an educated "feeler" rather than the exact list of specifications provided by Apple, this still gives us an indication of what to expect when it comes to the iTV.
Source: The Verge