Apple is reported to be working alongside a couple of Asian TV makers on a secret product, thought to be a prototype HDTV, that, according to one report, could "change the way in which we watch television forever".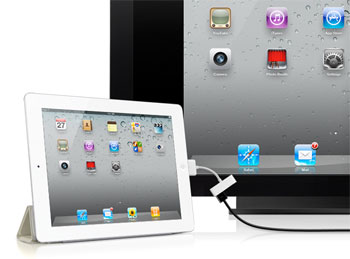 Apple testing designs of TV prototype with FoxConn & Sharp: WSJ
The Wall Street Journal cites unnamed officials from one of Apple's Asian suppliers in its reports. However, it notes that the project is still in its "early stages", and so there is no clue as to when the new device might become available.
As with all sketchy rumours of this nature, it's not even possible to confirm what the prototype device will actually be. WSJ believes that the device is most likely to be some sort of television display, although it could just as well be a newer, more advanced version of the Apple TV media streaming box.
What we can tell you is that Apple are said to have tapped up FoxConn (the trading name of Taiwanese manufacturer Hon Hai) to work alongside beleaguered Sharp to come up with a revolutionary new television – provisionally given a moniker of "iTV" by certain parts of the media – of some sort.
The uncertainty of exactly what Apple is up to isn't helped by the fact that the company is also reportedly still talking to cable TV companies about building a set-top box that can stream live TV shows – so either the new product is related to this, or it could be something entirely new.
The reports have done little to quell rumours that Apple is intent on changing the face of television as we know it. Before his untimely death, Steve Jobs himself mentioned the possibility of such a project several times in interviews, revealing plans of an HDTV set that would integrate with iCloud and other Apple devices.
"It will have the simplest user interface you could imagine," said Jobs at the time.
For all this, Apple has kept its mouth shut in recent months. While acknowledging television as an area of interest, the company has refused to confirm or deny any stories of "iTV" developments. As always with Apple, it looks like we'll just have to wait and see!
Source: Wall Street Journal