Even since Apple's late CEO Steve Jobs was quoted in his biography as saying he's "finally cracked" how to create an integrated television set, rumour mills have been churning about the seemingly inevitable launch of an HDTV display by the Cupertino-based firm. Until that day arrives however, the "Apple TV" moniker is still reserved for an inconspicuous box – barely the size of a portable hard drive – that primarily functions as a media streamer.
Now in its third incarnation, the latest Apple TV (ATV) maintains the exact same exterior as the previous generation, but has received a few notable upgrades under the hood, including full HD 1080p output and AirPlay functionality. Is it a worthwhile gadget to have for serving high-definition content to your flat-screen television? Let's find out.
Update 21 June 2013: Apple has released software update version 5.3 for the Apple TV 3rd generation, adding additional content in the form of Sky News, ESPN, HBO Go and Crunchyroll.
Design
From the retail packaging to the device itself, everything about the Apple TV 3 (ATV3) is quintessentially… Apple. It's no coincidence that the technology giant is now the world's richest company: it really knows how to tick all the design boxes to whet the appetite of consumers. Sporting a matte surface with a reflective logo, as well as a glossy trim (which unfortunately acts as a fingerprint and dust magnet) and rounded corners, with only a white LED indicator adorning the front, the black box is – without doubt – understated minimalism at its best.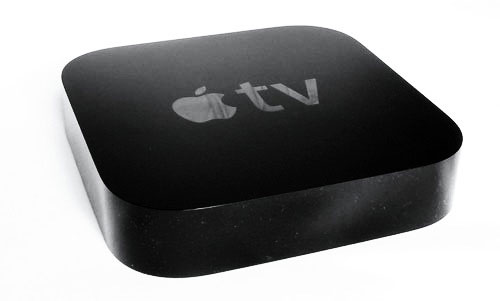 Adhering to the "less is more" theme, the back of the unit houses only two useful connections: a HDMI port and an optical digital audio output. There also exist a Micro-USB socket (for Apple technicians to carry out diagnostics and service updates) and an Ethernet port for LAN connection, although for most owners this is probably going to be ignored in favour of the built-in 802.11n wireless technology.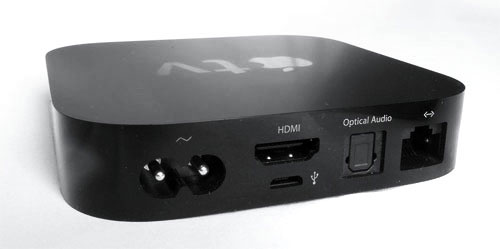 Rear connections: Power input, HDMI, Micro-USB, digital audio out, and LAN port
The supplied infrared remote control is sleek, slim and finished in brushed metal. The controls are all located at the top part of the remote, comprising a non-scrolling, circular navigation pad, a [Menu] button, and a [Play/Pause] button. To maintain its slenderness, the clicker takes a CR2032 lithium battery (the sort found in watches, PC motherboards and yes, certain active-shutter 3D glasses) instead of more traditional AA or AAA ones.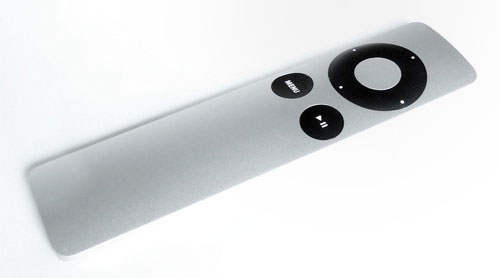 IR remote supplied with ATV3
Not that the remote is likely to be used much though, because Apple offers another way for users to control the Apple TV. Owners of iPhone and iPad can download a free Remote app from the iTunes store to their iOS devices, which allows interaction with the media streaming box over WiFi network. This provides several advantages over the physical IR remote: elimination of the need for direct line of sight; the addition of gesture controls; and most importantly, access to the iOS keyboard which makes text entry (for example during search) so much easier.
In practice, the Remote app generally worked well with the Apple TV 3 when tested from an iPad 2 and iPhone 4. However, there was a tendency to overshoot, i.e. one swipe of the finger brought about two steps instead of one, which of course required an extra reverse swipe to correct the error.
Interface
The graphical user interface (GUI) on the latest Apple TV has been revamped to mimic that found on other iOS devices, with the aim of providing a seamless experience across platforms. On the main menu, the bottom half of the screen is taken up by five columns of rectangular icons with rounded corners and reflective gloss, whereas the top half gives you a glimpse of what is available from the selected icon (for example, movie posters for [Movies], album covers for [Music], etc).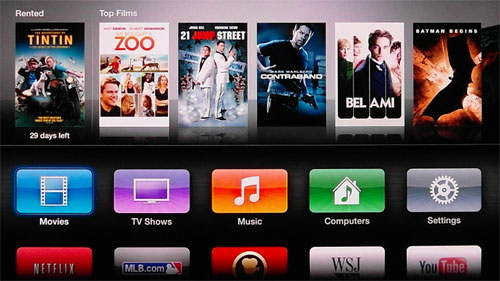 Scrolling down beyond the first row of icons will tuck away the top portion, effectively filling the screen with a 5×4 grid of app-icon goodness. Speaking of which, the number of apps on offer here are truly sparse, which is in stark contrast to the mind-boggling variety of applications available in the Apple App Store. The only ones that will interest the average British user are Netflix, Youtube and at a stretch, Trailers – all the popular UK catch-up TV services like BBC iPlayer, ITV Player, 4oD and Demand 5 are conspicuously missing from the ATV 3. Judging from the last grid row which was left blank, perhaps the company is holding back the cards to be unleashed on a full-fledged television set? One can only speculate.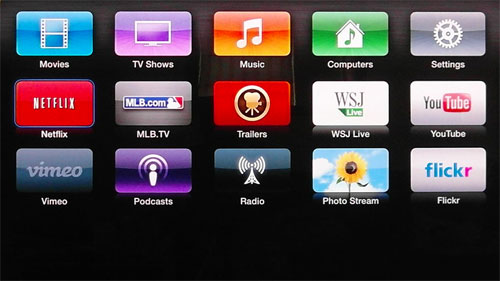 In Use
Setting up the Apple TV 3 couldn't be any easier: simply hook up the unit to your television with an HDMI cable (not supplied), connect to your home internet network, and you're away. We did find it excruciatingly painful to type out our WiFi password and iTunes details using the physical remote, but it's a one-off process, and for future text entries you can always turn to the Remote app (provided you own an iPhone/ iPad) instead.
Given the Apple TV's generic lack of third-party content, as well as limited file format compatibility (no native support for DivX and Xvid codecs nor MKV and AVI containers), one could be forgiven for thinking that the media streamer has been designed with the sole purpose of funneling users to the iTunes store to buy or rent movies and television dramas. The built-in Netflix app does represent an alternative (as long as you have an active subscription), but the catalogue of titles on offer absolutely pales in comparison to that available on the digital content behemoth that is iTunes.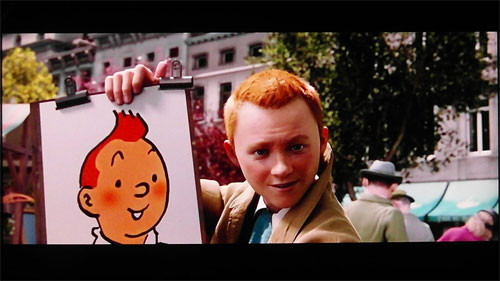 Should you proceed to stream films and TV shows from iTunes, you'll be rewarded with one of the most hassle-free and instantly gratifying viewing experience around. Unlike Blu-ray movies, there's no need to get up from your sofa to slot the disc into your BD player, nor sit through any anti-piracy warning and forced trailers; and unlike HD broadcasts, you can choose to start watching (or pause and continue later) at your own leisure. Depending on your broadband speed, there's a few minutes wait – necessary for the buffering process to ensure a smooth playback – before the paid-for content begins playing on your television screen.
Although it may vary from one title to another, the picture quality of the 1080p movies we watched was generally very good – at least the equal of high quality HD broadcast. Direct comparison to Blu-ray discs is a touch unfair, given that some compromise in image detail is unavoidable if a full HD movie has to be compressed to the extent of being manageable over the internet.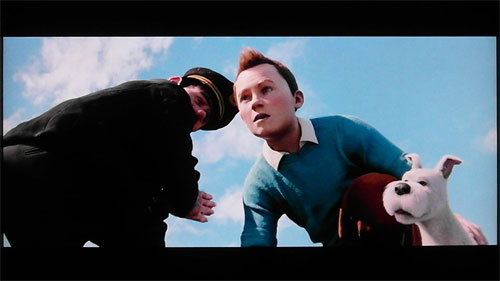 That said, Apple's compression algorithm acquitted itself reasonably well: when watching the 1080p HD version of The Adventures of Tintin: The Secret of the Unicorn as rented from iTunes, we never saw anything major to complain about from a sensible viewing distance. Yes, we witnessed some posterization and blockiness in the night sky as the golden unicorn sank into the sea at around the 1:11:14 time mark, but these were not significantly distracting, and we already knew from the moment we clicked the "Rent" button that we were opting for convenience over outright picture quality provided by well-mastered Blu-rays.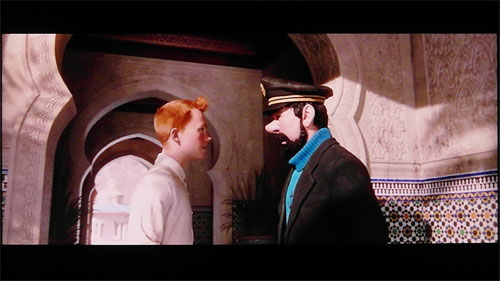 Considering that the Apple TV 3 does not output 1080p/24 natively, we were pleasantly surprised by how little judder there was on camera pans. Sure, some testing scenes – for example the swirling shot from the top of the Moroccan bazaar at 1:12:36, as well as the slow pan across the grand palace and reservoir dam (1:20:51) at the start of the motorcycle chase sequence – were not as buttery smooth as they could be, but any stutter seen was a lot milder than the typical telecine judder exhibited by some of the HDTVs we've tested.
AirPlay/ Mirroring
Realistically speaking, owners of iOS devices are the ones who will derive the most value from an Apple TV, due to a killer feature called AirPlay that allows users to send content on their iPhone, iPad, or iPod Touch wirelessly to the big screen via the media streamer. While there may be competing devices which provide similar functionality, none come close to Apple in terms of stability and ease of use.
We experienced some slight lag and the rare stutter during playback of video content, but put these down to wireless networking constraints between our iPad, WiFi router and the Apple TV 3. Perhaps another more bothersome issue is if an iOS app doesn't have native AirPlay support, you'll have to manually activate Mirroring from the iOS device's multitasking bar, which means that 4:3 content will be displayed with pillarboxing (vertical side bars on either side of the image) on a 16:9 HDTV screen. Coupled with the top and bottom black bars letterboxed onto most films and certain videos, this leads to a windowboxing effect which – in all honesty – wastes valuable screen real estate, and doesn't look very nice at all.
Power Consumption
There's a good reason why there's no hard power switch on the ATV 3, and the remote control doesn't even feature a power on/off or standby button. Whatever high-def content we threw at the media streamer, it only consumed a maximum of 2 watts in operation (and less than 1 watt in standby), making the latest Apple TV one of the most energy-efficient consumer electronics product on the market.
Background Noise
Our review sample was perfectly silent in use: we did not notice any audible buzz from the internal PSU (power supply unit), and there was of course no sound of fan whirring or hard disc drive (HDD) spinning and clicking, since the ATV3 doesn't have these components.
Conclusion
The Apple TV 3 boasts a number of strengths, most of them class-leading, ranging from sleek form factor and intuitive user interface to noiseless operation and superb energy efficiency. But ultimately, its full potential is only realised in the presence of other iOS devices, particularly when it comes to AirPlay, the media streamer's biggest attraction. If you're already a subscriber to Apple's unrivalled – though admittedly walled – ecosystem, or don't mind sourcing digital content from iTunes, then the latest Apple TV is an absolute steal at its suggested retail price of £99.