US-based readers who own an Apple TV media streamer might just notice something different when they switch on their box this week – Hulu Plus.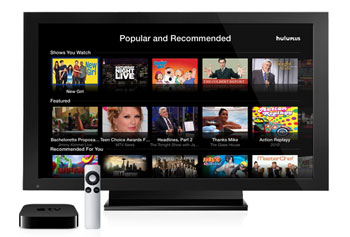 Apple TV gets Hulu Plus app
Viewers will notice that the Hulu Plus app has recently been added to the Apple TV home screen. With the new update, existing Hulu Plus subscribers will be able to access the channel's library of television shows on demand from today, while new users will be offered a free, one-week trial so they can decide for themselves if they want to sign up. After the trial, viewers can sign up through their iTunes account, for a subscription fee of $7.99 (around £5) a month.
So far, it's believed that Hulu Plus has only been made available to viewers in the USA. International users who attempt to access the service are reportedly being blocked. Currently, there's no word from Apple as to when Hulu TV will become available in the UK.
For those who can watch Hulu Plus on their Apple TVs, they'll be able to enjoy instant access to channels such as ABC, NBC and Fox; hit shows like Law & Order SVU, South Park and Parks & Recreation; as well as Hulu Plus's extensive library of movies (though be warned, many of these belong to the straight-to-DVD variety).
The Apple TV was first launched in 2006/2007, and earlier this year brought out its latest full HD model, which can play content at a resolution of 1080p, access iTunes and directly download movies, as well as play internet radio.
Online entertainment services such as Hulu Plus and Apple TV have been growing in popularity of late, to the point where they are now starting to provide a real challenge to established broadcasters, which have been slow to embrace newer technologies. Just last week, Google announced plans to test drive its own Google Fiber internet TV service, to viewers in Kansas City, USA. Google have promised that the new service will offer lightening fast download speeds, faster than any service yet available, and will stream content from YouTube, Netflix and a variety of broadcasters.