With Ultra high-definition display technology ramping up faster than anyone expected this time last year, Taiwanese TFT-LCD panel manufacturer AU Optronics (AUO) has just unveiled a new 65-inch Ultra HD (4K) LCD TV panel based on indium gallium zinc oxide (IGZO) semiconducting material.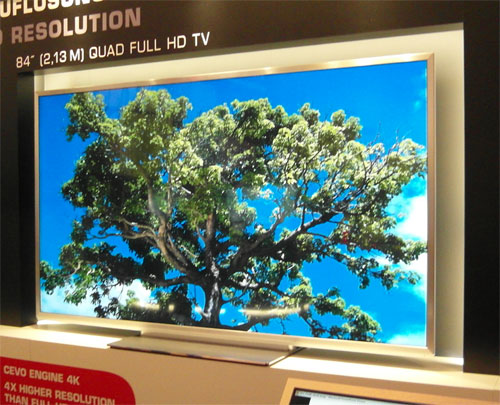 Smaller ultra HDTV incoming as AUO unveils 65″ 4K TV panel
The 65″ 4K LCD panel is said to be far more advanced than anything AUO has came up with previously, having been designed to achieve an ultra HD resolution of 3840×2160 pixels, which is four times that of "regular" HDTV. In addition, the IZGO display panel is able to deliver stereoscopic pictures with better image depth, whilst boasting significantly lower power consumption than previous technologies due to higher light transmittance and slimmer build.
Michael Tsai, AUO's Vice President and General Manager of Video Solutions Business Group, reiterated the point that for many consumers, having a high quality television has become indispensable to their lives, hence the company's continued innovation.
"Using our leading high resolution and super narrow bezel technologies, we continue to develop a wide range of display applications for the future," explains Tsai.
"We aim to achieve maximum value for our clients through total solutions combining hardware, software and our market insights."
Samsung, Sony, Toshiba To Launch 65″ Ultra HD TVs?
Probably the biggest advantage of IGZO semiconductor for application in ultra high-definition television (UHDTV) is that it should prove to be considerably less expensive than low temperature poly silicon (LTPS) technology to manufacture. IGZO panels have superior light transmittance and thinner body, which means that full-array LED backlighting is no longer required to provide an almost fully uniform level of brightness. Moreover, IGZO can be used in conjunction with IPS LCD technology to deliver better viewing angles.
Industry watchers will know that AUO has been known to supply LCD television panels to some of the most well-known TV brands including Samsung, Sony, Philips and Toshiba who will surely want to take advantage of the panel maker's latest technology, and deliver its benefits to their respective customers. Can we expect to see 65-inch 4K TVs from them in the near future? You'll have to watch this space.