Anyone with paranoid tendencies (and those who care about specifications) might want to give Bang & Olufsen's new 4K Ultra HD TV a miss. Dubbed "the one that moves", the 55-inch BeoVision Avant comes with a rather creepy new feature – it literally 'follows' you around the room, thanks to the special stands and mounts that can alter its position. The display also lacks several key features you would expect from a cutting-edge ultra high-definition (UHD) television.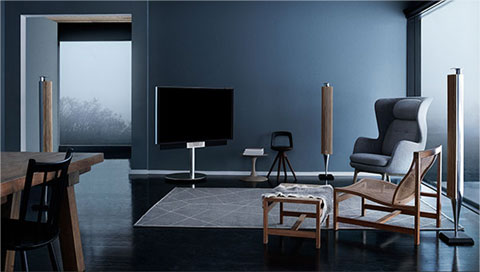 Still, Bang & Olufsen (B&O) is hoping that less insecure folks might actually enjoy 'being watched' by their television – so hopeful in fact that the company has priced its new ultra UHDTV at a whopping £5,995, and that price doesn't include the fancy stand.
Even without the stand the BeoVision Avant is a pretty impressive telly in its own right. It sports a 55-inch LCD panel illuminated by edge LED backlight, and claims to offer lots of nice colors and a nice and wide viewing angle (for the paranoid, presumably). It looks very sexy too – framed by the skimpiest of bezels, whilst it packs a 3-channel audio system that comes with eight speakers and amplifiers, together with an in-built light sensor that can automatically adjust the display brightness according to how much sunlight there is.
But it's the motorised stands that really set this product apart. There's three options, namely a floor stand, a wall mount and one that's designed to sit within your home entertainment centre, all of which can move around to give you a decent view, wherever in the room you happen to be. In total, the BeoVision Avant can manoeuvre itself into nine different positions activated by the remote control.
Speaking of which, the remote is pretty snazzy too. Called the BeoRemote, it's been designed to consolidate all of your other remotes into one, which means you can use it to control your TV, Blu-ray player, set-top box or whatever else you have. It also looks the part, sporting a sleek unibody aluminium design, minimal interface and good ergonomics.
As we've already point out, the BeoVision Avant isn't exactly cheap. The £5,995 price tag is way in excess of similar-sized models from the likes of Samsung and LG Electronics, and if you want the motorised stands as well that'll cost you an extra £695 for the cheapest variant. The 4K Ultra HD set doesn't even feature built-in HEVC decoder (so you can't watch Netflix 4K off the TV) or HDMI 2.0 (though the Danish luxury brand has said it will update the onboard HDMI 1.4 ports to allow 4K@60p/50p playback at 8-bit, 4:2:0 in the future). Even so, we'd expect nothing less from B&O, whose products have always been aimed at those who have too much money want nothing but the very best.