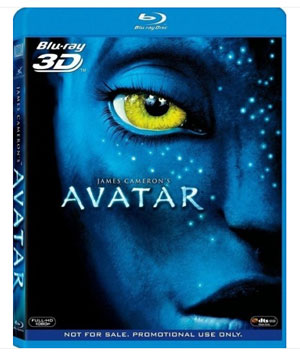 Copies of the Avatar 3D Blu-ray disc have been selling on eBay UK for a pretty sum of money since the title's release in 3D format on the 1st of December. This is because in the United Kingdom, the Avatar 3D Blu-ray movie is only available to those who have purchased certain Panasonic 3D hardware, as a result of an exclusivity deal inked between 20th Century Fox and the Japanese TV maker.

Under the terms of the agreement, the Avatar 3D Blu-ray film will only be made available to UK consumers who have bought a Panasonic 3D TV (for example the VT20 or GT20 series) together with either a Panasonic 3D Blu-ray player or a Panasonic 3D Blu-ray home cinema system between the 30th of October 2010 and the 31st of January 2011. Eligible owners will be able to redeem a copy of the Avatar 3D Blu-ray movie (and also Ice Age 3 3D, Coraline 3D and Paul Carrack 3D) by sending in a claim form and a receipt showing both purchases made within the qualifying period to Panasonic before the 28th of February 2011.
Although the exclusive distribution rights owned by Panasonic to the Avatar 3D Blu-ray title will eventually expire, there has been no official word on when a standalone version will be released for non-Panasonic 3DTV owners. With Christmas just around the corner, demand for the Avatar 3D (which kicked off the current 3D craze in the first place) Blu-ray disc has surged especially among Samsung, Sony and LG 3D TV owners, therefore driving up the prices of brand new or second-hand copies to north of £100 on auction sites like eBay.
For those who are not willing to shell out this amount of money to get their hands on the Avatar 3D Blu-ray disc, there is an alternative way to enjoy the movie at home in 3D come Christmas (although it's not necessarily cheaper in the grand scheme of things). BSkyB, the UK digital satellite TV broadcaster, will screen Avatar 3D as a world-exclusive 3D TV premiere on its recently launched Sky 3D channel on Christmas Eve at 8pm. It needs to be pointed out though that the Sky 3D channel is only available for free to Sky subscribers who have signed up to the top-tier Sky+HD with Sky World package costing £62.25 per month (minimum 12-month contract).