With more and more 4K Ultra HD TVs coming onto the market, it's not only consumers who are facing difficulty sourcing native 4K content to watch on these super-high resolution displays. As professional reviewers, we too don't have many material at our disposal to test these ultra high-definition (UHD) televisions properly in the same manner we test 1080p sets, what with the Blu-ray Disc Association's slowness in establishing a 4K Blu-ray standard. At this time of writing, no manufacturer has launched a 4K Blu-ray player, nor are there any UHD version of test discs like Digital Video Essentials or Spears & Munsil available to buy on the market.
Which is why the new AVLab TPG (test pattern generator) from video processing specialist DVDO is such a godsend. We've been using it as part of our 4K TV review workflow for the past few weeks, and now it's time to pass verdict on the device which retails at a scarcely believable price of US $1299 (around £770).
Design
The first thing to note about the DVDO AVLab TPG is that it's really nifty and portable. It is USB-powered, and so for field work, you'd only have to bring the signal generator with a cable to be hooked up to your laptop without requiring the supplied power adapter. And if you're using it solely for calibration, you don't even need the remote control – you can simply drive the AVLab TPG using the video calibration software on your computer (we used CalMAN 5).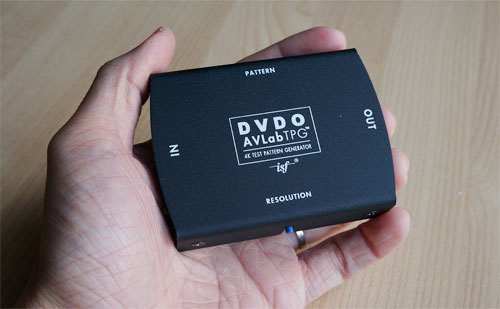 Encased in a metal chassis, the unit feels very solid and well-built, looking like it can take a fair bit of beating on the road. Of course, DVDO has been considerate enough to include soft carrying pouch to further protect it, as well as a Monoprice HDMI cable, plus a USB stick for future firmware updates.
| | |
| --- | --- |
| | |
| Left: Power in; HDMI/ MHL input | Right: HDMI output; IR receiver; optical out |
Unsurprisingly at this price point, there's no LCD display on the DVDO TPG itself, but we honestly don't miss it, especially if its omission helps keep the footprint small and the power consumption low. A pair of buttons are located at the front and back of the device, letting you cycle through the output resolution and inbuilt test patterns respectively. We found the former extremely useful to escape the nightmare situation where the signal generator's output resolution or the refresh rate is not compatible with the television resulting in a blank screen – pressing the [RESOLUTION] button will automatically reset the AVLab TPG to the highest resolution which can be displayed.
In Use
Calibration
The DVDO AVLab test pattern generator worked seamlessly with the CalMAN 5.3 Ultimate video calibration software that we routinely use in our reviews and calibration jobs, bringing speed and accuracy to our workflow. There were the odd occasions when the device wasn't detected by CalMAN through the COM port, but it might have been specific to our setup, and in any case was easily fixed by the age-old solution of rebooting our laptop.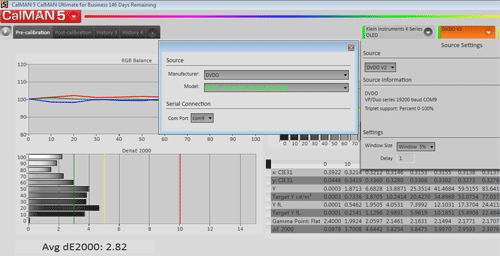 Using a bit-perfect OPPO Blu-ray player, we checked that there's no error in the AVLab TPG's resolution and test pattern output. We did several calibration runs on TVs and projectors via the DVDO, then repeated the measurements on the same settings using the OPPO, and the results were virtually identical without any statistical difference.
DVDO has not included any 3D pattern on its AVLab device, but we don't think it's a big loss, given how little interest is there among consumers for all things tri-dimensional. We asked the company anyway about the possible addition of 3-D patterns with a firmware update in the future, and here's their reply:
We constantly seek input from customers for additional features and release periodic updates to add the most requested ones. 3D is definitely within the capability of this device."
4K Display Testing
Arguably the biggest draw of the DVDO AVLab test pattern generator is its ability to output resolution up to a maximum of 3840×2160 at 50Hz and 60Hz. According to DVDO, the internal hardware is currently capable of 300Mhz, which limits the colour depth to 8-bit, 4:2:0 at 4K@60p/50p. We think this is perfectly adequate especially at this price point, considering that not many consumer displays (not to mention video source) support higher colour depth at 4K@60fps/50fps.
The combination of 3840×2160 output and built-in single-pixel patterns proved extremely handy in our testing of 4K displays, empowering us to not only quickly determine the highest resolution a display is capable of, but also detect any ensuing limitation that we wouldn't have otherwise picked up. For instance, we confirmed that the new Panasonic AX802/ AX800 4K Ultra HD TV could only accept 4K input through the HDMI 4 port, but discovered that if the signal was 50Hz or 60Hz, you'd need to disable a HDCP 2.2 setting in the user menu before the source would be displayed on screen: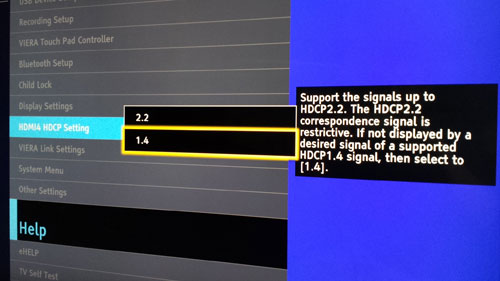 Another example of the DVDO AVlab TPG's usefulness was during our analysis of the JVC DLA-X500R. While the projector accepted 3840×2160 signal at 50p and 60p, it locked out the colour management system (CMS), gamma controls and dynamic iris, therefore restricting the amount of adjustments that could be made to improve the image.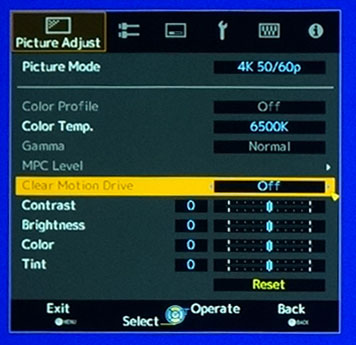 We also verified that the JVC X500 was unable to resolve 3840×2160 resolution in full using the AVLab's internal single-pixel checkerboard pattern, which is not surprising since the underlying imager is 1080p.
Verdict
The DVDO AVLab TPG is truly peerless in terms of form factor, portability and above all value for money. When it comes to a portable test pattern generator that can produce reference-tested 4K signals, the other popular alternatives are the VideoForge 4K Video Pattern Generator and Quantum Data's 780A/ 780B handheld test instruments, all of which cost at least US $4995 (around £3000). Even when its limitations are taken into account, the DVDO AVLab represents an absolute bargain.
Perhaps the highest compliment we can give DVDO's new test pattern generator is that we've acquired a couple of units which we will be using in all our reviews of 4K Ultra HD displays going forward. Whether you're a technical reviewer involved in testing ultra high-definition (UHD) displays, or a professional calibrator expecting to work on more 4K TVs as they grow in market share, the DVDO AVLab TPG deserves a place in your arsenal of equipments.