Bang & Olufsen (B&O), the Danish premium hifi and television set maker, has announced that it will add a 32-inch model to its BeoVision 10 series of LED TVs next month. The arrival of B&O BeoVision 10-32 marks the first time ever in the company's illustrious history that it has launched three models within a single product line inside one year. The 40-inch B&O BeoVision 10-40 and 46-inch B&O BeoVision 10-46 had earlier hit UK shores in spring and summer of this year respectively.

The B&O BeoVision 10-32 will feature a full HD native screen resolution of 1920×1080, edge LED backlight technology, and anti-reflective coating on both sides of the LCD screen. Design-wise, the B&O BeoVision 10-32 HDTV will use the same chassis and share similar styling cues as its bigger siblings. Its polished aluminium bezel serves to accentuate the panel's slimness (which is made possible by implementation of edge LED backlighting), while its rear section is subtly curved near the edges to mirror the wall colour, therefore giving the appearance of a suspended display that fits in perfectly with the room interior.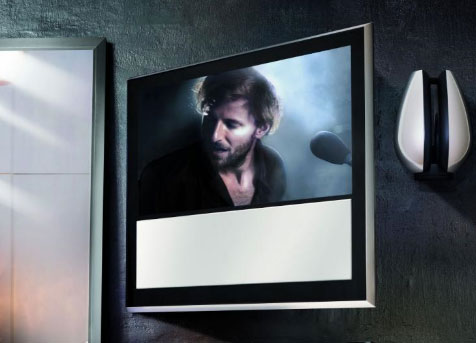 For further customisation, owners can change the detachable magnetic front cover on the B&O BeoVision 10-32 LED LCD TV, choosing from either black, silver, dark grey, white, blue or orange colours. Anticipating that the BeoVision 10-32 will be used mostly as a secondary TV display in the bedroom, kitchen or office, Bang & Olufsen offers several ways to position the HDTV: motorised stands on the floor or on the table; or three types of wall brackets, including one that can be swivelled and tilted manually.
Given its hi-fi heritage, it's hardly surprising to find B&O trying to elevate the audio performance on the BeoVision 10-32 beyond the ordinary. Bang & Olufsen has incorporated an active, two-way loudspeaker system on the BeoVision 10-32, which the company claims will deliver superior acoustics compared to similarly-sized flat-screen HDTVs.
The Bang & Olufsen BeoVision 10-32 HDTV won't come cheap though – the B&O flagship store in Knightsbridge London has priced each unit at an eye-watering £4,400 with a Beo4 remote control and a basic wall bracket thrown in. Clearly the significant losses suffered by B&O since the global financial crisis in 2007 haven't affected the company's pricing strategy aimed at the super-rich.