The premium audio-visual equipment manufacturer Bang & Olufsen has finally made its entry into the Smart TV arena with the launch of its long-awaited BeoVision 11, incorporating all the features one would expect from a top-of-the-line connected television with the best aspects of its previous award-winning model, the BeoVision 10.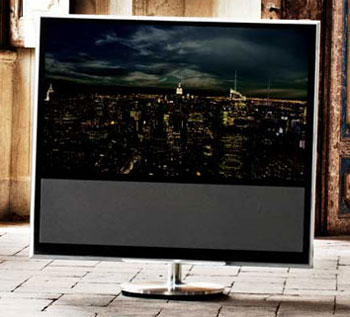 Bang & Olufsen outs B&O BeoVision 11, its first Smart TV
Like all B&O products, the BeoVision 11 is sexy, stylish, and expensive. The HDTV actually looks a whole lot like its sublime predecessor does too, but don't go thinking that the lack of a cosmetic makeover means there's nothing new to see.
The Danish brand has implemented a 200Hz LED-based LCD screen built using glare-polarising glass, plus a newly designed video engine to ensure that the picture quality is outstanding – the perfect complement to the numerous new features it packs. These include 360° Automatic Picture Control, which allows the BeoVision 11 to automatically optimise the contrast and brightness on-screen by sensing the level of ambient light within the room, taking into account different viewing angles. In addition, there's Adaptive Contrast, which automatically refocuses contrast so that viewers get to see what's happening on-screen when the scene suddenly turns dark.
Capable of 2D and 3D, the B&O BeoVision 11 also uses the company's latest technology to keep motion blur and digital noise at bay, so your eyes and your ears won't have to work too hard to keep up with the action – meaning you can easily watch for several hours at a time without having to worry about getting a headache.
As with most new Smart TVs these days, Bang & Olufsen's newest offering comes with an array of fancy hi-tech connectivity options, such as DLNA support that allows you to stream content from your smartphone or tablet device, WiFi connectivity, six HDMI sockets, an Ethernet cable port, two USB ports, plus plenty of space for a set-top box to go in the cabinet. The BeoVision 11 even offers hybrid broadband TV support, if that's a service you're interested in seeing more of.
There is one, small problem with all this however. The 40-inch version of the BeoVision 11 starts at an eye-watering £5,000, while the 46-inch and 55-inch alternatives will make an even bigger dent in your wallet. Nobody said that such luxury comes cheap.