Danish luxury audio-visual equipment manufacturer Bang and Olufsen (B&O) has launched its first 3D TV display, and true to form, it is beyond the reach of us mere mortals. The BeoVision 4-85 is a ginormous screen measuring 85 inches in size, reserved only for footballers and investment bankers with the wealth and floor space to spare.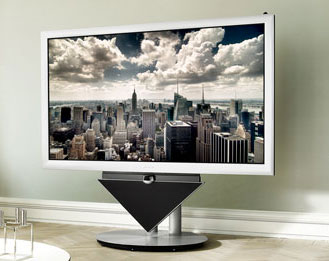 The 85-inch plasma HDTV sports a full HD native screen resolution of 1920 x 1080. The 3D technology at play here is the alternate frame sequencing (ASF) variant, which means that viewers will have to wear active-shutter 3D glasses to enjoy tri-dimensional content on the television. Given the screen size and the ASF method deployed, one wonders if the Bang & Olufsen BeoVision 4-85 shares the same panel as the Panasonic TH-85VX200 professional plasma.
B&O has also implemented an innovation dubbed "Automatic Colour Management" on the BeoVision 4-85, which is intended to counter the effects of ageing (the brightness and colours on plasma televisions tend to fade over time as the phosphors age). To help with daytime viewing, the 3D plasma TV is blessed with an anti-reflective coating to reject external light hitting the screen, as well as several automatic picture controls that adjust the luminance output depending on ambient lighting conditions.
Of course, given its prestigious history and reputation in the HiFi arena, Bang and Olufsen is determined to equip the BeoVision 4-85 with an acoustic performance to match the purportedly excellent picture quality. The plasma-based 3DTV features a BeoLab 10 dedicated centre speaker, which is further enhanced by B&O's patented Acoustic Lens Technology. The BeoLab 10 can be paired seamlessly with other Bang & Olufsen speakers such as the BeoLab 5 for an immersive surround sound experience. The Acoustic Lens Technology ensures that the sound emanating from the centre speaker is delivered equally in a horizontal plane, so that viewers can still hear the movie dialogues clearly wherever they sit.
The B&O BeoVision 4-85 is available either with a motorised stand, or as a screen-only wall-mounted solution. While UK pricing has not yet been announced, some European sources are quoting a price of 70,000 euros (around £61,500) for the TV plus motorised stand, or 51,000 euros (around £44,800) for the wall-mounted version.