Bang and Olufsen has updated the latest model in its flagship BeoVision 7 series with 3D capabilities as well as an integrated 3D Blu-ray player. The Danish premium AV brand first dipped its toes into the 3D realm with the release of the BeoVision 4-85 tri-dimensional plasma TV back in April this year.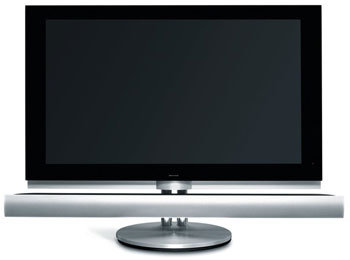 Bang and Olufsen BeoVision 7-55 3D LED LCD TV
Like every current extra-dimensional offering from the company, the newly unveiled B&O BeoVision 7-55 3D uses active-shutter-glasses (ASG) technology to drive its 3D images. The 55-inch LCD display features a full HD native screen resolution of 1920×1080 (what doesn't nowadays), and is illuminated by rear-mounted, local-dimming LED backlight which boasts 512 zones that can be brightened or darkened independently of each other with high accuracy, allowing for deeper blacks and brighter whites that contribute to heightened contrast levels.
Other innovations implemented on the BeoVision 7-55 3D TV include an ambient light sensor that will detect the surrounding brightness and adjust the image on screen automatically, the firm's own in-house video processing, as well as motion-compensated frame interpolation (MCFI) technology and scanning backlight to reduce motion blur. Given Bang and Olufsen's hifi heritage, it's hardly surprising to see the 3D-capable HDTV equipped with the Struer-headquartered manufacturer's patented Acoustic Lens speaker technology that purportedly moulds the television's sound output to the room in which it is placed.
B&O's senior product manager Ole Moltsen said that the BeoVision 7-55 3D is the company's response to increased demand for 3D functionality – fuelled by greater availability of extra-dimensional content such as 3D Blu-ray movies, 3D games, and live sports like the Barclays Premier League football matches being broadcast in the third dimension – among its customers. However, he stressed that the Danish TV maker still places a lot of importance on 2D picture quality, since the majority of viewing will be undertaken "flat".
The B&O BeoVision 7-55 3D LED TV does not come cheap – an RRP figure of £16,970 has been quoted, but fortunately for this price buyers will get a motorised stand, a Beo6 remote control, a BeoLab 7-6 horizontal bar speaker, and a pair of active-shutter 3D glasses thrown in. Bargain.