In the race to bring 4K TV broadcasts to the British masses, it's likely that British Sky Broadcasting (BSkyB) will beat the BBC to the post, following an admission by the UK public service broadcaster's executive Mark Harrison that ultra high-definition (UHD) is not their highest priority.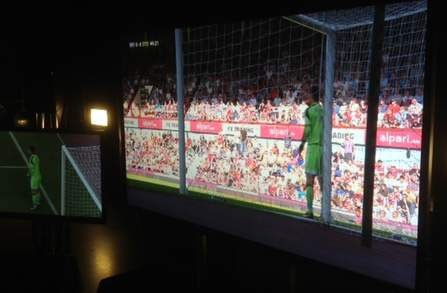 Harrison's comments came at the Digital TV World Summit, where he revealed that while both the BBC and Sky are looking "very closely" at 4K technology, as far as the Beeb is concerned its main focus remains on improving current HD technologies. As for 4K broadcasts, these are still in the works, but any deployment is "a long way off".
"I'm sure that Sky will grab the attention and get there first, that's their business model after all," said Harrison at the summit.
The executive noted that the BBC faces more constraints than Sky due to its "universality", which means that any future projects have to be to the benefit of the majority, rather than just a niche audience. What with so few people in the UK actually owning a 4K Ultra HD TV set, this means it's unlikely to focus too much attention of UHD broadcasts until the technology becomes more widespread – by which time, Sky will likely have already beaten them to it.
In the meantime, Harrison explained that the BBC's R&D team was working hard to deliver better quality content in regular high-definition. He claimed that by delivering HD at higher frame rates, this could lead to a far more noticeable boost in picture quality than 4K.
"Our R&D staff are obsessed with frame rates, codecs, colour and dynamic range," said Harrison, adding that the aim is to deliver better quality pictures to everyone, regardless of what they're watching or what kind of hardware they have.
Harrison told his audience that in any case, the onus was on programme makers to push 4K content first. He claimed that in order to drive adoption of 4K TVs and devices, it's necessary to see a lot more high-quality content made available in the format first. In other words then, it looks like the BBC is happy enough to just sit back and let others worry about 4K, safe in the knowledge that when the technology becomes more widespread it'll be easy enough to catch up.
This is in complete contrast to BSkyB's attitude. As Harrison noted, using the very latest technologies is one of Sky's biggest selling points, hence it's been working hard to deliver Ultra HD content to its viewers. Indeed, the digital satellite television broadcaster has already carried out its first trial of the technology, filming last September's Premier League match between West Ham and Stoke City in 4K, although this was not publicly broadcast.
Source: Digital TV Europe