BBC viewers are about to see a reduction in the amount of additional content the broadcaster screens on TV, as it switches its focus to online content delivery in the face of cuts to its operating budget.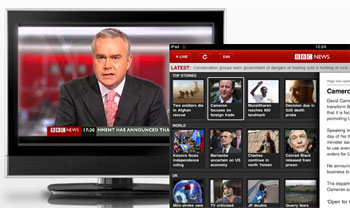 BBC cuts red button coverage on Freeview, Sky & Virgin
Currently, the Beeb pushes content through five additional video streams via its Red Button service on Sky, Freeview and Virgin Media, but from the middle of this month this will be reduced to just a single stream. Writing on the organisation's blog, BBC Vision's developmental editor for red button and dual screen Tom Williams said that the reduction has been undertaken in part because of a 25% cut to its Red Button and Online budgets.
However, for internet-connected fans of the Red Button, which attracted an average of 20 million viewers per month, and even more during popular events like Wimbledon and Glastonbury earlier this year, the news need not be a concern. The BBC has promised to re-invent the service as a new, 'Connected Red Button' on internet-capable HDTV sets, announcing an action-packed autumn schedule that includes coverage of UK Championship Snooker, Formula One, live music via Radio 2 and 1Xtra, and children's programming from CBBC's Wolfblood.
While the news will be a disappointment to those who don't own a connected device, the BBC can take credit for its focus on new-wave technology and ideas, and also for cutting its costs. Red Button's existing video streams are delivered via notoriously expensive broadcasting channels, and have been a big drain on the UK public service broadcaster's finances up until this point.
The biggest downside is that internet TV adoption is currently very low in the United Kingdom, and so the vast majority of viewers won't experience Connected Red Button for some time, and will have to make do with fewer viewing options until they upgrade.
Williams acknowledged that many viewers will be disappointed, but insisted that Connected Red Button, which launches later this year, is the only way forward for the broadcaster:
"My belief is that with Connected Red Button, we're taking a big step forward that will become a stepping stone to many new creative opportunities – bringing new ideas and concepts to all of our content, including TV and radio."
"Our goal is to provide viewers with the best possible TV experience in a way that is flexible and cost-effective, something that will allow us to add much more functionality in the months and years ahead."
Source: BBC Internet Blog