As 3D TV owners crave for more TV programmes to fill the current 3D content void, BBC's cult sci-fi TV drama series Doctor Who has emerged as the television show Brits would most like to see in its 3-dimensional glory, according to a survey carried out by Japanese TV manufacturer Panasonic. Iconic British animated characters Wallace and Gromit came second in the poll results, followed by another BBC offering – the popular car show Top Gear – in third place.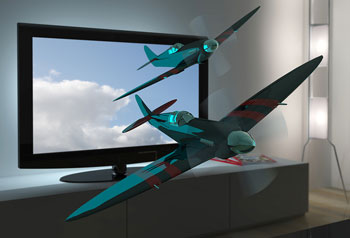 At the other end, the Queen's Speech, and TV cooking shows featuring celebrity chefs Jamie Oliver and Heston Blumenthal were voted as the TV programmes UK viewers would least want to watch if they were broadcast in 3D. Panasonic's report also revealed that British audience prefer, if viewing in 3D, EastEnders over Coronation Street when it comes to soap operas; and X Factor over Strictly Come Dancing in the battle of the UK reality TV shows.
Having invested heavily in 3D product development and marketing, Panasonic is a strong advocate of 3D technology: its VT20 series of plasma displays were among the first 3D TVs to hit UK stores when released back in April this year. While the first half of 2010 was characterised by an almost embarrassing lack of 3D content, the launch of the Sky 3D channel on the 1st of October, and the release of a handful of 3D Blu-ray discs (though most remain exclusive to certain 3DTV brands) had gone some way towards alleviating the situation. Indeed, Panasonic's TV product manager Fabrice Estornel called 2010 the year with "the first 3D Christmas", i.e. the first Christmas where 3D products and content are both readily available to consumers in the United Kingdom.
However, judging from the predominance of BBC programmes in the respondents' 3D wish lists, Brits clearly want cheaper and more easily accessible 3D material from the UK's public broadcaster to watch on their 3D TV sets. Although the BBC currently has no plans to launch a dedicated 3D channel, it did film and screen a 3D Dr Who trailer and a short 3D clip of Strictly Come Dancing in selected 3D cinemas around the country this year, which may yet pave the way for future 3D programming.