The BBC has announced plans to commission six new drama films over the next two years, to be screened exclusively on the iPlayer app. The news signals the broadcaster's commitment to producing greater amounts of online-only content, after dabbling in a few shorts last year.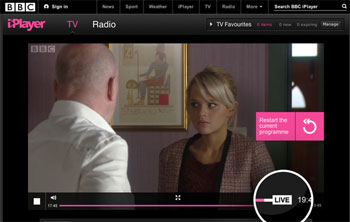 BBC plans six new drama shows exclusively for iPlayer
In a press release announcing its plans, the Beeb said that its Drama Productions unit would work alongside BBC 3 to produce the new shows, which will showcase the work of new writers rather than established figures. The new dramas follow on from the BBC's iPlayer-only Doctor Who mini-series, and the comedy Feed My Funny, both of which were screened on the app last year.
Discussing the move, BBC iPlayer head Victoria Jaye said that the new shows were all about increasing the iPlayer's appeal as a creative platform:
"This ambitious new strand builds on BBC iPlayer as a creative platform to bring original British drama to audiences online, and explores storytelling outside of a scheduled TV slot or duration. Audiences will be able to discover, share and enjoy these dramas whenever and wherever they choose."
BBC 3 is generally considered to be targeted at a younger audience, with popular shows like David Attenborough's Africa, Top Gear, Miranda, Family Guy and the comedy series Coming of Age being some of the biggest hits on the channel. Even so, the channel is also known for screening lots of homegrown shows, and it looks like this kind of fresh new content is what the BBC wants to bring to the iPlayer, leveraging some of its most talented young screenplay writers. Given the popularity of Netflix's own House of Cards series, it's not easy to see why the BBC is going down this road.
The BBC iPlayer's popularity has gone from strength-to-strength since the service was first launched back in 2008, with a record-breaking 272 million requests for TV and radio shows made during January, a 26% increase on the previous month – something that the BBC said is most likely due to the number of new tablets and smartphones bought for people over Christmas.
Source: BBC