BBC Worldwide, the UK public service broadcaster's commercial arm, has launched a new digital nature YouTube channel, which is also the organisation's first ever original-content channel on the popular video streaming platform. Dubbed "Earth Unplugged", the channel will exclusively broadcast a variety of new programmes filmed by BBC Earth Productions, the global natural history brand of BBC Worldwide.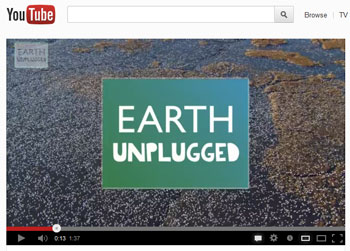 BBC launches "Earth Unplugged" nature channel as YouTube exclusive
As many as seven new wildlife and nature shows have been promised to be available on launch. These include Earth Juice, Meet My Planet, Deadliest… (a spinoff from the Beeb's popular Deadly 60 show), Walking With Dinosaurs, Earth Files, Zoo La La, and Amazing Animal Babies (a must-see if you like cute baby animals, and let's face it, who doesn't?).
The Earth Unplugged YouTube channel signals BBC Worldwide's intent to establish a network of original-content channels on the video-sharing website to capture a larger portion of internet audience. The company is positioning "Earth Unplugged" as the premier source of nature and wildlife programming for online viewers, and plans to launch more YouTube-only channels in the future, including one dedicated to science (which will feature James May and a team of scientists) early next year.
Commenting on the launch of the new YouTube channel, BBC Worldwide's managing director for BBC Earth Amanda Hill said that the organisation is constantly looking for innovative ways to deliver content to viewers, and YouTube – being the media streaming giant that it is – represents the ideal springboard to attract new audiences with Earth Unplugged's original, captivating nature programmes.