Given the popularity of its iPlayer catch-up TV service, BBC knows a thing or two about designing a compelling video-on-demand (VoD) application. Not resting on its laurels, the UK public service broadcaster aims to introduce some innovative measures that will further enrich the interactive television viewing experience, as internet-enabled TV (IETV) models gain mass market penetration. That is the message gleaned from a BBC head at the Digital TV Group (DTV) Summit 2011 which took place in London yesterday.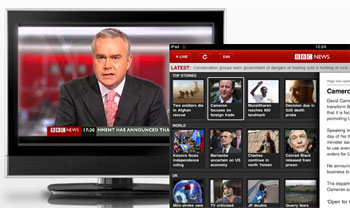 Themed "Continuity and Change: Surviving and winning in the connected era", the conference brought together content providers, media regulators and HDTV manufacturers to give an insight into the challenges facing the digital TV industry as web connectivity grows in importance. In his opening keynote speech, BBC's director of archive content Roly Keating outlined the organisation's intent to enhance the interactivity of TV broadcast content by building upon existing infrastructure with which viewers are familiar (such as the EPG and the BBC Red Button) to provide a seamless transition.
He refuted the notion that TV's demise has been accelerated by video on demand by presenting a graph which showed that the number of hours Brits spend on watching television per week actually went up from 2006 to 2010. Looking ahead, Mr Keating wants to combine traditional TV broadcast and online content in a more intuitive manner to give users more accessibility and control.
He cited the Electronic Programme Guide (EPG) and the BBC Red Button – services that people are already using – as examples of "gateways" to internet-connected content. He described a vision of EPGs that can go backward in addition to forward, and the ability to contextually open a new window to relevant BBC online content by pressing the red button, in effect creating a bridge that responds dynamically to the TV channel and programme being watched on screen.