A software encoder upgrade for BBC HD on the Freeview HD platform has led to intermittent audio dropouts on some Sony Bravia televisions, the online portal of British home cinema magazine What-Hifi? Sound and Vision has reported. The issue appears to be caused by transitions between 1080p and 1080i high-def broadcasts on BBC HD, and affects Sony's 2010 and 2011 HDTV models.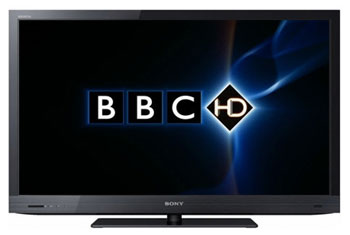 It transpired that the Beeb upgraded the encoding software on its Freeview high-definition channels on 22nd and 23rd of March, allowing programmes which are natively shot at 1080p25 to be automatically transmitted in progressive mode instead of interlaced (1080i25). However, since the largely unpublicised upgrade, some owners of Sony TVs have been experiencing frequent sound dropouts on the BBC HD and BBC1 HD channels, presumably as a result of the dynamic switching between 1080p and 1080i materials.
The Japanese TV manufacturer is aware of the problem, and is working hard on a firmware update to ensure there is no disruption in picture and sound data during transitions from progressive to interlaced modes (and vice versa). The timescale given for a fix is between seven to ten days, as the company needs to verify that any adjustments made will be compatible with high-def broadcasts in other countries.
Thus far a similar audio glitch has not been reported on other TV brands, but some viewers have been complaining about the images on screen zooming in and out from time to time when watching BBC HD channels on Freeview HD. This is probably due to the television's aspect ratio being pegged independently to different video formats, and should be rectifiable by setting the same aspect ratio (ideally without overscan) for both 1080i and 1080p content.
Source: What Hifi