The BBC is kicking off its in-house 4K World Cup trials that were announced earlier this month, but while we won't actually get to see the action with our own eyes, the Beeb is keen to let us know how it all goes.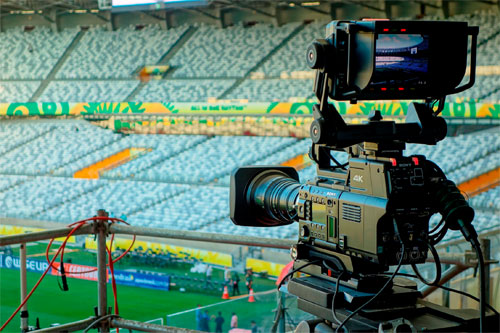 In a blog post, BBC's head of broadcast & connected systems Phil Layton, delved into some of the technical aspects of the ultra high-definition (UHD) trials, which are set to go ahead later this week.
The BBC has set itself the goal of "demonstrating an end-to-end live UHD broadcast over both a traditional DVB network and an adaptive bitrate delivery approach over IP". To achieve this, it's working alongside satellite firm Arqiva to beam the live footage to the UK via satellite using its DTT (digital terrestrial television) technology, and it'll also use its existing super-fast broadband infrastructure to deliver the footage over IP.
Layton explains that the footage will be received via an H.264 AVC satellite feed, and that both DTT and IP will use the new HEVC codec to compress the transmission to a frame rate of 59.94Hz, which is the standard in Brazil. One of the goals of the trial is to see how well the HEVC encoders perform. For this reason, Layton says the video bitrates are subject to change, though he predicts 30-35Mbit/s is what they'll end up with.
DTT transmissions are just starting up now from BBC studios in London (Crystal Palace), Manchester (Winter Hill) and Glasgow (Black Hill), and will be employing T2 modulation parameters that are used for HD multiplexes. This means most consumer hardware should be able to receive the signal, though it's unlikely anyone has the equipment (including the latest 4K TV models) needed to decode it, notes Layton. As for the web stream, this will be geo-IP locked to the UK and sent using the latest DVB-DASH profile which requires dedicated hardware to decode.
The UK public service broadcaster will carry out trial broadcasts of three games during the World Cup, including one Quarter-Final and the Final. While the BBC isn't going to broadcast anything publicly this time around, those who wish to see 4K Ultra HD footy action can do so courtesy of Sony at the retail stores listed in this earlier article.
Source: BBC R&D blog