The BBC's iPlayer has proved to be a huge hit with smart device owners, adding a totally new dimension to the viewing experience of millions, but like all great inventions there's always room for some improvement.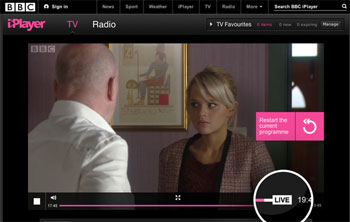 BBC inviting ideas to improve iPlayer via Connected Studio workshop
Acknowledging this, the BBC has announced a series of "Connected Studio" workshops, in which the UK public service broadcaster is inviting viewers to have their say and share their own ideas for improving various aspects of the Beeb's offerings, including its ever-so-popular iPlayer video-on-demand (VoD) service.
The Connected Studio team has outlined what it hopes to achieve in a newly released iPlayer Innovation Brief, pointing out that it is not looking for ideas focusing on specific programmes or dual screen/companion ideas, but rather, suggestions that will benefit all users of the iPlayer.
The iPlayer team is looking to improve the overall BBC iPlayer experience in three ways:
1. Continuous experience – the team is welcoming suggestions that can help viewers find the most natural way of switching between programmes, or finding related content.
2. Smart alternatives – a second target is finding ways to remind viewers to come back to the iPlayer more often (without annoying them!). The team is inviting viewers to suggest ways in which the iPlayer can reach out to viewers, no matter where they are or what device they are using. As an extension of this theme, they're also asking existing users to suggest ideas to make the iPlayer less overwhelming for those who haven't used the service.
3. Discovery – how can viewers discover so-called 'hidden treasures', the less obvious content they would enjoy but often, don't even realise exists? The team is inviting ideas on how to improve the browsing experience to improve this aspect of the iPlayer.
The Connected Studio team has said it's willing to consider ideas and suggestions specific to one platform only (for example iOS, Android, Smart HDTVs, etc.), so long as it benefits all users viewing via that type of device.
Viewers wishing to take part and share their ideas on the evolution of the iPlayer can apply to connectedstudios@bbc.co.uk to participate in one of the upcoming events listed on the Connected Studio's main website.
Source: BBC internet blog