The launch of a new feature called Live Restart, which allows viewers to restart or rewind live TV on BBC iPlayer without needing to wait for the end of the programme, should make live television viewing on the critically acclaimed video-on-demand (VoD) service even more enjoyable for users.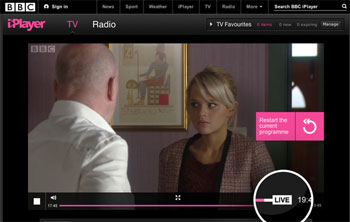 BBC iPlayer gets Live Restart & rewind capabilities
Audiences will now never have to miss any of the BBC TV programmes they watch on their PC computers or laptops, thanks to the introduction of the innovative Live Restart service that offers greater ease and convenience. Viewers will be able to scroll back and watch the previous two hours of television shows, or even restart the live programme they are watching at that time, all with a single click.
Building upon the current strategy employed by BBC iPlayer to transcend catch-up TV, this new feature – a first in the UK – makes watching live programmes online even more enjoyable. The Beeb is now seeing strong growth in the demand for live content on BBC iPlayer: of all PC-originated BBC iPlayer requests in April 2012, live requests accounted for more than 22 percent, which represents an 18 percent increase compared to April 2011.
BBC iPlayer's chief Dave Price compared the frustration of missing the all important beginning of a BBC programme with that of being delayed on the London Underground or being stuck in a traffic jam. By giving viewers greater control, Live Restart solves this issue. To make sure viewers never have to miss a single moment of their favourite BBC TV shows that has not yet run over two hours, they can jump back to the start of a live programme with a simple button click.
In an effort to let users watch live television programmes online whenever and wherever they want, the BBC iPlayer Live Restart service is expected to be rolled out on mobile smartphones, tablet devices and internet-connected HDTV displays later in the year.