The Beeb has published its monthly performance figures for the BBC iPlayer this week, revealing that the video-on-demand (VoD) service received 153 million requests for TV and radio programmes across all platforms over the month of September 2011 in the UK. The data showed that newer technology, which is increasing in usage, helped to drive the number of requests, with requests originating from tablet PCs rising from 4 million in August to 4.6 million in September.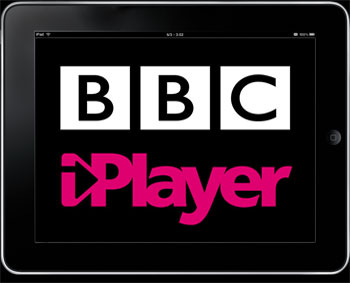 BBC iPlayer sees growing requests from tablet PCs like iPad
The study looked at different areas of iPlayer performance and requests in the United Kingdom, such as the number of requests made for the month, the different platforms (computers, tablets like the Apple iPad, smartphone mobiles, video game consoles, internet-connected HDTV sets, etc.) over which the requests were made, the age of those typically using the service, the type of programmes being commonly requested, and the consistency of trends compared to previous months and years.
While the top twenty titles requested by British BBC iPlayer users covered a variety of different genres, the requests that topped the list for the month included Doctor Who, Outnumbered and Waterloo Road. Radio requests were also included as part of the data, and among the most requested were The Chris Moyles Show and The News Quiz.
The UK's BBC iPlayer requests peaked at 162 million back in January earlier this year, which is still the highest figure since the start of 2009 when changes were made to the measurement methodology. In January 2009 there were just 62 million requests, which increased to 120 million in January 2010. This September's performance has also soared compared to the past couple of years, with September 2009 seeing 87 million requests, September 2010 standing at 114 million requests, and September 2011 rising to 153 million requests.
The figures also suggested that the gender ratio when it comes to BBC iPlayer user profiles seems to be levelling out over time. However, the age of the typical user is still younger than the typical television viewer or radio listener, remaining significantly under 55.
Source: BBC press office