BBC yesterday announced the launch of a new Media Player app to replace its old iPlayer, which will be made available on Android smartphones and tablets as of next week. The BBC Media Player has been developed in response to Adobe's decision to remove its Flash Player app from the Google Play store, and will ensure that Android users can continue to use the BBC's streaming services through their devices.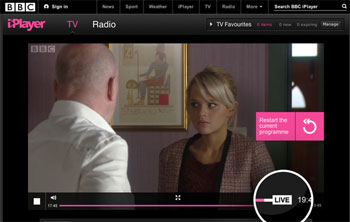 BBC develops Media Player app for Android iPlayer
Chris Yanda, BBC Future Media's executive product manager, said in a blog post that the broadcaster wants its viewers to be able to enjoy a flawless iPlayer experience, no matter what device or operating system they are using. BBC's iPlayer has been available on Android since 2010, when it was first released for version 2.2. Since then, the service has iterated on all new Android versions, including the latest 4.1.1 Jelly Bean OS.
During that time, Adobe Flash has been the media format of choice for Android streaming, as this allows the Beeb and others to use the same programming architecture as they do with personal computers, laptops and Smart HDTV sets. However, with Adobe announcing that it will no longer support its Flash Player, the BBC has had to change tack.
Coming up with a new media format wasn't an easy choice for the organisation, said Yanda. The difficulty was that the broadcaster required a technology that would be compatible with not just the latest Jelly bean version of Android, but also older versions like FroYo and Gingerbread, which the vast majority of Android devices still use.
The BBC considered and discounted several other options, including the Http Live Streaming (HLS) format, but ultimately decided that Flash was still the best format, sticking with this and also integrating Adobe AIR. This led to the creation of a brand new app – the BBC Media Player – that can run all the BBC's Android media playback.
However, Yanda admitted that the technology may have teething problems when it's first rolled out:
"No technology is perfect. We're making changes as and when they need to be done. We've noted the challenges faced by other apps based on Adobe AIR, but our developers have worked hard, alongside various partners, to come up with the best Android app that we can."
Yanda also expressed thanks to Adobe for the continued support it lent:
"Adobe has collaborated with us for a long time, working closely with us to support our requirements throughout this project."
Source: BBC Internet Blog